Mentor's Steve Blackburn Jr. shot 67 in Round 1 of the 2018 Summit County Amateur, 4-under par.
Through 14 holes on Sunday, his steady play earned him a whopping five shot lead over the rest of the field.
Blackburn's first round co-leader Ryan Stefanski of Sagamore Hills was having a tough Sunday (a front-nine 4-over par), and none of the other players in the final three groups were playing all that spectacularly.
But Blackburn had a strategy. He had this tournament in his hands once before, only to lose it in a playoff three years earlier. What others were doing was irrelevant.
So Blackburn kept it on cruise-control, playing conservative fairways and greens golf. And it was working.
Then on the 200 yard par-3 sixth, his 15th hole on Sunday, a truly bad break from a truly great shot: Blackburn hit the flagstick with his tee shot after bouncing on the green, and the ball caromed off the green into the rough. Putting from a sticky lie, Blackburn hit the putt a bit hot and the ball went six-feet past. Then he missed the come-backer, and a potential ace turned into a bogey.
From that, the round changed.
On the next hole, a failed up-and-down from the fairway a few feet in front of the green led to another bogey.
The hole after that, a tee shot into the left trees led to a couple of punch-outs and another bogey.
So standing on the final tee, the long and difficult par-3 ninth with the hole cut just beyond the front-right bunker, Blackburn's five shot lead had been trimmed to two.
His long-iron tee shot went left, but to the fat side of the green. The second shot pitch landed cleanly on the green and trickled down to 8 feet. Blackburn knew he had two putts to win, and wisely that's what he took for victory.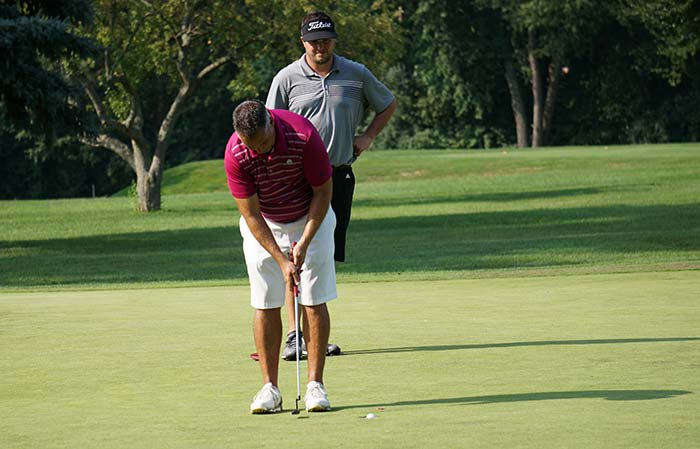 Former Cleveland State Viking Michael Klaric III from Cuyahoga Falls (he of the Round 1 fist-pump lip-out photo; sorry Mike) posted a 1-under par score of 70 on Sunday to go with his Saturday 73 to finish alone in second place at 143, 1-over par for the tournament.
Tying for third place at 2-over par 144, Nick Polichena of Ravenna posted a Sunday 70 as well, while Drew Savage of Canton shot the round of the day with a 69.
The five-way tie for fifth at 145 is made up of recognizable tournament golf names: Rick Bryson, Aaron Crewse, Jonathan Lieser, Dan Martina, and Dave Sotka.
Three players won skins on Sunday, good for $380 each: Tom Baugh, Keith Hughes and Aaron Crewse. Not as exciting as Jason King's holed wedge on Saturday to grab the entire $1,140 skins pot, but a nice chunk of change nonetheless.
Complete results below. Merchandise prizes can be claimed at either Foxy Golf location — next to Turkeyfoot or in Canton's Belden Village — starting next weekend.
A big thanks to Tournament Directors Larry Zimmerman and Dante D'Andrea, and all of the Good Park staff who lent a hand. Great scoreboard by Doug Flemming, too.
During the trophy presentation, sponsor Pat Wheeler announced that some of the fundraising efforts that take place at Good Park with the Junior Tournament and the County Am will designate a scholarship this year for Todd Bertermann, who passed away in early spring. Todd was a great guy who handled the official scoring / tech duties for many years for the Summit County Am; he will be missed.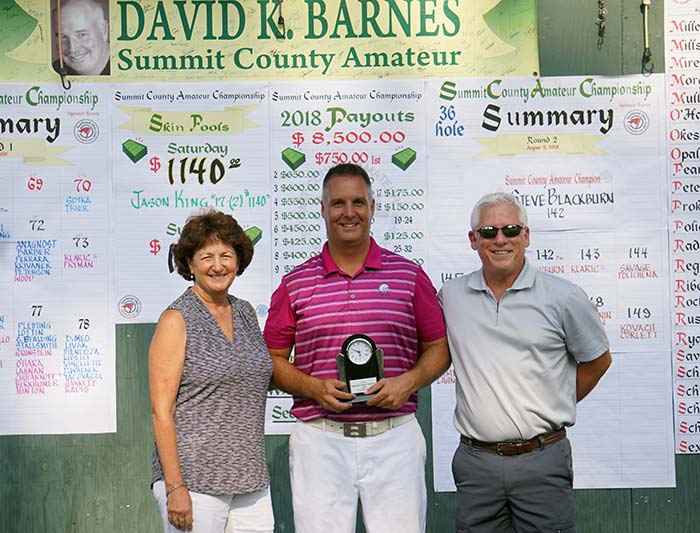 FINAL RESULTS:
2018 Summit County Amateur Championship
presented by Pat Wheeler and SSR Security
Good Park Golf Course, Akron
August 4 – 5, 2018

1 Steve Blackburn Jr. 67 – 75 = 142 $750
2 Klaric III, Michael 73 – 70 = 143 $650
3 Polichena, Nick 74 – 70 = 144 $575
3 Savage, Drew 75 – 69 = 144 $575
5 Bryson, Rick 71 – 74 = 145 $430
5 Crewse, Aaron 74 – 71 = 145 $430
5 Lieser, Jonathan 75 – 70 = 145 $430
5 Martina, Dan 75 – 70 = 145 $430
5 Sotka, David 70 – 75 = 145 $430
10 Guadagni, Mark 71 – 75 = 146 $338
10 Spalding, A.J 71 – 75 = 146 $338
12 Barber, Doug 72 – 75 = 147 $237
12 Henighan, Bob 74 – 73 = 147 $237
12 Okeson, Chris 74 – 73 = 147 $237
12 Peterson, Kurt 72 – 75 = 147 $237
12 Stefanski, Ryan 67 – 80 = 147 $237
12 Trier, David 70 – 77 = 147 $237
18 Clendenin, Howard 75 – 73 = 148 $138
18 Fryman, John 73 – 75 = 148 $138
20 Corlett, Jeff 75 – 74 = 149 $125
20 Kovach, Ty 74 – 75 = 149 $125
22 Lahnan, Larry 77 – 73 = 150 $125
22 Simpson, Mike 75 – 75 = 150 $125
24 Kasunick, Jarrod 76 – 75 = 151 $111
24 Kloetzer, Shaun 74 – 77 = 151 $111
24 Opal, Jason 74 – 77 = 151 $111
24 Spalding, Stephen 77 – 74 = 151 $111
28 Ellison, Will 79 – 73 = 152 $100
28 Freeman, Al 75 – 77 = 152 $100
28 Grayson, Andrew 78 – 74 = 152 $100
28 Zoller, Taylor 76 – 76 = 152 $100
Out of the Money:
Baldridge, Brayden 75 – 78 = 153
Baugh, Tom 82 – 71 = 153
Fleming, Doug 77 – 76 = 153
Grunstein, Justin 77 – 76 = 153
Krivanek, Jim 72 – 81 = 153
Radis, Bud 78 – 75 = 153
Ribelli, Joe 78 – 75 = 153
Schultz, Patrick 74 – 79 = 153
Sexton, Dave 79 – 74 = 153
Allen, George 76 – 78 = 154
Cutlip, Dean 81 – 73 = 154
Ferrara, Evan 72 – 82 = 154
Hinton, Jimmy 77 – 77 = 154
Loomis, Rob 77 – 77 = 154
Schustrich, Rob 78 – 76 = 154
Wood, Jamison 72 – 82 = 154
Yacovazzi, Anthony 78 – 76 = 154
Walker, Chris 76 – 79 = 155
Miller, Fred 81 – 75 = 156
Thomas, Mark 75 – 81 = 156
Waligura, Jade 79 – 77 = 156
Anagnost, Niko 72 – 85 = 157
Chuparkoff ll, Ken 77 – 80 = 157
Loftin, Alex 77 – 80 = 157
Mendoza, Raul 78 – 79 = 157
O'Hara, Adam 77 – 80 = 157
Rockich, Joe 80 – 77 = 157
Walker, Dan 78 – 79 = 157
Wonkovich, Eric 82 – 75 = 157
Berkheimer, Dennis 77 – 81 = 158
Kardish, Austin 76 – 82 = 158
Lewis, Alan 79 – 79 = 158
Prok, Joshua 80 – 78 = 158
Carpenter, Jay 79 – 80 = 159
Cea, Jim 79 – 80 = 159
Duncan, Dustin 76 – 83 = 159
Vincelette, Brian 78 – 81 = 159
Ciccarello, Mark 76 – 84 = 160
Hostettler, Ryan 80 – 80 = 160
Hughes, Keith 81 – 79 = 160
Livak, Frank 78 – 82 = 160
Mullen, Matt 81 – 79 = 160
Hochschwender, Mike 81 – 80 = 161
Pearce, Abbie 79 – 82 = 161
Warren, Matt 79 – 82 = 161
Coben, Greg 84 – 78 = 162
Goda, Dave 79 – 83 = 162
Troutman, Ken 84 – 78 = 162
Watkins, Tyler 83 – 79 = 162
Dimeo, Sam 78 – 85 = 163
Morgan, Josh 83 – 80 = 163
Buehler, Dustin 85 – 79 = 164
Drukenbrod, Zack 81 – 83 = 164
Garrett, Rick 78 – 86 = 164
Hartman, Matthew 76 – 88 = 164
Buchanan, Brandon 85 – 80 = 165
Barbas, Jeff 80 – 86 = 166
Feith, Taylor 87 – 79 = 166
Mayor, Clay 88 – 78 = 166
Wilson, Steve 84 – 82 = 166
Ankrom, Tyler 83 – 84 = 167
Lowry, Rich 85 – 82 = 167
Terry, Dan 81 – 86 = 167
Agarenzo, Mychal 83 – 85 = 168
Kerns, Larry 85 – 83 = 168
Toth, John 84 – 85 = 169
Schultz, Brian 87 – 83 = 170
Wilson Jr, Steve 86 – 84 = 170
Caine, Lee 83 – 88 = 171
D'Andrea, Dante 86 – 85 = 171
Trice, Bradley 88 – 83 = 171
Krill, Denny 86 – 86 = 172
Sibit, Derik 83 – 89 = 172
Balca, Rob 88 – 85 = 173
King, Jason 89 – 85 = 174
Ryan, Cory 84 – 90 = 174
Bailey, Bruce 88 – 87 = 175
Cona, Garrett 90 – 85 = 175
Helaney, Chris 96 – 83 = 179
Carroll, Patrick 94 – 87 = 181
Regimbal, Matt 91 – 91 = 182
Granata, Angelo 87 – 96 = 183
Mirelli, Jeff 93 – 90 = 183
Rush, Eric 88 – 95 = 183
Smith, Josh 90 – 94 = 184
Zolata, Brandon 86 – 99 = 185

SATURDAY SKINS: $1,140
Jason King – Hole #17 Eagle 2
SUNDAY SKINS: $380 ea
Tom Baugh – Hole #10 Birdie 3
Keith Hughes – Hole #12 Eagle 2
Aaron Crewse – Hole #14 Eagle 3