This year's Senior Great Cleveland Amateur Championship at Big Met had an exciting finish!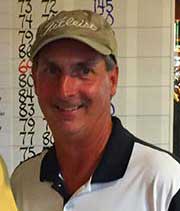 With a three-way tie at even par 144 after 36 holes of regulation, first round leader Mike Beres (left), Akron's Jimmy Cea and last week's CMG Senior Masters winner Larry Lahnan headed out to the ninth hole for a sudden death play-off.
By making a par at the difficult ninth, Mike Beres walked away as this year's Senior Champion beating out the bogey 5 of Cea and Lahnan.
In addition to crowning Beres as champion, players with a score of 148 or better who were not already exempt qualified for the 2018 Greater Cleveland Amateur Championship at Sleep Hollow Golf Course in Brecksville the second week of August.
Thank you to all who played and made this a very memorable tournament!

FINAL RESULTS:
Cleveland Metroparks Golf
2018 Senior Greater Cleveland Amateur Championship
Big Met Golf Course, Fairview Park, Ohio
July 18 – 19, 2018

1 Mike Beres 70 – 74 = 144 $420.00 (won playoff)
T2 Jimmy Cea 71 – 73 = 144 $320.00
T2 Larry Lahnan 71 – 73 = 144 $320.00
4 George Allen 73 – 74 = 147 $270.00
5 David Trier 75 – 73 = 148 $220.00
T6 Mark Borlin 74 – 76 = 150 $30.00
T6 Dean Cutlip 72 – 78 = 150 $30.00
T6 Allen Freeman 74 – 76 = 150 $30.00
T6 Jim Hercheck 77 – 73 = 150 $30.00
T6 Brian Sokol 76 – 74 = 150 $30.00
T6 David Stover 73 – 77 = 150 $30.00
Geoffrey Burge 73 – 78 = 151
Randy Crider 79 – 72 = 151
Daniel Margulies 73 – 78 = 151
Dave Peck 76 – 75 = 151
Mark Ciccarello 77 – 75 = 152
Mark Foss 79 – 73 = 152
Tim Heavner 74 – 78 = 152
Dan Hopkins 78 – 74 = 152
Keith Pluto 75 – 77 = 152
Steve Blackburn 78 – 75 = 153
Dennis Berkheimer 76 – 78 = 154
Randy Wilburn 78 – 76 = 154
Ray Najda 79 – 76 = 155
Marc Pogachar 77 – 78 = 155
Tom Rechin 73 – 82 = 155
Mark Thomas 77 – 79 = 156
Rick Bollinger 76 – 81 = 157
Duane Clemens 77 – 80 = 157
Michael Mintz 79 – 78 = 157
Steve Bedell 79 – 79 = 158
Frank Livak 81 – 77 = 158
Joe Denk 82 – 78 = 160
Gary Congin 80 – 81 = 161
Scott Heran 79 – 82 = 161
Jeff Luken 79 – 82 = 161
Douglas Schulz 82 – 79 = 161
Tom Jonozzo 84 – 78 = 162
Raul Mendoza 80 – 83 = 163
Ron Rositani 82 – 81 = 163
Ray Durban 82 – 82 = 164
John Niedzialek 83 – 81 = 164
Mark Beltavski 83 – 85 = 168
Ron Miller 85 – 85 = 170
Mike Wooley 87 – 84 = 171
Chris Helaney 79 – 93 = 172
Steven Beans 88 – 91 = 179
Sean Mangan 104 – 100 = 204
Randy Steele 80 NC