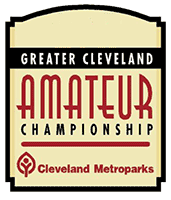 Grant Godfrey made a clutch, twisting putt on the final hole of the 2018 Greater Cleveland Amateur Championship to win by a single shot.
Dramatic, right?
Well, the fact that the putt was a downhill-swooping 10-foot right-to-lefter for double-bogey makes it even more so.
Godfrey, an incoming junior at the University of Toledo who grew up in Delaware, OH, had never played Sleepy Hollow until a practice round on Thursday. But a lack of local knowledge doesn't matter too much if a player is striking perfect golf shots.
For the most part, 'perfect golf shots' described Godfrey's play for a large part of Sunday's final round. He was hitting it on a string with correct distance time and again.
Until his second shot at the final hole, that is.
At 1-under par for the day and with a three shot lead in hand, Godfrey caught a flyer with his wedge from the left rough and sent his ball over the 18th green. It hopped the mounds and jumped into the back bunker.
Locals who play Sleepy know to never go past the hole on 18. Especially past the hole, over the green, and into that crusty bunker.
So now Godfrey had some work to do.
Godfrey whacked the difficult bunker shot to the top edge of the green, leaving himself a chip from a cliff.
He flopped the downhiller from the thick rough. It ran just past the edge of the hole, then it picked up pace and ran off the front of the green.
Still away, Godfrey pitched his fifth shot from the front fringe. It ran well past the hole, leaving a nightmare putt for double.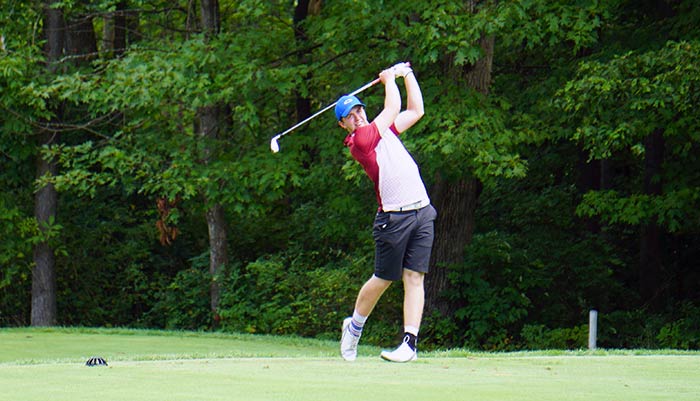 One of Godfrey's playing partners, Medina's Andy Grayson who plays college golf at Hillsdale, watched with eyebrows raised. Suddenly, he was in a position to perhaps sneak past Godfrey.
Grayson had been the overnight leader by one over Godfrey, but at 3-over par for the day he hadn't pressured him much. Now with his second shot sitting on the front edge of the green for birdie, there was a possibility.
Grayson putted up the slope but came up just short. He tapped in for par to finish at 217, 4-over par for the tournament.
Unbeknownst to the players in the final group, another player in the group just ahead had already finished with a score of 217. Sagamore Hills' Jimmy Wild posted a final round score of 1-under par 70 to get there.
But Wild shot that score in a way that literally defies description. So lets just lay out the scorecard: one eagle, seven birdies, five pars, three bogeys, one double-bogey, and one triple bogey. (Go ahead, describe that.)
So now Wild, standing on the back porch of the clubhouse, was another interested spectator in Godfrey's back-and-forth.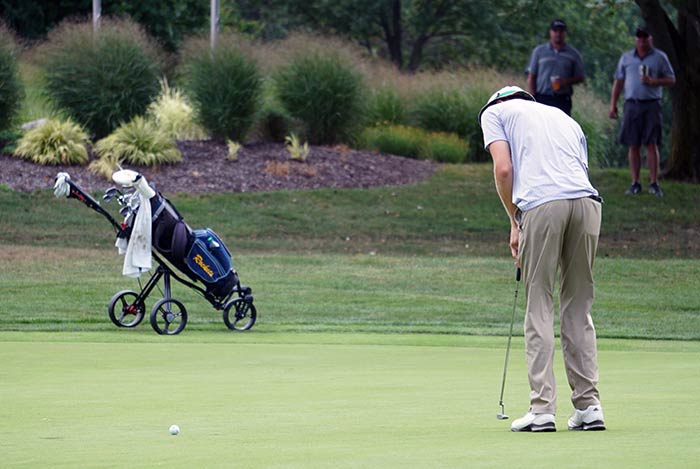 With the outcome stated upfront, you know Grant Godfrey made his putt for double-bogey and the victory. But just how tough was that final putt?
Past Cleveland Am champ Howard Clendenin summed it up perfectly. "I watched six guys hit that same putt before Godfrey," he offered. "All six of them missed it on the low side."
But Godfrey didn't miss. He gutted out a tough finish. He won a big amateur championship. End of story.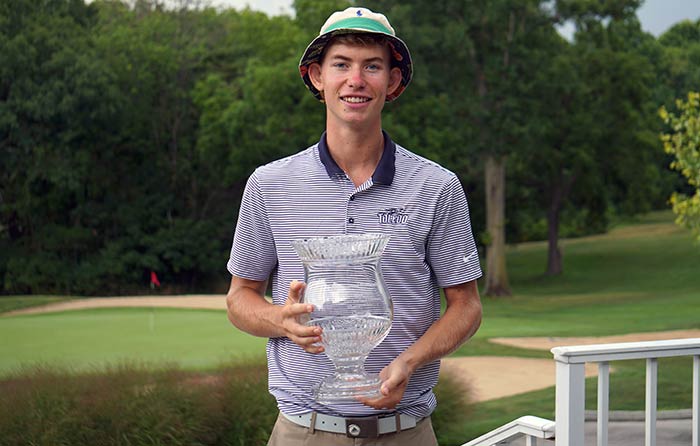 FINAL RESULTS: Cleveland Metroparks Golf
2018 Greater Cleveland Amateur Championship
Sleepy Hollow Golf Course, Brecksville Ohio
August 10 – 12, 2018
Grant Godfrey 71 – 73 – 72 = 216 $750.00
Andy Grayson 72 – 71 – 74 = 217 $550.00
Jimmy Wild 78 – 69 – 70 = 217 $550.00
Anton Krecic 71 – 77 – 70 = 218 $400.00
Robert Schustrich 71 – 75 – 76 = 222 $325.00
Michael Klaric III 75 – 72 – 75 = 222 $325.00
Steve Blackburn Jr. 72 – 76 – 76 = 224 $250.00
Matt Marino 77 – 74 – 74 = 225 $225.00
Bryan Yeo 78 – 72 – 76 = 226 $187.50
Matt Paterini 74 – 80 – 72 = 226 $187.50
Ian Hardesty 77 – 74 – 76 = 227 $112.50
AJ Borisa 74 – 78 – 75 = 227 $112.50
Darren Phipps 74 – 78 – 75 = 227 $112.50
Zach Goodchild 79 – 79 – 69 = 227 $112.50
Jared Wilson 73 – 83 – 72 = 228 $25.00
Doug Barber 76 – 82 – 70 = 228 $25.00
David Sotka 72 – 80 – 77 = 229
Phil Latsko 75 – 78 – 76 = 229
Brian Beebe 78 – 75 – 77 = 230
Josh Blaustein 76 – 80 – 74 = 230
Jamison Wood 78 – 79 – 74 = 231
Howard Clendenin 82 – 73 – 77 = 232
Charles Milo 75 – 80 – 78 = 233
Alex Loftin 80 – 77 – 76 = 233
Ben Meola 80 – 77 – 76 = 233
Joe Puch 79 – 79 – 75 = 233
Mark Borlin 74 – 79 – 81 = 234
Paul Woznicki 76 – 77 – 81 = 234
Mark Belasic 79 – 77 – 79 = 235
Chris Okeson 77 – 75 – 84 = 236
Ryan Stefanski 75 – 80 – 81 = 236
Alex Kocin 75 – 81 – 80 = 236
George Allen 80 – 77 – 79 = 236
Kyle Jacob 76 – 80 – 81 = 237
Joe Blackburn 81 – 77 – 79 = 237
Scott Saari 78 – 80 – 80 = 238
Dan Predovic 74 – 84 – 85 = 243
James Weikamp 82 – 76 – 88 = 246
Matt Frey 77 – 76 – WD
Jack Garswood 79 – 76 – WD
— MISSED CUT —
Drake Tobias 80 – 79 = 159
Matthew McAdoo 81 – 78 = 159
Allen Freeman 80 – 80 = 160
Eric Wonkovich 75 – 85 = 160
Geoff Wood 81 – 79 = 160
Andrew Johnson 81 – 79 = 160
Jeff Sawitke 82 – 79 = 161
Phillip Bojc 79 – 83 = 162
Chin Scott 81 – 81 = 162
Matthew Kreider 84 – 79 = 163
David Trier 81 – 82 = 163
Dylan Dewitt 83 – 81 = 164
Mark Foss 76 – 88 = 164
Tom Grasso 79 – 85 = 164
Nathan Kreutzer 81 – 84 = 165
Steve Blackburn Sr. 83 – 83 = 166
Kyle Kovacs 79 – 87 = 166
Bobby Harmon 82 – 84 = 166
Gordie German 83 – 83 = 166
Jack Coyne 78 – 89 = 167
Abhi Shetti 81 – 86 = 167
Kevin Burns 82 – 85 = 167
Tim Moore 80 – 88 = 168
Andres Magallon 80 – 88 = 168
Roni Shin 86 – 84 = 170
Jim Barber 86 – 85 = 171
Jared Budner 87 – 90 = 177
John Niedzialek 84 – 99 = 183
Ryan Coleman 74 – WD
Nick Anagnost 80 – WD
Michael Mintz 87 – DQ
Larry Lahnan 79 – WD
Ryan Augustitus 86 – WD

SUNDAY SKINS: $38 ea
Mark Borlin – Hole #1 Eagle 3
Jimmy Wild – Hole #2 Birdie 2
Howard Clendenin – Hole #3 Birdie 3
Jimmy Wild – Hole #4 Eagle 3
Ryan Stefanski – Hole #6 Birdie 2
Steve Blackburn Jr. – Hole #8 Birdie 2
Howard Clendenin – Hole #9 Birdie 3
Jimmy Wild – Hole #11 Birdie 3
Ian Hardesty – Hole #15 Birdie 3
Jimmy Wild – Hole #18 Birdie 3

SATURDAY SKINS: $180 each
Alex Loftin – Hole #2 Birdie 2
Matt Frey – Hole #4 Eagle 3
Jimmy Wild – Hole #14 Eagle 3
Geoff Wood – Hole #17 Birdie 3

FRIDAY SKINS: $410 ea
AJ Borisa – Hole #1 Eagle 3
Jeff Sawitke – Hole #10 Birdie 3