It was supposed to be a shootout, a free-for-all scrum.
41 players started Sunday's second round within five shots of the lead at the 2017 Summit County Amateur Championship at Good Park Golf Course in Akron.
But 2014 Champion Howard Clendenin of Cleveland dominated the field and the golf course on Sunday in a way that ended all "who is going to win this thing?" speculation.
After an even par round on Saturday, the veteran Clendenin made his Sunday turn at a sizzling three under par 33 with birdies at 12, 16 and 17. (The Summit County Am reverses nines on Sunday so the tournament finishes on the tough par-3 ninth hole right in front of the clubhouse patio.)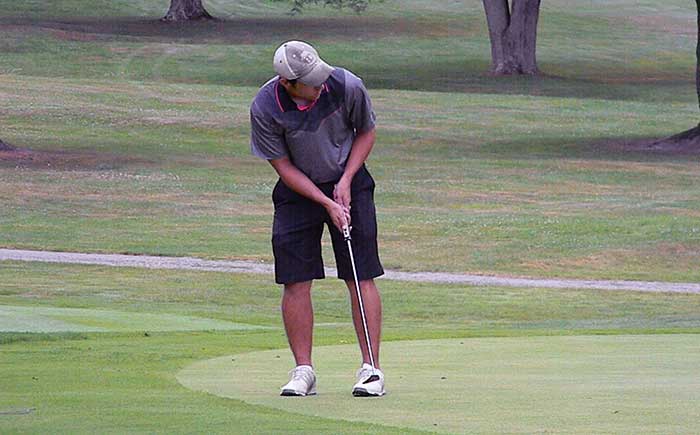 At that turn, Clendenin was still tied with first round co-leader Jonathon Leiser of Minerva (pictured above), who started his day with double-bogey but then reeled off four birdies in six holes to shoot 34 and also turn at 3-under par for the tournament.
But then Clendenin found another gear: he made an eagle putt from 25-feet at the dog-leg par-5 second hole (his eleventh), then made a great birdie from 16-feet at the most-difficult par-3 fourth.
Leiser lost a shot when he made birdie at the hole Clendenin eagled, and when he made bogey at that same par-3 fourth it all but put the tournament away.
That's when Clendenin seemed to focus on a new goal: the course and tournament records.
Howard birdied the par-5 fifth, made two solid pars at the tough sixth and seventh holes, then buried another birdie at the twisting par-4 eighth. A par at the last would give him the course record.
His tee shot from 219 yards sailed into the trees on the right and dropped down well short of the green in the right rough. His pitch left him 14 feet of downhill right-to-left curl. The par effort just grazed the top lip and went by, and with it Clendenin made his only bogey of the day.
But the 64 total tied the course record set by Larry Horner on the current par-71 layout, and gave Clendenin the new tournament total record of 7-under par 135. A spectacular feat — and a whopping six shot victory in the 2017 Summit County Amateur Championship.
There were a couple other great rounds on Sunday at Good Park.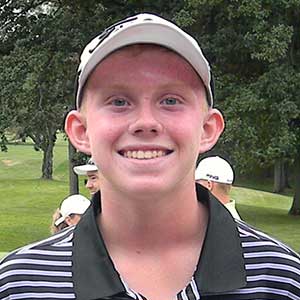 Maxwell Moldovan, a 15-year-old incoming sophomore at Green High School, is having a summer to remember. Moldovan posted a bogey-free 5-under par 33-33=66 to vault all the way into a tie for second place with Leiser at 1-under par 141. Earlier this summer, Moldovan made it to a playoff in U.S. Open Sectional Qualifying and has won a number of junior events. He was featured in Golf Life NEOH in June.
Bud Radis of Aurora shot a smooth 67 on Sunday as well, to get back to even par 142 for the tournament. Radis' 4-under par Sunday charge put him into a tie with multiple past Summit County Am champ Aaron Crewse of North Canton, finishing in fourth place.
Complete results for the field are posted below, along with the gift certificate payouts that will be available at Foxy Golf by the end of the week.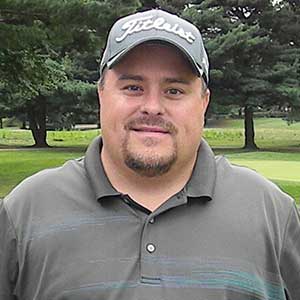 ANOTHER BIG SKINS HAUL: For the second day in a row, the entire $1,120 daily skins pot went to a single player. On Saturday, Jim Krivanek drove the 12th green and buried the 6-foot eagle putt to sweep the Round 1 skins pot. On Sunday, the skins winner went one shot better: a hole-in-one on the par-3 4th by Cory Ryan using a 5-iron from 178 yards, his first ace ever! Congratulations to both players for their well-timed eagles.

FINAL RESULTS:
2017 Summit County Amateur Championship
Good Park Golf Course, Akron | Par 71
August 5 – 6, 2017

1 Howard Clendenin 71 – 64 = 135 $750.00
T2 Maxwell Moldovan 75 – 66 = 141 $400.00 (OHSAA max)
T2 Jonathon Leiser 70 – 71 = 141 $625.00
T4 Bud Radis 75 – 67 = 142 $525.00
T4 Aaron Crewse 72 – 70 = 142 $525.00
T6 Rob Schustrich 73 – 70 = 143 $425.00
T6 Drew Savage 70 – 73 = 143 $425.00
T6 Kurt Peterson 70 – 73 = 143 $425.00
9 Doug Barber 74 – 70 = 144 $375.00
T10 Brayden Baldridge 74 – 72 = 146 $287.50
T10 Phil Bojc 74 – 72 = 146 $287.50
T10 Shaun Kloetzer 74 – 72 = 146 $287.50
T10 David Trier 73 – 73 = 146 $287.50
T10 Ryan Stefanski 73 – 73 = 146 $287.50
T10 Rick Bryson 72 – 74 = 146 $287.50
T16 Bob Spino 77 – 70 = 147 $155.00
T16 Jim Krivanek 76 – 71 = 147 $155.00
T16 Anthony Yacovazzi 75 – 72 = 147 $155.00
T16 Andrew Grayson 74 – 73 = 147 $155.00
T16 Niko Anagnost 70 – 77 = 147 $155.00
T21 Fred Miller 75 – 73 = 148 $125.00
T21 Brian Beebe 75 – 73 = 148 $125.00
T21 Ash Alstadt 74 – 74 = 148 $125.00
T21 Michael Klaric III 72 – 76 = 148 $125.00
Out of the Money:
T25 Dan Marr 77 – 72 = 149
T25 Steve Blackburn 76 – 73 = 149
T25 Austin Kardish 76 – 73 = 149
T25 Ty Kovach 75 – 74 = 149
T25 Mark Gaudagni 74 – 75 = 149
T25 Dean Cutlip 73 – 76 = 149
T31 John Kabasky 77 – 73 = 150
T31 Dave Archer 75 – 75 = 150
T31 Mike Simpson 75 – 75 = 150
T31 Evan Ferrara 75 – 75 = 150
T31 Doug Fleming 74 – 76 = 150
T31 John Schnur 73 – 77 = 150
T31 Chris Okeson 71 – 79 = 150
T38 David Sotka 79 – 72 = 151
T38 Dan Belden 78 – 73 = 151
T38 Trevor Merril 76 – 75 = 151
T38 Rob Loomis 76 – 75 = 151
T38 Chris Minear 74 – 77 = 151
T43 Nick Polichena 78 – 74 = 152
T43 Taylor Feith 78 – 74 = 152
T43 Tim Heavner 77 – 75 = 152
T43 Mark Thomas 75 – 77 = 152
T43 Jacob English 75 – 77 = 152
T48 Chris Horne 79 – 74 = 153
T48 Jade Waligura 78 – 75 = 153
T48 Frank Steffen 75 – 78 = 153
T51 Jarrod Kasunich 79 – 75 = 154
T51 Larry Lahnan 77 – 77 = 154
T51 Vincent Leone 74 – 80 = 154
T51 Jeff Corlett 72 – 82 = 154
T55 Matt Warren 79 – 76 = 155
T55 Mike Cawley 78 – 77 = 155
T55 Brandon Nixon 77 – 78 = 155
T55 Michael Witmer 74 – 81 = 155
T59 Chad Dubiel 82 – 74 = 156
T59 Jarrod Conjerti 80 – 76 = 156
T59 Jeff Wenger 79 – 77 = 156
T59 George Allen 78 – 78 = 156
T59 Alan Lewis 78 – 78 = 156
T59 Jamison Wood 77 – 79 = 156
T65 Mychal Agarenzo 83 – 74 = 157
T65 Alex Loftin 82 – 75 = 157
T65 Justin Grunstein 81 – 76 = 157
T65 Eric Wonkovich 76 – 81 = 157
T65 Brian Vincelette 74 – 83 = 157
T70 Chris Eggleton 79 – 79 = 158
T70 Matt Mullen 76 – 82 = 158
T72 Frank Livak 83 – 76 = 159
T72 Tyler Watkins 81 – 78 = 159
T72 Jimmy Hinton 80 – 79 = 159
T72 Zach Drukenbrod 78 – 81 = 159
T72 Jason Chadima 77 – 82 = 159
T72 Angelo Granata 77 – 82 = 159
T72 Dustin Buehler 77 – 82 = 159
T72 Garrett Cona 75 – 84 = 159
T80 Mark Ciccarello 85 – 75 = 160
T80 Matthew Hartman 83 – 77 = 160
T80 Mike Armour 82 – 78 = 160
T80 Will Ellison 81 – 79 = 160
T80 Steve Fricker 81 – 79 = 160
T80 Bill Mooney 81 – 79 = 160
T80 Christopher Utrup 80 – 80 = 160
T87 Adam O'Hara 82 – 79 = 161
T87 Robert Hale 81 – 80 = 161
T87 Ryan Brawley 79 – 82 = 161
T87 Jason Zachardy 75 – 86 = 161
T91 Stephen Spalding 81 – 81 = 162
T91 Jim Grosso 81 – 81 = 162
T91 Jim Cea 79 – 83 = 162
T91 Elliot Kolkovich 79 – 83 = 162
T91 Matthew Frey 77 – 85 = 162
T96 Cory Ryan 86 – 77 = 163
T96 Sam Dimeo 84 – 79 = 163
T96 Steve Wilson 79 – 84 = 163
T96 Rich Lowry 77 – 86 = 163
T100 Jackson Chiesa 87 – 77 = 164
T100 Bobby Harmon 84 – 80 = 164
T100 AJ Spalding 83 – 81 = 164
T103 Sam Swenton 85 – 80 = 165
T103 Jeffrey Barbas 82 – 83 = 165
T103 Tyson Abraham 82 – 83 = 165
T106 Scott Mullen 87 – 79 = 166
T106 Derik Sibit 84 – 82 = 166
T106 Ryan Hostettler 84 – 82 = 166
T106 Jay Carpenter 83 – 83 = 166
T110 Tom Neff 87 – 80 = 167
T110 Evan Jenkins 84 – 83 = 167
T110 Chris Walker 80 – 87 = 167
T113 Joe Nemeth 85 – 83 = 168
T113 Brad Genovese 84 – 84 = 168
T115 Dave Goda 89 – 80 = 169
T115 Ian Smith 86 – 83 = 169
T115 Ken Troutman 85 – 84 = 169
T118 Dan Terry 93 – 78 = 171
T118 Matt Regimbal 87 – 84 = 171
T118 Luke Williams 82 – 89 = 171
T118 Raul Mendoza 79 – 92 = 171
122 Eric Rush 88 – 84 = 172
123 Denny Krill 90 – 83 = 173
124 Steve Wilson Jr 86 – 88 = 174
125 Gary Kowalski 91 – 98 = 189
126 Antwuan Nixon 103 – 110 = 213
WD Paul Minko WD
WD John Vellos WD
Scoring courtesy of Todd Bertermann at Tournament Expert