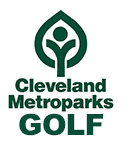 After two days of intense heat, humidity and a tough golf course setup, Jim Herchek of Chagrin Falls won the 2017 Senior Cleveland Amateur Golf Championship by a single shot at Big Met Golf Course in Fairview Park.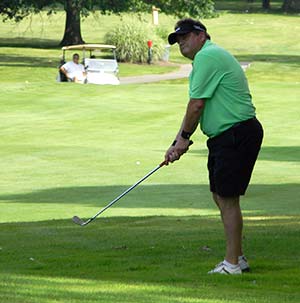 Herchek began Thursday's second round tied for the lead with Marc Pogachar (right), and the two remained tied at the top at even par after 27 holes.
But down the stretch Herchek was able to secure the victory with rounds of 72-75 for a total of 3-over par 147, holding off Pogachar (72-76) as well as second round charges by Allen Freeman (76-72), Cary Slabaugh (75-73), and David Peck (74-74), all of whom finished one shot behind at 148. (Freeman was awarded the runner-up trophy via scorecard playoff.)
All players who shot a score of 149 and under qualified for the Greater Cleveland Amateur Championship at Manakiki Golf Course in Willoughby Hills August 11th – 13th.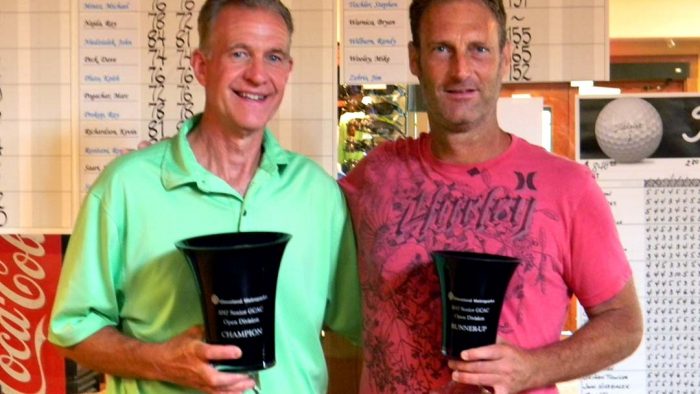 FINAL RESULTS:
2017 Senior Cleveland Amateur Championship
Big Met Golf Course, Fairview Park, Ohio
Weds-Thurs, July 19 – 20, 2017
1 Herchek, Jim 72 – 75 = 147 $450
T2 Pogachar, Marc 72 – 76 = 148 $275
T2 Peck, Dave 74 – 74 = 148 $275
T2 Slabaugh, Cary 75 – 73 = 148 $275
T2 Freeman, Allen 76 – 72 = 148 $275
T6 Beres, Mike 73 – 76 = 149 $90
T6 Allen, George 73 – 76 = 149 $90
T6 Saari, Scott 74 – 75 = 149 $90
T6 Bedell, Steve 75 – 74 = 149 $90
T6 Blackburn, Steve 77 – 72 = 149 $90
T11 Heavner, Tim 73 – 77 = 150
T11 Cutlip, Dean 73 – 77 = 150
T11 Lahnan, Larry 75 – 75 = 150
T11 Thomas, Mark 76 – 74 = 150
T11 Beres, Roy 76 – 74 = 150
T11 Najda, Ray 78 – 72 = 150
T11 Schustrich, Rob 78 – 72 = 150
18 Livak, Frank 77 – 74 = 151
T19 Mintz, Michael 76 – 76 = 152
T19 Pluto, Keith 76 – 76 = 152
T19 Zebris, Jim 76 – 76 = 152
T19 Lagrotteria, Paul 77 – 75 = 152
T19 Crider, Randy 79 – 73 = 152
T19 Denk, Joe 80 – 72 = 152
T19 Foss, Mark 81 – 71 = 152
T26 Cea, Jim 74 – 79 = 153
T26 Borlin, Mark 76 – 77 = 153
T28 Halle, George 75 – 79 = 154
T28 Burge, Geoff 77 – 77 = 154
T28 Jayme, John 78 – 76 = 154
T28 Luken, Jeff 79 – 75 = 154
T32 Wilburn, Randy 76 – 79 = 155
T32 Sokol, Brian 78 – 77 = 155
T34 Heran, Scott 78 – 78 = 156
T34 Prokop, Ray 78 – 78 = 156
T36 Brady, Mike 78 – 79 = 157
T36 Tischler, Stephen 79 – 78 = 157
38 Clemens, Duane 79 – 81 = 160
39 Durban, Ray 82 – 79 = 161
T40 Wooley, Mike 83 – 82 = 165
T40 Niedzialek, John 84 – 81 = 165
T40 Beltavski, Mark 84 – 81 = 165
43 Richardson, Kevin 81 – 85 = 166
44 Karshner, Robert 84 – 83 = 167
T45 Rositani, Ron 82 – 88 = 170
T45 Steinhilber, Steve 83 – 87 = 170
T45 Haffey, Patrick 89 – 81 = 170
48 Smith, Todd 85 – 86 = 171
49 Ciccarello, Mark 85 – 88 = 173
50 Bania, Dan 86 – 88 = 174
51 Congin, Gary 91 – 87 = 178
52 Collins, Bob 95 – 98 = 193
Furlong, Neal WD
Miller, Ron WD
Warnica, Bryan WD

RD2 SKINS: $205 each
Mark Foss Hole #5 – (3)
Frank Livak Hole #8 – (2)
Steve Bedell Hole #10 – (2)
Frank Livak Hole #18 – (3)