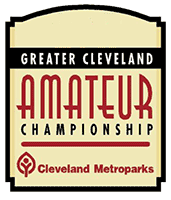 After Friday's first round was rained out, every player knew it would be a sprint.
The 2017 Greater Cleveland Amateur Championship was reduced to a 2-day, 36-hole event after two soaking downpours first delayed, then stopped, then completely knocked out play on Friday. (By the way, the Committee's decision was a valid call by USGA rules, even though some players and spectators questioned it.)
In Saturday's new first round, seven players posted rounds of par or better under lift/clean/place rules at a soggy Manakiki, including three players who posted 3-under par 69. Even the guys a couple over par would be in the hunt on Sunday if the weather was good.
And it was: just a breath of wind, plenty of sun, and temps in the mid-70s. Manakiki was there for the taking for the finale.
But when none of Saturday's top 7 went low, Sunday turned into the kind of tournament where players simply try their best to eek out a steady golf win.
Cleveland State senior Matthew McAdoo did the steady golf thing the best.
After a Saturday score of 2-under par 70, the Viking made pars on his first seven holes of Sunday. But bogies at the tough 8th and tricky 9th put him back to even par for the tournament at the turn.
A pair of pars at the difficult 10th and 11th holes righted the ship. A birdie at the par-5 12th got him going in the right direction. But it was the 17th and 18th that gave McAdoo the win.
On 17, a short iron to 15-feet set up a right-to-left birdie putt that went in the center of the hole. Huge. Back to 2-under par for the tournament and some pep in his step heading to 18.
But a pulled drive a bit up on the left hillside put the ball well below the feet of McAdoo for his second. The tough stance led to a block well right of the green that spun toward the cartpath, leaving a tough pitch to a green that was quickly sloping away.
Somehow McAdoo was able to get his chip onto the green to about 7 feet away on the top side. From there, he rolled home the par putt to post an even par round of 72 for Sunday.
His 142 total ended up being just good enough.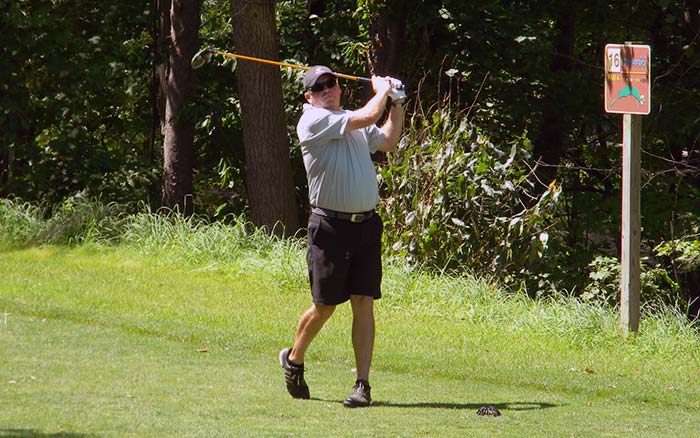 Last week's Summit County Amateur champ and 2014 Cleveland Am winner Howard Clendenin posted the best round of the day at Manakiki, a 69, to go along with his first round 74.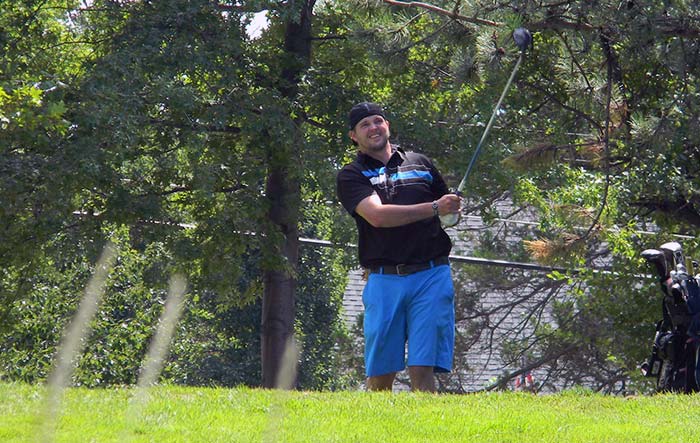 Defending Cleveland Am champ Ryan Stefanski posted a 1-under par 71 Sunday to go along with his Saturday 72.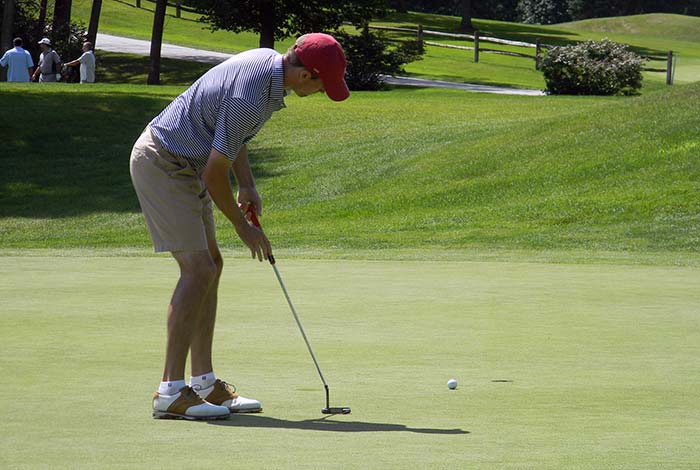 And a former Cleveland State player and first-round co-leader Andrew Bailey fought hard all day, with a number of birdie efforts grazing the hole down the stretch. He managed a Sunday 74.
All three veteran players ended the tournament with a 1-under par 143 total, one shot behind the new champion.
McAdoo joins a host of other Cleveland State players who have won the Cleveland Am, including Norton Brick, Brad Steven, Jake Scott, Steve Weir, Kyle Cobb, and Matt Creech.
The top 10 finishers listed below earned merchandise certificates and an exemption into next year's Cleveland Am at Sleepy Hollow. Sunday skins winners are posted below as well, but one name is conspicuously absent.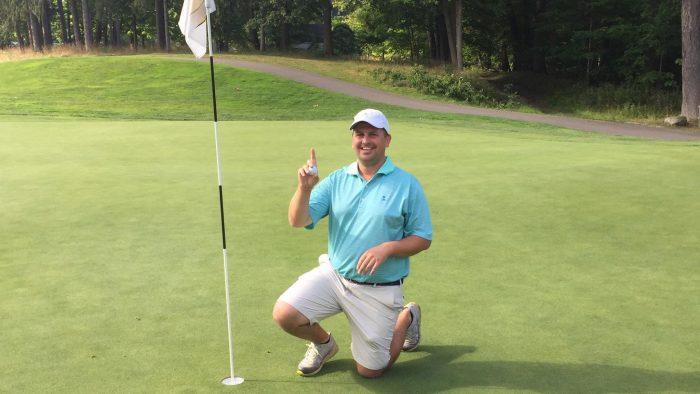 The shot of the day belonged to George Smiltins from Ohio City, pictured above. He used a 5-iron to ace the par-3 7th hole, his first hole-in-one ever. But George did not enter Sunday's skins game, which cost him a few bucks. (Players, lesson…)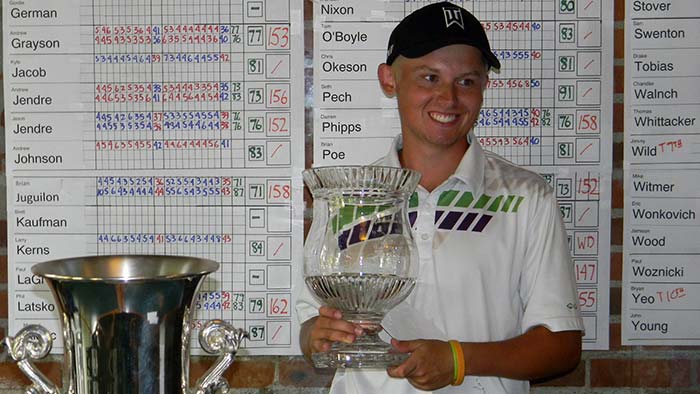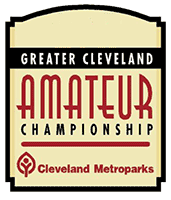 FINAL RESULTS: Cleveland Metroparks Golf
2017 Greater Cleveland Amateur Championship
Manakiki Golf Course, Willoughby Hills Ohio
August 12 – 13, 2017 (Aug 11 Rained Out)
Matthew McAdoo 70 – 72 = 142 $750
Andrew Bailey 69 – 74 = 143 $500
Ryan Stefanski 72 – 71 = 143 $500
Howard Clendenin 74 – 69 = 143 $500
Charles Milo 74 – 71 = 145 $300
A.J. Borisa 69 – 77 = 146 $250
Jimmy Wild 69 – 78 = 147 $150
Justin Roth 73 – 74 = 147 $150
Doug Barber 75 – 72 = 147 $150
Bryan Yeo 74 – 75 = 149 $25
Niko Anagnost 77 – 72 = 149 $25
Out of the Merchandise Money:
David Sotka 75 – 76 = 151
Thomas Wittaker 76 – 76 = 152
Jason Jendre 76 – 76 = 152
Chandler Walnch 77 – 75 = 152
Joe Puch 73 – 80 = 153
Phillip Bojc 77 – 76 = 153
Jamison Wood 77 – 76 = 153
Andrew Grayson 77 – 76 = 153
Eric Wonkovich 75 – 79 = 154
Tim Moore 76 – 79 = 155
Jeff Sawitke 79 – 76 = 155
Andrew Jendre 73 – 83 = 156
Steve Blackburn Jr. 75 – 81 = 156
Tony Briggs 78 – 78 = 156
George Smiltins 78 – 78 = 156
Brian Jugulion 71 – 87 = 158
Darren Phipps 76 – 82 = 158
Joe Blackburn 78 – 80 = 158
Sam Swenton 79 – 79 = 158
Paul Woznicki 79 – 79 = 158
Chris Eggleton 79 – 79 = 158
Aaron Crooks 72 – 90 = 162
Steve Blackburn Sr. 77 – 85 = 162
Phil Latsko 79 – 83 = 162
Josh Blaustein 79 – 87 = 166
John Young 75 – WD
Ronald Ritner 77 – WD
Missed the Cut:
Chris Davis 80 – MC
Jack Garswood 80 – MC
Brandon Nixon 80 – MC
John Shnur 80 – MC
Drake Tobias 80 – MC
Bill Speirs 80 – MC
Scott Chinnawatt 81 – MC
Kyle Jacob 81 – MC
Chris Okeson 81 – MC
Brian Poe 81 – MC
Dave Stover 81 – MC
Mark Foss 82 – MC
Andrew Johnson 83 – MC
Mike Witmer 83 – MC
Tom O'Boyle 83 – MC
Ian Anderson 84 – MC
Jeff Deal 84 – MC
Matt Frey 84 – MC
Larry Kerns 84 – MC
John Niedzialek 84 – MC
Ward Crane 86 – MC
Benjamin Meola 86 – MC
Joe Didonato 87 – MC
Michael Klaric 87 – MC
Joe Ribelli 87 – MC
Taylor Feith 88 – MC
Jeffrey Barbas 89 – MC
Seth Pech 91 – MC
Gordie German WD
Brett Kaufman WD
Paul LaGrotteria WD
Patrick Schultz WD
Brenden McGlyn WD
Robert Schustrich WD

SUNDAY SKINS: $146 ea
Paul Woznicki Birdie 2 Hole #5
Steve Blackburn Sr. Birdie 2 Hole #11
Niko Anagnost Eagle 2 Hole #16