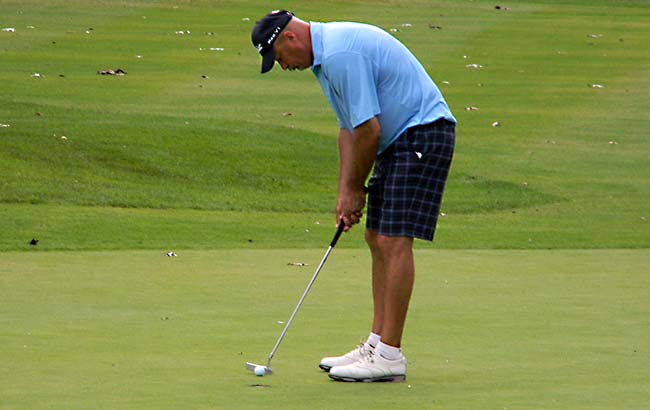 The straight-forward story is that Warren's Jack Pico won the 2016 Senior Summit County Amateur Championship at Barberton Brookside and Good Park this weekend.
Pico shot 3-under par 69 in the first round at Barberton Brookside, hitting 16 greens. Having just returned to competitive tournament golf after several years because of his daughter's scholastic sports career, the creaky side of leading a golf tournament showed through on a windy day at Good Park. A dozen players had a chance to win the tournament, but challenger after challenger made a mistake and fell by the wayside. Jack held it together as best he could, and finished his second round at 5-over par 76 for a 2-over par 145 total.
Then Pico won with perfect play in a three hole aggregate playoff for the overall championship, going par-birdie-par at Good Park's 1st, 2nd and 9th holes.
But that's just half of the story. The other side of this tale comes from the man Pico beat for the title.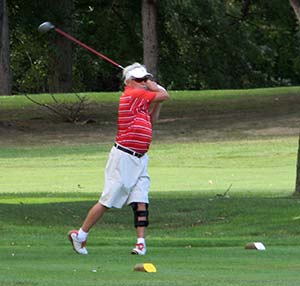 Strongsville's Rob Cummins — playing in the Super Senior Division for players ages 60-69 — shot 73 at Barberton Brookside. Playing two groups ahead of Pico, Cummins was 2-under par after nine holes at Good Park: he had taken the lead in the tournament.
But then he made double-bogey at both of the tough 10th and 11th holes to fall back.
Never quitting, he righted the ship by making eagle at the reachable par-5 14th hole (which held up to win a skin!), and he got it to the house with a score of 72, which ended up earning Cummins a tie for first place overall.
Since each man played in a different age division, the playoff was for the overall title and trophy, as their division prize amounts were already secured.
The playoff was great entertainment.
Both players hit the fairway and green on the first playoff hole, and both players just missed their birdie putts from about 15 feet.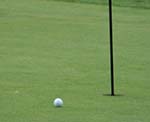 After their tee shots on the dogleg par-5 second, Cummins had the advantage as he was in better position on the right edge of the fairway; Pico was blocked from firing at the green because he didn't clear the dogleg and he had to lay up to about 65 yards short. Cummins hit his second shot pin-high right just off the green, and seemed to take control of the playoff.
But then Pico stuck his third shot wedge to 18 inches, rolling it past the hole and nearly making it! (photo)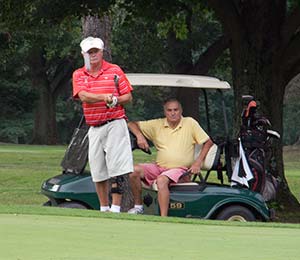 From the high-right side of the second green, Cummins chipped well (photo left) but his ball stopped a bit short of what he expected, about three feet above the hole. Then a heartbreaking swing of momentum: Cummins birdie putt did a 180-degree lip-out. He tapped in for par. Pico made his short putt for birdie and he had a one shot lead with one hole to play.
At the third hole of the aggregate playoff, the 186-yard par-3 ninth, Pico hit his tee shot into the front right bunker. Cummins hit his tee shot to the front fringe, about 12 inches short of the green and 15 feet away. It looked like a two-shot swing was possible, as the pin was cut tight behind the bunker and Pico didn't have much room. But Pico hit a spectacular bunker shot to 12 inches!
Now it was clear what Cummins need to do: he had to hole his birdie putt to tie Pico and force the playoff into sudden death.
Cummins settled over the birdie putt, struck it perfectly, watched it roll online right at the hole, and…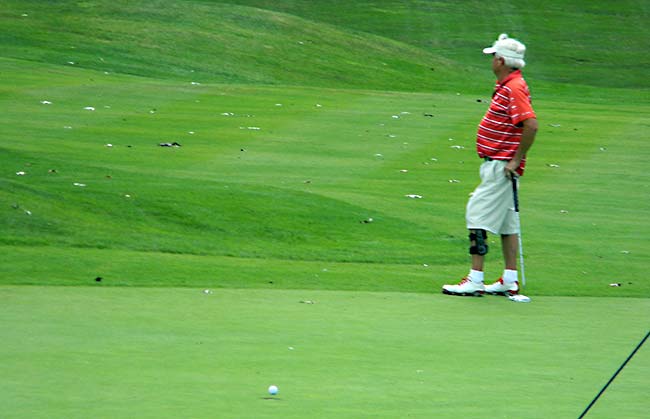 Kudos to Tournament Director Larry Zimmerman for staging a great event that attracted a full field…
FINAL RESULTS:
2016 Senior Summit County Amateur Championship
Barberton Brookside CC, Norton – Friday, August 19th
Good Park Golf Course, Akron – Saturday, August 20th
Par 72 – 71 = 143

OVERALL RESULTS
PICO, JACK S 69 – 76 = 145
CUMMINS, ROB SS 73 – 72 = 145
SPINO, BOBBY S 75 – 71 = 146
SAARI, SCOTT S 72 – 74 = 146
BAUGH, TOM S 71 – 75 = 146
FREEMAN, ALLEN S 77 – 70 = 147
LAGROTTERIA, PAUL S 76 – 71 = 147
BELL, RON SS 72 – 75 = 147
CRIDER, RANDY S 74 – 74 = 148
BOARMAN, LOU S 72 – 76 = 148
ALLEN, GEORGE S 72 – 76 = 148
DAVIS, TIM S 72 – 76 = 148
SEEVER, TOM S 72 – 76 = 148
LUKEN, JEFF SS 76 – 72 = 148
MERROW, RICK SS 76 – 72 = 148
HERCHECK, JIM SS 75 – 73 = 148
JENDRE, ANDREW S 76 – 73 = 149
KARIC, ZORAN S 75 – 74 = 149
MILLER, FRED SS 74 – 75 = 149
DEAN, JEFF SS 70 – 79 = 149
SCHUSTRICH, ROB S 76 – 74 = 150
HEAVNER, TIM S 75 – 75 = 150
CHIRUMBOLO, BRUNO SS 75 – 75 = 150
BINGMAN, GEORGE SSS 76 – 74 = 150
STACK, TOM SS 76 – 75 = 151
DEAN, BRUCE SS 74 – 77 = 151
BRYSON, RICK S 79 – 73 = 152
PROKOP, RAY S 77 – 75 = 152
ECKMAN, KENT S 76 – 76 = 152
PECK, DAVE S 73 – 79 = 152
CEA, JIM SS 74 – 78 = 152
LEWIS, ALAN S 76 – 77 = 153
BURGE, GEOFFREY S 78 – 75 = 153
SKIDMORE, TOM S 77 – 76 = 153
THOMAS, MARK S 73 – 80 = 153
CUTLIP, DEAN S 75 – 79 = 154
CICCARELLO, MARK S 75 – 79 = 154
BOLAS, DAVID S 74 – 80 = 154
ZIGA, PAT SS 76 – 78 = 154
NISKANEN, JIM SS 76 – 78 = 154
CUTLIP, DAVE S 79 – 76 = 155
LUCKENBAUGH, TROY S 73 – 82 = 155
PARKS, TOM S 77 – 79 = 156
WAGNER, JOHN S 82 – 74 = 156
MUSIEL, GERALD SS 79 – 77 = 156
CONGIN, GARY S 78 – 79 = 157
LIVAK, FRANK S 81 – 76 = 157
HERAN, SCOTT S 78 – 79 = 157
BEDELL, STEVE SS 80 – 77 = 157
MARTIN, FRED SS 79 – 78 = 157
VUJAS, MIKE SS 79 – 78 = 157
NAJDA, RAYMOND SS 77 – 80 = 157
SKIRPSTAS, RON SS 73 – 84 = 157
TARTER, JIM SSS 80 – 77 = 157
DEJESUS, ANTONIO S 78 – 80 = 158
JENKINS, JEFF S 77 – 81 = 158
DONOFRIO, JOHN SS 76 – 82 = 158
FLEMING, DOUG S 78 – 81 = 159
ROSITANI, RON S 81 – 78 = 159
RICHARDSON, KEVIN SS 82 – 77 = 159
SHEDLOSKI, CHET S 83 – 77 = 160
KERNS, LARRY S 80 – 80 = 160
BRADSHAW, BOB S 78 – 82 = 160
RICHARDS, BILL SS 84 – 77 = 161
MINTZ, MICHEAL SS 81 – 80 = 161
KRUPA, KEN SS 80 – 81 = 161
HEDRICK, JOE SSS 83 – 78 = 161
MCNIECE, RAY S 85 – 77 = 162
WHEELER, PAT S 84 – 78 = 162
GRANATA, JOE SS 83 – 79 = 162
PLUTO, KEITH SS 83 – 79 = 162
DIFRANCISCO, TOM S 84 – 79 = 163
SKEEN, RANDY S 84 – 80 = 164
TISCHLER, STEPHEN S 78 – 86 = 164
DEMETER, MIKE S 83 – 82 = 165
GOLDMAN, GEORGE SS 81 – 84 = 165
CARDINALLI, MICHAEL S 82 – 84 = 166
KEENAN, TERRY SS 82 – 84 = 166
MIRELLI, JEFF S 83 – 84 = 167
LARIZZA, KEVIN S 89 – 78 = 167
REED, JAMES S 82 – 85 = 167
TAYLER, GREG SS 83 – 84 = 167
KERNS, BRIAN S 82 – 86 = 168
WILSON, GREG SS 79 – 89 = 168
GASSETT, BILL SS 85 – 83 = 168
WOODRUM, DAVE SS 85 – 84 = 169
HORRIGAN, DAN S 86 – 84 = 170
WILSON, STEVE SS 86 – 84 = 170
STEINHILBER, STEVEN SS 83 – 87 = 170
BROPHY, RAY S 86 – 85 = 171
BREEN, KEVIN S 88 – 83 = 171
MEISTER, HANS SS 88 – 83 = 171
BANIA, DAN SSS 84 – 87 = 171
HARRIS, RAYMOND SSS 87 – 84 = 171
OKONEK, PHIL SS 86 – 86 = 172
PETIT, CHAD S 88 – 85 = 173
D'AVELLO, DORAN SS 84 – 89 = 173
KERN, JOHN SSS 83 – 90 = 173
LAUBSCHER, ROCKY S 87 – 87 = 174
KNEVEL, MARK SS 86 – 88 = 174
AITKEN, JIMMY S 88 – 87 = 175
ROTH, BRIAN S 89 – 87 = 176
HORRIGAN, JIM S 86 – 94 = 180
BUTLER, MIKE SS 91 – 91 = 182
BENCO, RON SS 96 – 89 = 185
HILLIER, MIKE SSS 93 – 94 = 187
GROSSO, JIM S WD – = WD
TOTH, JOHN S 83 – WD = WD
NEMETH, JOE S 77 – WD = WD
SZWAST, TERRY SS 94 – WD = WD
ROUND 2 SKINS: $550 ea
Keith Pluto – Birdie 3 Hole #10
Rob Cummins – Eagle 3 Hole #14

SENIOR DIVISION ages 50-59
PICO, JACK S 69 – 76 = 145 $500
SPINO, BOBBY S 75 – 71 = 146 $275
SAARI, SCOTT S 72 – 74 = 146 $275
BAUGH, TOM S 71 – 75 = 146 $275
FREEMAN, ALLEN S 77 – 70 = 147 $212.50
LAGROTTERIA, PAUL S 76 – 71 = 147 $212.50
CRIDER, RANDY S 74 – 74 = 148 $130
BOARMAN, LOU S 72 – 76 = 148 $130
ALLEN, GEORGE S 72 – 76 = 148 $130
DAVIS, TIM S 72 – 76 = 148 $130
SEEVER, TOM S 72 – 76 = 148 $130
JENDRE, ANDREW S 76 – 73 = 149 $100
KARIC, ZORAN S 75 – 74 = 149 $100
SCHUSTRICH, ROB S 76 – 74 = 150 $100
HEAVNER, TIM S 75 – 75 = 150 $100
BRYSON, RICK S 79 – 73 = 152
PROKOP, RAY S 77 – 75 = 152
ECKMAN, KENT S 76 – 76 = 152
PECK, DAVE S 73 – 79 = 152
LEWIS, ALAN S 76 – 77 = 153
BURGE, GEOFFREY S 78 – 75 = 153
SKIDMORE, TOM S 77 – 76 = 153
THOMAS, MARK S 73 – 80 = 153
CUTLIP, DEAN S 75 – 79 = 154
CICCARELLO, MARK S 75 – 79 = 154
BOLAS, DAVID S 74 – 80 = 154
CUTLIP, DAVE S 79 – 76 = 155
LUCKENBAUGH, TROY S 73 – 82 = 155
PARKS, TOM S 77 – 79 = 156
WAGNER, JOHN S 82 – 74 = 156
CONGIN, GARY S 78 – 79 = 157
LIVAK, FRANK S 81 – 76 = 157
HERAN, SCOTT S 78 – 79 = 157
DEJESUS, ANTONIO S 78 – 80 = 158
JENKINS, JEFF S 77 – 81 = 158
FLEMING, DOUG S 78 – 81 = 159
ROSITANI, RON S 81 – 78 = 159
SHEDLOSKI, CHET S 83 – 77 = 160
KERNS, LARRY S 80 – 80 = 160
BRADSHAW, BOB S 78 – 82 = 160
MCNIECE, RAY S 85 – 77 = 162
WHEELER, PAT S 84 – 78 = 162
DIFRANCISCO, TOM S 84 – 79 = 163
SKEEN, RANDY S 84 – 80 = 164
TISCHLER, STEPHEN S 78 – 86 = 164
DEMETER, MIKE S 83 – 82 = 165
CARDINALLI, MICHAEL S 82 – 84 = 166
MIRELLI, JEFF S 83 – 84 = 167
LARIZZA, KEVIN S 89 – 78 = 167
REED, JAMES S 82 – 85 = 167
KERNS, BRIAN S 82 – 86 = 168
HORRIGAN, DAN S 86 – 84 = 170
BROPHY, RAY S 86 – 85 = 171
BREEN, KEVIN S 88 – 83 = 171
PETIT, CHAD S 88 – 85 = 173
LAUBSCHER, ROCKY S 87 – 87 = 174
AITKEN, JIMMY S 88 – 87 = 175
ROTH, BRIAN S 89 – 87 = 176
HORRIGAN, JIM S 86 – 94 = 180
GROSSO, JIM S WD – = WD
TOTH, JOHN S 83 – WD = WD
NEMETH, JOE S 77 – WD = WD
SUPER SENIOR DIVISION ages 60-69
CUMMINS, ROB SS 73 – 72 = 145 $400
BELL, RON SS 72 – 75 = 147 $300
LUKEN, JEFF SS 76 – 72 = 148 $250
MERROW, RICK SS 76 – 72 = 148 $250
HERCHECK, JIM SS 75 – 73 = 148 $250
MILLER, FRED SS 74 – 75 = 149 $187.50
DEAN, JEFF SS 70 – 79 = 149 $187.50
CHIRUMBOLO, BRUNO SS 75 – 75 = 150 $125
STACK, TOM SS 76 – 75 = 151 $50
DEAN, BRUCE SS 74 – 77 = 151 $50
CEA, JIM SS 74 – 78 = 152
ZIGA, PAT SS 76 – 78 = 154
NISKANEN, JIM SS 76 – 78 = 154
MUSIEL, GERALD SS 79 – 77 = 156
BEDELL, STEVE SS 80 – 77 = 157
MARTIN, FRED SS 79 – 78 = 157
VUJAS, MIKE SS 79 – 78 = 157
NAJDA, RAYMOND SS 77 – 80 = 157
SKIRPSTAS, RON SS 73 – 84 = 157
DONOFRIO, JOHN SS 76 – 82 = 158
RICHARDSON, KEVIN SS 82 – 77 = 159
RICHARDS, BILL SS 84 – 77 = 161
MINTZ, MICHEAL SS 81 – 80 = 161
KRUPA, KEN SS 80 – 81 = 161
GRANATA, JOE SS 83 – 79 = 162
PLUTO, KEITH SS 83 – 79 = 162
GOLDMAN, GEORGE SS 81 – 84 = 165
KEENAN, TERRY SS 82 – 84 = 166
TAYLER, GREG SS 83 – 84 = 167
WILSON, GREG SS 79 – 89 = 168
GASSETT, BILL SS 85 – 83 = 168
WOODRUM, DAVE SS 85 – 84 = 169
WILSON, STEVE SS 86 – 84 = 170
STEINHILBER, STEVEN SS 83 – 87 = 170
MEISTER, HANS SS 88 – 83 = 171
OKONEK, PHIL SS 86 – 86 = 172
D'AVELLO, DORAN SS 84 – 89 = 173
KNEVEL, MARK SS 86 – 88 = 174
BUTLER, MIKE SS 91 – 91 = 182
BENCO, RON SS 96 – 89 = 185
SZWAST, TERRY SS 94 – WD = WD
SUPER SUPER SENIOR DIVISION ages 70+
BINGMAN, GEORGE SSS 76 – 74 = 150 $250
TARTER, JIM SSS 80 – 77 = 157 $200
HEDRICK, JOE SSS 83 – 78 = 161 $150
BANIA, DAN SSS 84 – 87 = 171
HARRIS, RAYMOND SSS 87 – 84 = 171
KERN, JOHN SSS 83 – 90 = 173
HILLIER, MIKE SSS 93 – 94 = 187