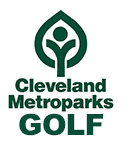 Allen Freeman of Brecksville (above left) posted a total of 5-under par 139 (69-70) to win the 2016 Senior Cleveland Amateur Golf Championship at Big Met Golf Course in Fairview Park on Thursday.
Freeman began the day tied for the lead with Avon Lake's Scott Saari. But he came out firing on Day 2, rattling of four birdies in his first six holes.
His second round score of 2-under par 70 was enough to hold off a big charge by Mike Beres, who finished one shot behind at 4-under par 140 (71-69).
Tom Laubacher (73-70), Mark Foss (71-72), and Scott Saari (69-74) all finished tied for third place at 1-under par 143.
All players shooting even par 144 or better qualified for the 2016 Greater Cleveland Amateur Championship at Sleepy Hollow Golf Course on August 12th, 13th, and 14th.
FINAL RESULTS:
2016 Senior Greater Cleveland Amateur Golf Championship
Big Met Golf Course, Fairview Park, Ohio
Weds – Thurs, July 20 – 21, 2016
POS | PLAYER | RD1 – RD2 = TOTAL
1 Freeman, Allen 69 – 70 = 139
2 Beres, Mike 71 – 69 = 140
3 Saari, Scott 69 – 74 = 143
3 Foss, Mark 71 – 72 = 143
3 Laubacher, Tom 73 – 70 = 143
6 Jendre, Andrew 73 – 71 = 144
7 Peck, David 73 – 72 = 145
8 Crider, Randy 70 – 76 = 146
8 DeJesus, Tony 72 – 74 = 146
8 LaGrotteria, Paul 73 – 73 = 146
8 Blackburn, Steve 74 – 72 = 146
8 Lahnan, Larry 74 – 72 = 146
8 Iosue, John 80 – 66 = 146
14 Borlin, Mark 74 – 73 = 147
14 Ciccarello, Mark 77 – 70 = 147
16 Heavner, Tim 71 – 77 = 148
16 Brady, Mike 75 – 73 = 148
16 Iosue, Mike 75 – 73 = 148
19 Livak, Frank 72 – 77 = 149
20 Burge, Geoffrey 74 – 76 = 150
20 Prokop, Ray 74 – 76 = 150
20 Boarman, Lou 75 – 75 = 150
23 Helaney, Chris 72 – 79 = 151
23 Slabaugh, Cary 79 – 72 = 151
25 Herchek, Jim 74 – 78 = 152
25 Koelsch, Theodore 75 – 77 = 152
25 Thomas, Mark 75 – 77 = 152
25 Luken, Jeff 79 – 73 = 152
29 Button, Robert 81 – 72 = 153
29 Najda, Ray 81 – 72 = 153
31 Heran, Scott 75 – 79 = 154
31 Margulies, Daniel 76 – 78 = 154
31 Hopkins, Dan 77 – 77 = 154
34 Hu, Jiu 77 – 78 = 155
34 Woznicki, Paul 77 – 78 = 155
36 McNiece, Ray 76 – 80 = 156
36 Tischler, Stephen 79 – 77 = 156
38 Sokol, Brian 77 – 80 = 157
38 Corabi, Sam 78 – 79 = 157
38 Congin, Gary 79 – 78 = 157
41 Moncol, Rick 78 – 80 = 158
41 Saylor, Ed 80 – 78 = 158
41 Niedzialek, John 81 – 77 = 158
44 Rechin, Tom 79 – 80 = 159
45 Ismial, Haroon 81 – 79 = 160
45 Kerns, Brian 81 – 79 = 160
45 Schulz, Douglas 83 – 77 = 160
48 Marinelli, Danny 78 – 84 = 162
49 Knevel, Mark 86 – 77 = 163
50 Benco, Ron 79 – 85 = 164
50 Mintz, Michael 80 – 84 = 164
50 Beltavski, Mark 85 – 79 = 164
53 Wilburn, Randy 85 – 81 = 166
54 Pace, John 83 – 84 = 167
55 Cox, Jack 82 – 88 = 170
55 Schaeffer, Don 84 – 86 = 170
55 Minich, Al 85 – 85 = 170
58 Rositani, Ron 86 – 91 = 177
59 Manilla, Bernie 89 – 90 = 179
60 Ettinger, Jeff 91 – 91 = 182

Round 2 Skins: $126 each
#1 – (3) Allen Freeman
#5 – (3) David Peck
#9 – (3) Mike Brady
#12 – (2) Frank Livak
#15 – (3) Tom Laubacher
#16 – (3) Brian Kerns