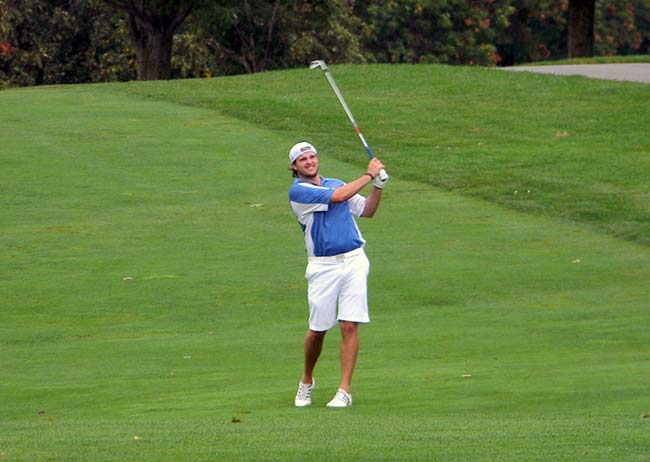 After having had multiple top-ten Greater Cleveland Amateur Championship finishes, Ryan Stefanski of Sagamore Hills finally broke through into the winner's circle.
Stefanski shot a final round score of 68 on a day that featured off-and-on rain; his only bogey of the day came on the 18th hole with the victory already secured.
Stefanski finished the three rounds at 2-over par to win by three shots over a trio of players who finished at 5-over par:
Doug Barber,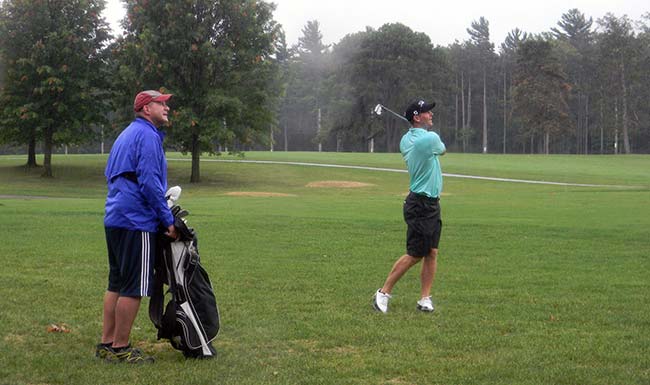 Austin Zoller,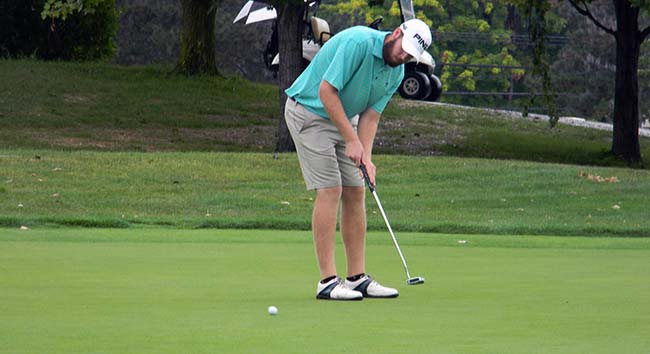 and Jacob Appleby.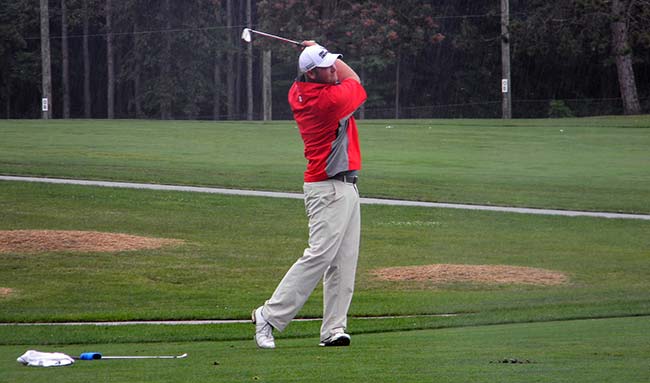 Players at 12-over par 225 finished in the top ten and are exempt into the 2017 Cleveland Amateur Championship at Manakiki.
Hats off to Sleepy Hollow superintendent Chad Lewanski and his grounds crew for getting the course ready each day with the challenging weather conditions.
2016 Cleveland Am Photo Gallery here >

FINAL RESULTS:
2016 Greater Cleveland Amateur Championship
Sleepy Hollow Golf Course, Brecksville
August 12 – 14, 2016

Ryan Stefanski 69 – 78 – 68 = 215 $750.00
Austin Zoller 69 – 74 – 75 = 218 $500.00
Doug Barber 75 – 72 – 71 = 218 $500.00
Jacob Appleby 75 – 74 – 69 = 218 $500.00
Nicholas Anagnost 72 – 73 – 74 = 219 $300.00
David Sotka 75 – 75 – 70 = 220 $225.00
Steve Blackburn Jr. 77 – 73 – 70 = 220 $225.00
Howard Clendenin 76 – 74 – 73 = 223 $150.00
Phil Latsko 76 – 75 – 74 = 225 $50.00
Chris Okeson 75 – 77 – 73 = 225 $50.00
Matt Busa 79 – 75 – 71 = 225 $50.00
Robert Schustrich Jr. 75 – 74 – 77 = 226
Allen Freeman 76 – 73 – 78 = 227
Anton Krecic 78 – 72 – 77 = 227
A.J. Borisa 77 – 75 – 76 = 228
Charles Milo 73 – 77 – 79 = 229
Dan Predovic 74 – 77 – 78 = 229
Brian Polick 76 – 78 – 75 = 229
Bill Schaefer 75 – 74 – 81 = 230
Jack Garswood 79 – 77 – 74 = 230
Phil Bojc 82 – 75 – 73 = 230
Mark Foss 79 – 76 – 77 = 232
Tony Briggs 75 – 80 – 78 = 233
Matthew Roth 79 – 80 – 74 = 233
Scott Saari 74 – 79 – 81 = 234
John Schnur 76 – 80 – 78 = 234
Michael Lenartowicz 79 – 76 – 82 = 237
Mark Borlin 76 – 84 – 78 = 238
John Williams 82 – 78 – 81 = 241
Andrew Grayson 76 – 83 – 83 = 242
Steve Blackburn Sr. 83 – 77 – 82 = 242

ROUND 3 SKINS: $110 ea
Chris Okeson 3 #3
Austin Zoller 3 #7
Chris Okeson 3 #13
Dave Sotka 3 #18

MISSED THE CUT
Joe Puch 80 – 81 = 161
Chris Davis 80 – 81 = 161
Johnathan Kasberg 86 – 75 = 161
Nick Holmes 89 – 74 = 163
Jackson Farling 86 – 78 = 164
Brian Bir 79 – 85 = 164
Bobby Harmon 78 – 87 = 165
Chandler Walnsch 83 – 82 = 165
Larry Russell 82 – 84 = 166
Ryan Augustitus 83 – 83 = 166
Adam Stiffler 83 – 83 = 166
Patrick Tyrrell 89 – 77 = 166
Paul LaGrotteria 84 – 83 = 167
Erron Gomez 82 – 86 = 168
Jeff Luken 83 – 85 = 168
Cary Slabaugh 80 – 89 = 169
Ron Ritner Jr. 81 – 88 = 169
Joe Blackburn 88 – 82 = 170
Brett Sanders 86 – 85 = 171
Jimmy Wild 85 – 88 = 173
Eric Wonkovich 82 – 95 = 177
John Baggott 79 – 80 = WD
David Reiter Jr. 82 – 77 = WD
Bill Speirs 81 – 79 = DQ
Paul Krueger 81 – 75 = WD
Brian Smith 79 – WD
John Neidzialek 82 – WD
Tim Cebula 84 – DQ
Mikah Lanier 84 – WD
Matt Kang 88 – WD
Mark Hach WD