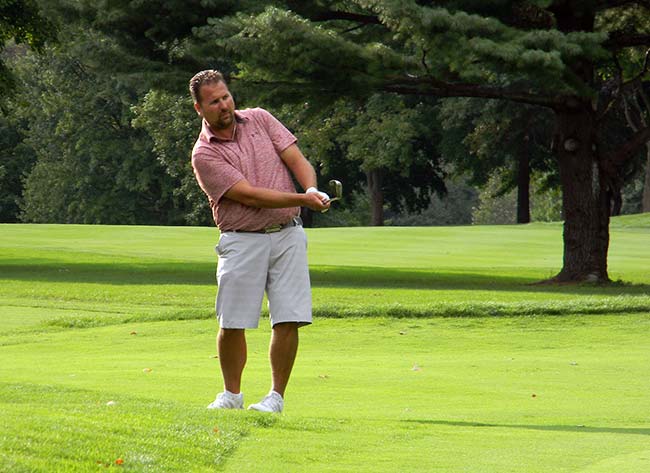 Brian Smith of Amherst opened the 2016 Akron District Golf Association's Golfer of the Year Tournament in the nightmare way that gives every player cold-sweats: a triple-bogey 7 with a ball out-of-bounds.
But he played pretty well after that. As in 5-under par for the next 35 holes.
Smith recovered beautifully from his worst-case-scenario start to shoot an even-par 72 in Saturday's first round at Shady Hollow Country Club in Massillon.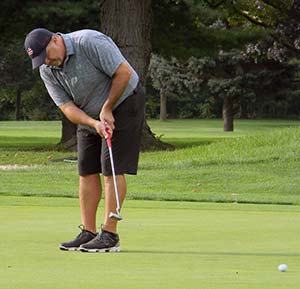 Then Smith continued that great play on Sunday with a 2-under par 70 to win by a single shot over Shady Hollow member Kurt Peterson, who led after the first round at 2-under par.
Peterson had a birdie putt on the final hole (shown right) that could have added some pressure to Smith's finish, but the putt hung on the lip. That gave Smith two putts from 7-feet to win, which he used to secure his victory.
Smith seems to like Shady Hollow, as he was close to winning last year's Golfer of the Year Tournament: Aaron Crewse of North Canton beat him on the second hole of a sudden death playoff in 2015.
Crewse finished third in this year's GOY event at 146, four shots back.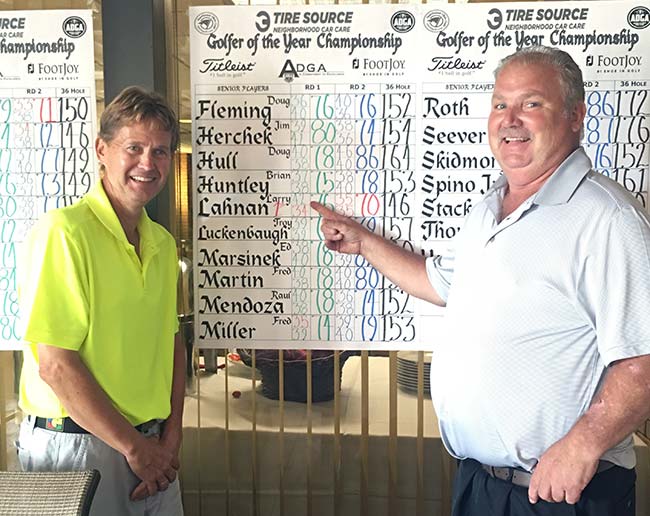 In the Senior Division, a playoff was needed to determine the winner of the Golfer of the Year tournament.
One of the guys in that playoff never expected to be there.
Larry Lahnan of Aurora played much of the 36 holes with a noticeable limp from knee pain. He shot 42 after nine holes of Saturday's first round, and talked about withdrawing from the tournament. But he decided to continued on and made baby swings for the second nine — and shot 2-under par 34 while winning two skins.
Larry went home and iced down his knee all evening, then came back Sunday and shot 2-under par 70 in the final round. In fact, Lahnan had it to 4-under par for the day and had a chance to put it away in regulation, but he made a couple of bogies on the final holes coming home for a 146 total.
Ron Bell of Akron also played well in the final round, shooting 72 on Sunday after a first round 74. Bell also finished at 146, and the pair headed to the first tee for a playoff.
A great second shot on the first hole of the playoff by Lahnan wrapped up the win pretty quickly. Bell missed the green a bit deep with his second and didn't get up-and-down, allowing Larry to cozy his short birdie putt up to tap-in range for the victory.

2016 ADGA Golfer of the Year Photo Gallery here >
The final points totals for each division of the Akron District Golf Association's 2016 Golfer or the Year race will be released in the next few days. Watch Northeast Ohio Golf for final standings.
And a big thanks to ADGA Director Tim Davis and daughter Kristin Davis from all of the players for the fine work they did in 2016! We miss Dave "Chappy' Chapple for sure, but Kristin was a quick study to help continue the ADGA legacy.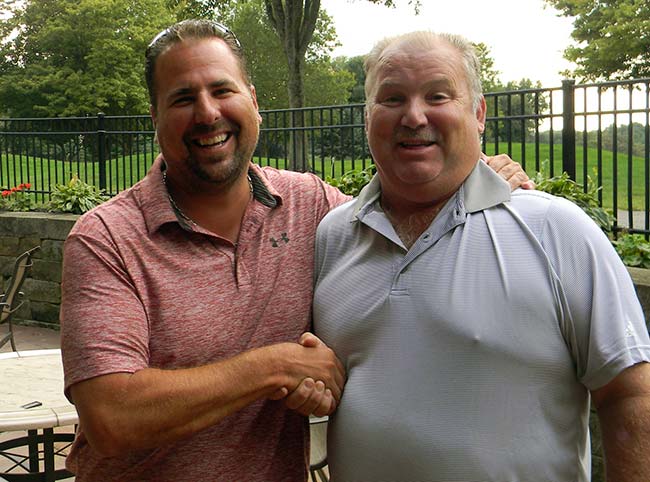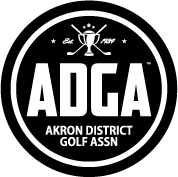 FINAL RESULTS:
Akron District Golf Association
2016 Golfer of the Year Tournament
presented by Tire Source Neighborhood Car Care
and Titleist / Footjoy
Shady Hollow Country Club, Massillon, Ohio
September 17 – 18, 2016
CHAMPIONSHIP DIVISION
BRIAN SMITH 72 – 70 = 142 $350.00
KURT PETERSON 70 – 73 = 143 $275.00
AARON CREWSE 71 – 75 = 146 $200.00
MIKE SIMPSON 71 – 76 = 147 $60.00
SHAYNE BISHOP 76 – 71 = 147 $60.00
BOBBY SPINO 78 – 69 = 147 $60.00
Out of the Money:
SCHUSTRICH 73 – 75 = 148
HULL 72 – 80 = 152
BEEBE 79 – 74 = 153
TRIER 78 – 76 = 154
KLOETZER 74 – 81 = 155
MARR 80 – 76 = 156
WARREN 80 – 78 = 158
ARMOUR 80 – 81 = 161
VINCELETTE 82 – 79 = 161
BARBAS 84 – 80 = 164
BERKHEIMER 83 – 85 = 168
WATKINS 87 – 83 = 170
VOUGHT 85 – 93 = 178
FREEMAN 78 – NC
CHAMPIONSHIP DIVISION SKINS: $56 ea
Crewse 3 on #3
Trier 2 on #8
Spino 2 on #11
Smith 3 on # 15
Schustrich 3 on #18
SENIOR DIVISION
LARRY LAHNAN 76 – 70 = 146* $350.00
RON BELL 74 – 72 = 146 $275.00
MARK BORLIN 72 – 77 = 149 $175.00
MARK CICCARELLO 72 – 77 = 149 $175.00
RICK BRYSON 76 – 73 = 149 $175.00
*won playoff
Out of the Money:
BAUGH 79 – 71 = 150
FLEMING 76 – 76 = 152
SKIDMORE 76 – 76 = 152
THOMAS 76 – 76 = 152
MENDOZA 78 – 74 = 152
MILLER 74 – 79 = 153
HUNTLEY 75 – 78 = 153
DOWNING 80 – 74 = 154
HERCHEK 80 – 74 = 154
CUTLIP 74 – 82 = 156
LUCKENBAUGH 78 – 79 = 157
CEA 80 – 77 = 157
DAVIS 84 – 73 = 157
MARTIN 78 – 80 = 158
DEAN 78 – 81 = 159
MARSINEK 78 – 82 = 160
STACK 81 – 79 = 160
YANKO 81 – 80 = 161
SAM SPINO JR. 82 – 79 = 161
HULL 78 – 86 = 164
ROTH 86 – 86 = 172
SEEVER 89 – 87 = 176
SENIOR DIVISION SKINS: $40 ea
Lahnan 3 on #10 3 on #14
Bryson 3 on #18
Huntley 3 on #9
Yanko 2 on #11
Mendoza 2 on #8 2 on #13