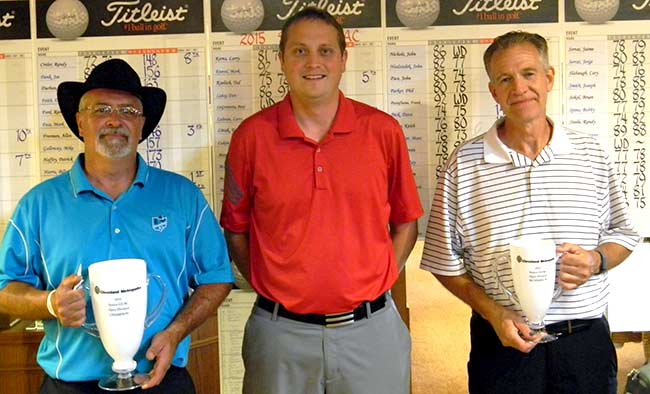 It took a four hole playoff to decide the winner of the 2015 Senior Cleveland Amateur Golf Championship at Big Met Golf Course in Fairview Park on Thursday.
Tim Heavner of Alliance (71-73) and Jim Herchek of Chagrin Falls (73-71) each posted two rounds that totaled even par 144.
Heavner rolled in birdies on both #16 and #17 to force a sudden death playoff with clubhouse leader, Herchek.
In the playoff, both players battled for four holes but Heavner pulled off a hard fought victory.
Allen Freeman of Brecksville fired the low round of the tournament (69) to pull into a third place tie with Larry Lahnan of Aurora at 146.
Photo gallery from the playoff here. Complete results below…

FINAL RESULTS:
2015 Senior Greater Cleveland Amateur Golf Championship
Big Met Golf Course, Fairview Park, Ohio
July 15 – 16, 2015
| | | | | |
| --- | --- | --- | --- | --- |
| POS | PLAYER | RD1 | RD2 | TOTAL |
| 1 | Heavner, Tim | 71 | 73 | 144 |
| 1 | Herchek, Jim | 73 | 71 | 144 |
| 3 | Freeman, Allen | 77 | 69 | 146 |
| 3 | Lahnan, Larry | 73 | 73 | 146 |
| 5 | Koelsch, Ted | 75 | 72 | 147 |
| 6 | Borlin, Mark | 73 | 75 | 148 |
| 6 | Heran, Scott | 73 | 75 | 148 |
| 6 | Crider, Randy | 72 | 76 | 148 |
| 9 | Beres, Mike | 74 | 75 | 149 |
| 9 | Blackburn, Steve | 75 | 74 | 149 |
| 9 | Peck, Dave | 74 | 75 | 149 |
| 9 | Pogachar, Marc | 76 | 73 | 149 |
| 13 | Slabaugh, Cary | 74 | 76 | 150 |
| 14 | Livak, Frank | 77 | 74 | 151 |
| 14 | Tyrrell, Patrick | 72 | 79 | 151 |
| 14 | Woznicki, Paul | 76 | 75 | 151 |
| 17 | Ciccarello, Mark | 78 | 74 | 152 |
| 17 | Iosue, John | 73 | 79 | 152 |
| 17 | Richardson, Kevin | 79 | 73 | 152 |
| 20 | Bedell, Steve | 76 | 77 | 153 |
| 20 | Mintz, Michael | 74 | 79 | 153 |
| 22 | Button, Robert | 75 | 79 | 154 |
| 23 | Luken, Jeff | 77 | 78 | 155 |
| 23 | Thomas, Mark | 77 | 78 | 155 |
| 23 | Tischler, Steven | 77 | 78 | 155 |
| 26 | Allen, George | 78 | 78 | 156 |
| 26 | Boarman, Lou | 82 | 74 | 156 |
| 26 | Denk, Joe | 80 | 76 | 156 |
| 26 | Pluto, Keith | 76 | 80 | 156 |
| 26 | Spino, Bobby | 77 | 79 | 156 |
| 26 | Steele, Randy | 74 | 82 | 156 |
| 32 | Brady, Mike | 76 | 81 | 157 |
| 32 | Foss, Mark | 80 | 77 | 157 |
| 32 | Galloway, Mike | 80 | 77 | 157 |
| 32 | Karshner, Bob | 78 | 79 | 157 |
| 32 | Pace, John | 83 | 74 | 157 |
| 32 | Saylor, Ed | 83 | 74 | 157 |
| 32 | Serrat, Jaime | 78 | 79 | 157 |
| 39 | Parker, Phil | 80 | 78 | 158 |
| 40 | Niedzialek, John | 82 | 77 | 159 |
| 40 | Prokop, Ray | 78 | 81 | 159 |
| 42 | Kerns, Larry | 81 | 79 | 160 |
| 42 | Margulies, Daniel | 80 | 80 | 160 |
| 42 | Price, Kevin | 78 | 82 | 160 |
| 45 | Marinelli, Danny | 80 | 81 | 161 |
| 46 | Congin, Gary | 82 | 80 | 162 |
| 46 | Sokol, Brian | 80 | 82 | 162 |
| 48 | Clemens, Duane | 81 | 82 | 163 |
| 48 | Durban, Ray | 86 | 77 | 163 |
| 48 | Nicely, Geoff | 84 | 79 | 163 |
| 48 | Rositani, Ron | 84 | 79 | 163 |
| 48 | Serrat, Jorge | 80 | 83 | 163 |
| 48 | Smith, Joseph | 78 | 85 | 163 |
| 54 | Hewitt, Harry | 85 | 79 | 164 |
| 55 | Wilburn, Randy | 84 | 81 | 165 |
| 56 | Burge, Geoff | 88 | 78 | 166 |
| 57 | Beltavski, Mark | 84 | 83 | 167 |
| 58 | Boyd, Anthony | 86 | 83 | 169 |
| 59 | Feith, Dale | 85 | 85 | 170 |
| 59 | Harris, Bill | 89 | 81 | 170 |
| 59 | Rechin, Tom | 86 | 84 | 170 |
| 62 | Schaeffer, Don | 86 | 85 | 171 |
| 63 | Miller, Ron | 90 | 82 | 172 |
| 64 | Haffey, Patrick | 86 | 87 | 173 |
| 65 | Knevel, Mark | 92 | 82 | 174 |
| 66 | Bania, Dan | 88 | 87 | 175 |
| 66 | Minich, Al | 90 | 85 | 175 |
| 68 | Ford, Randy | 95 | 82 | 177 |
| 68 | Labaj, Don | 86 | 91 | 177 |
| 68 | Stenhilber, Steven | 89 | 88 | 177 |
| 71 | Rudy, T.A. | 90 | 89 | 179 |
| 72 | Benco, Ron | 87 | 94 | 181 |
| 73 | Novak, Ken | 93 | 89 | 182 |