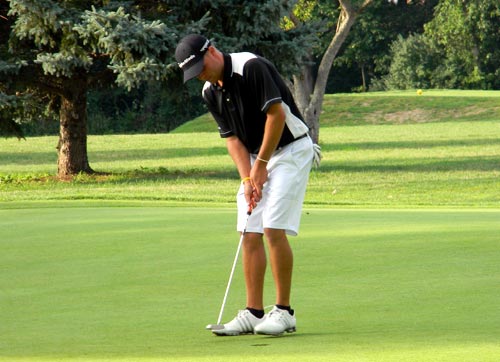 Richie Schembechler began the final round of the 2012 Summit County Amateur with a one shot lead. Starting his day on the back nine with all of the lead groups, he birdied the short par-4 12th, he birdied the reachable but danger-filled par-5 14th, and with steady shot-making and putting he parred the rest on his first nine — which just about wrapped up the championship.
Schembechler finished the front nine with a 2-under par 34 and sat 4-under par for the tournament, which seemed to deflate the field: no other player mounted enough of a charge to ever truly threaten the lead.
After making the turn (to the first hole, given the reversed nines for tournament play), Schembechler made a bogey on one and then notched another bogey with a short missed putt on the tough par-3 green at the fourth.
While the small back-slide piqued the interest of a couple of players (namely a charging Mike Witmer and the veteran Mark Thomas, who were his closest pursuers at the time), Schembechler ignored the miscues and made solid pars on each of the last five holes to win going away.
Mike Witmer of Brecksville, a player at John Carroll, finished alone in second place at 1-over par 143 after an even par 71 second round, while insurance pro Chris Okeson of Cleveland took solo third place at 144, also posting an even-par Sunday score. Mark Thomas bogeyed his final hole of the day to fall into a tie for fourth with past champion Aaron Crewse at 145.
The round of the day was turned in by Mike Cawley, who posted a four-under par score of 32-35=67 on Sunday to finish at 146 and in a tie for sixth.
And for the second straight day, only one skin was won on the day in the annual daily big skins game. But amazingly, this solo skin was earned with a simple birdie on the par-4 10th hole! Playing in the morning wave, Scott Mullen of Cuyahoga Falls made the only birdie of the day on the 10th on Sunday's round to win a whopping $1,430! Congratulations Scott. (Proving once again that EVERY player should enter the big skins game at the Summit County Am, because all it takes is one great shot at the right time — and you never know when it might be you…)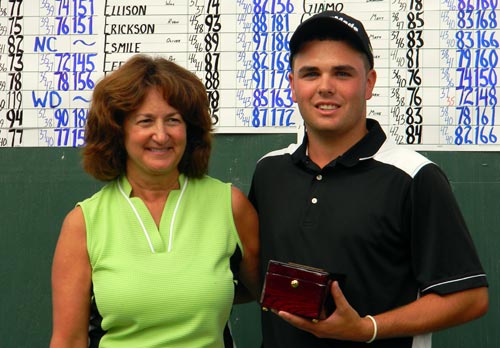 Special thanks to Larry Zimmerman, Greg Enright, Dante D'Andre and Todd Bertermann from Tournament Expert Software for all of their hard work in conducting the championship; another professionally-run event!
Complete results below. See hole-by-hole results with the online scorecards from Tournament Expert here. And don't forget to check out the 2012 Summit County Amateur's Photo Gallery and Video Gallery!


FINAL RESULTS:
2012 SUMMIT COUNTY AMATEUR GOLF CHAMPIONSHIP
Good Park Golf Course, Akron, Ohio
August 4 – 5th, 2012
Par 71

| | | | | |
| --- | --- | --- | --- | --- |
| PLAYER | RD1 | RD2 | TOTAL | PRIZE |
| Schembechler, Richie | 69 | 71 | 140 | $750.00 |
| | | | | |
| Witmer, Michael | 72 | 71 | 143 | $600.00 |
| | | | | |
| Okeson, Chris | 73 | 71 | 144 | $550.00 |
| | | | | |
| Crewse, Aaron | 73 | 72 | 145 | $512.50 |
| Thomas, Mark | 73 | 72 | 145 | $512.50 |
| | | | | |
| Schustrich, Robert | 73 | 73 | 146 | $425.00 |
| McCauley, Conner | 76 | 70 | 146 | $425.00 |
| Arison, Tom | 71 | 75 | 146 | $425.00 |
| Cawley, Mike | 79 | 67 | 146 | $425.00 |
| Metzendorf, Daniel | 70 | 76 | 146 | $425.00 |
| | | | | |
| Dazey, Joe | 74 | 73 | 147 | $350.00 |
| | | | | |
| Chadima, Jason | 75 | 73 | 148 | $275.00 |
| Lahnan, Larry | 77 | 71 | 148 | $275.00 |
| Simpson, Mike | 74 | 74 | 148 | $275.00 |
| Anderson, Josh | 76 | 72 | 148 | $275.00 |
| Guadagni, Mark | 76 | 72 | 148 | $275.00 |
| | | | | |
| Marr, Dan | 76 | 73 | 149 | $175.00 |
| Sotka, David | 74 | 75 | 149 | $175.00 |
| Lemon, Nevada | 73 | 76 | 149 | $175.00 |
| | | | | |
| Yacovazzi, Anthony | 76 | 74 | 150 | $102.27 |
| Miller, Fred | 74 | 76 | 150 | $102.27 |
| Heestand, Matt | 75 | 75 | 150 | $102.27 |
| Oates, David | 75 | 75 | 150 | $102.27 |
| Koch, Bobby | 73 | 77 | 150 | $102.27 |
| Peterson, Kurt | 73 | 77 | 150 | $102.27 |
| Skirpstas, Pete | 72 | 78 | 150 | $102.27 |
| Vincelette, Brian | 76 | 74 | 150 | $102.27 |
| Stallsmith, Anthony | 73 | 77 | 150 | $102.27 |
| Grosso, Jim | 76 | 74 | 150 | $102.27 |
| Cea, Jim | 76 | 74 | 150 | $102.27 |
| | | | | |
| Hennigan, Bob | 76 | 75 | 151 | |
| Cockerham, Jeff | 75 | 76 | 151 | |
| Blackburn, Steve | 74 | 77 | 151 | |
| Klein, Adam | 74 | 77 | 151 | |
| Clay, Josh | 77 | 74 | 151 | |
| | | | | |
| Mosholder, Zach | 76 | 76 | 152 | |
| Warren, Matt | 75 | 77 | 152 | |
| Barbour, Billy | 74 | 78 | 152 | |
| | | | | |
| | | | | |
| Zachardy, Jason | 77 | 76 | 153 | |
| Petry, Nathanael | 78 | 75 | 153 | |
| Kirby, Tanner | 75 | 78 | 153 | |
| Furlong, John | 82 | 71 | 153 | |
| Kabasky, John | 79 | 74 | 153 | |
| Kloetzer, Shaun | 72 | 81 | 153 | |
| Freeman, Al | 76 | 77 | 153 | |
| Li, Tommy | 78 | 75 | 153 | |
| Niskanen, Jim | 77 | 76 | 153 | |
| Alcorn, Dustin | 77 | 76 | 153 | |
| | | | | |
| Maxwell, Ryan | 82 | 72 | 154 | |
| Seever, Tom | 71 | 83 | 154 | |
| Davis, Tim | 77 | 77 | 154 | |
| | | | | |
| Pinzone, Anthony | 78 | 77 | 155 | |
| Bergold, Bill | 82 | 73 | 155 | |
| Scala, Sam | 78 | 77 | 155 | |
| Campbell, Jeff | 78 | 77 | 155 | |
| Thompson, Drew | 79 | 76 | 155 | |
| | | | | |
| Cutlip, Dean | 78 | 78 | 156 | |
| Lewis, Alan | 79 | 77 | 156 | |
| Ellison, Will | 74 | 82 | 156 | |
| Plute, Chris | 77 | 79 | 156 | |
| Koch, Spencer | 79 | 77 | 156 | |
| Reitan, William | 81 | 75 | 156 | |
| Bryson, Rick | 76 | 80 | 156 | |
| Livak, Frank | 77 | 79 | 156 | |
| Merrow, Rick | 78 | 78 | 156 | |
| | | | | |
| Ciccarello, Mark | 76 | 81 | 157 | |
| Spittler, Pat | 75 | 82 | 157 | |
| Spino, Bobby | 78 | 79 | 157 | |
| Fleming, Doug | 81 | 76 | 157 | |
| King, Mike | 78 | 79 | 157 | |
| Murphy, Sean | 80 | 77 | 157 | |
| Vanckunas, Chris | 78 | 79 | 157 | |
| Linden, Jered | 78 | 79 | 157 | |
| | | | | |
| Rockich, Joe | 76 | 82 | 158 | |
| Watkins, Tyler | 80 | 78 | 158 | |
| Fricker, Steve | 77 | 81 | 158 | |
| Carano, Marcus | 79 | 79 | 158 | |
| | | | | |
| Keshock, Alan | 81 | 78 | 159 | |
| Yanko, Rob | 80 | 79 | 159 | |
| Schaefer, Jimmy | 80 | 79 | 159 | |
| Dugan, Michael | 79 | 80 | 159 | |
| Meade, Ryan | 75 | 84 | 159 | |
| Griffiths, Alex | 81 | 79 | 160 | |
| Mullen, Scott | 83 | 77 | 160 | |
| Hochschwender, Mike | 79 | 81 | 160 | |
| Parker, Chase | 79 | 81 | 160 | |
| Giaimo, Brandon | 78 | 82 | 160 | |
| Kloetzer, Matt | 81 | 79 | 160 | |
| Agarenzo, Mychal | 78 | 82 | 160 | |
| Bailey, Bruce | 75 | 85 | 160 | |
| | | | | |
| Steffen, Frank | 79 | 82 | 161 | |
| Hamilton, Mike | 83 | 78 | 161 | |
| Slates, Chris | 78 | 83 | 161 | |
| Denk, Joe | 80 | 81 | 161 | |
| Shomo, Matt | 76 | 85 | 161 | |
| Morton, Justin | 85 | 76 | 161 | |
| Lowry, Rich | 83 | 78 | 161 | |
| Stefanov, Larry | 81 | 80 | 161 | |
| Wenger, Jeff | 78 | 83 | 161 | |
| | | | | |
| Kies, Rick | 77 | 85 | 162 | |
| Lenartowicz, Michael | 82 | 80 | 162 | |
| Letson, Chris | 84 | 78 | 162 | |
| Ziga, Pat | 83 | 79 | 162 | |
| | | | | |
| Thompson, Tom | 83 | 80 | 163 | |
| Finley, Jim | 78 | 85 | 163 | |
| Bowers, Shaun | 80 | 83 | 163 | |
| | | | | |
| Shannon, Brandon | 82 | 82 | 164 | |
| Kammer, Lonnie | 79 | 85 | 164 | |
| | | | | |
| Kerns, Larry | 84 | 81 | 165 | |
| Bognar, Michael | 84 | 81 | 165 | |
| Elliot, Travis | 86 | 79 | 165 | |
| Rasmussen, Aaron | 84 | 81 | 165 | |
| | | | | |
| Gillingham, Matt | 83 | 83 | 166 | |
| Harmon, Bobby | 84 | 82 | 166 | |
| | | | | |
| Mizer, Jeremy | 82 | 85 | 167 | |
| Buchanan, Brandon | 91 | 76 | 167 | |
| White, Mark | 79 | 88 | 167 | |
| Krill, Denny | 83 | 84 | 167 | |
| Larizza, Kevin | 84 | 83 | 167 | |
| | | | | |
| | | | | |
| Tisch, Nolan | 85 | 83 | 168 | |
| Armour, Mike | 85 | 83 | 168 | |
| Gilleland, Nick | 85 | 83 | 168 | |
| Loomis, Rob | 88 | 80 | 168 | |
| Knight, Joe | 86 | 82 | 168 | |
| Vanckunas, Steve | 85 | 83 | 168 | |
| Zeien, Robert | 81 | 87 | 168 | |
| | | | | |
| Hatch, Lee | 87 | 82 | 169 | |
| Shortridge, Mike | 86 | 83 | 169 | |
| Sarsiat, Jon | 84 | 85 | 169 | |
| Wilson, Steve | 85 | 84 | 169 | |
| Palay, Landon | 85 | 84 | 169 | |
| Marshall, David | 85 | 84 | 169 | |
| Feeney, Pat | 87 | 82 | 169 | |
| | | | | |
| Angie, Mike | 83 | 87 | 170 | |
| McCoy, Ron | 84 | 86 | 170 | |
| Barbas, Jeff | 86 | 84 | 170 | |
| | | | | |
| Balca, Rob | 81 | 90 | 171 | |
| Mastran, Mike | 90 | 81 | 171 | |
| Markham, Tom | 85 | 86 | 171 | |
| | | | | |
| Marvin, Dino | 84 | 88 | 172 | |
| Finley, Kohl | 85 | 87 | 172 | |
| Reed, Dieken | 89 | 83 | 172 | |
| | | | | |
| Chadima, Brian | 84 | 90 | 174 | |
| Mooney, Bill | 88 | 86 | 174 | |
| | | | | |
| Sattler, Dave | 92 | 83 | 175 | |
| | | | | |
| Karnuth, Scott | 89 | 87 | 176 | |
| | | | | |
| Carpenter, Jay | 90 | 87 | 177 | |
| | | | | |
| Bober, Justin | 92 | 86 | 178 | |
| | | | | |
| Finley, Austin | 88 | 91 | 179 | |
| | | | | |
| Erickson, Ryan | 93 | 88 | 181 | |
| | | | | |
| Schroeder, Remmington | 94 | 90 | 184 | |
| | | | | |
| Esmile, Oliver | 89 | 97 | 186 | |
| | | | | |
| Sanzenbacher, Curt | 93 | 96 | 189 | |
| | | | | |
| Horrigan, Dan | 98 | 93 | 191 | |
| McSteen, John | 92 | 103 | 195 | |
| | | | | |
| Laubscher, Rocky | 87 | 120 | 207 | |