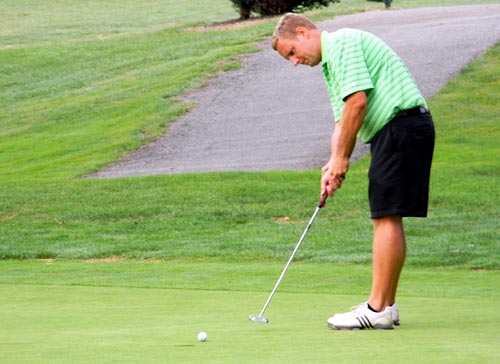 Dave Oates of Canton earned his fourth win in the Summit County Amateur Golf Championship on Sunday, finishing at 3-under par 139 to win by two shots over runner-up and past champion Kurt Peterson.
But the final outcome was never really as close as the two shot difference sounds.
Oates played a solid first nine holes at 2-under par 34 to maintain his starting two shot lead, and ran out to a 4-shot lead after a chip-in eagle on the par-5 second hole (his 11th of the day; Good Park's nines are played in reverse in the final round). Peterson kept plugging away, hitting it close on several occasions on the final nine, but failing to connect on the birdie putts.
Then on the par-4 seventh hole (16th of the day), it looked as if the tournament may get more interesting as Peterson hit his second shot 5-feet away for birdie, while Oates hit an indifferent shot just off the front fringe. But Oates made the 50-foot bomb of a birdie putt before Peterson had his chance, essentially closing the door on the victory. Oates bogeyed eight and nine for the final margin, as it mattered little.
With the win, Oates ties Barry Terjesen for the most Summit County Amateur titles, with each player now holding four.
In the big skins game, the big winner on the weekend was Pete Skirpstas of Medina, as he made eagle on the 560-yard par-5 fifth hole on both Saturday and Sunday, good for a skin each day. On Saturday, eagle skins were also won on the par-5 second hole by Joe Swiathowski and the par-5 14th hole by Vince Lorenzo, while Sunday's skins winners were Skirpstas, Corey Leventhal with a birdie on the long par-3 sixth, and Dustin Alcorn with an eagle on the 14th. Skins were worth $450 each day.
Game stories: Plain Dealer | Akron Beacon Journal.
As always, a big thank you to Larry Zimmerman, Greg Enright, Dave Chapple, Todd Bertermann and all the other great golf guys who put forth the time and effort to make the Summit County Amateur the event it is.
FINAL RESULTS: 2010 SUMMIT COUNTY AMATEUR CHAMPIONSHIP
Good Park Golf Course, Akron, Ohio – Par 71
In Memory of David Barnes – Sunday, August 1, 2010
| | | | | | |
| --- | --- | --- | --- | --- | --- |
| POS | PLAYER | RD1 | RD2 | TOTAL | PAYOUT |
| 1 | Oates, David | 69 | 70 | 139 | $750.00 |
| | | | | | |
| 2 | Peterson, Kurt | 70 | 71 | 141 | $600.00 |
| | | | | | |
| 3 | Lisic, Brian | 72 | 70 | 142 | $537.50 |
| | Beal, Ross | 71 | 71 | 142 | $537.50 |
| | | | | | |
| 5 | Furlong, John | 71 | 72 | 143 | $500.00 |
| | | | | | |
| 6 | Skirpstas, Peter | 71 | 73 | 144 | $475.00 |
| | | | | | |
| 7 | Griffith, David | 74 | 71 | 145 | $375.00 |
| | Henighan, Bob | 73 | 72 | 145 | $375.00 |
| | Merrow, Rick | 72 | 73 | 145 | $375.00 |
| | Albright, Carl | 72 | 73 | 145 | $375.00 |
| | Miller, Fred | 71 | 74 | 145 | $375.00 |
| | Mitchell, Bryan | 72 | 73 | 145 | $375.00 |
| | Schembechler, Richie | 71 | 74 | 145 | $375.00 |
| | | | | | |
| 14 | Lahnan, Larry | 74 | 72 | 146 | $225.00 |
| | Cutlip, Dean | 74 | 72 | 146 | $225.00 |
| | Grady, Mark | 74 | 72 | 146 | $225.00 |
| | Trier, David | 74 | 72 | 146 | $225.00 |
| | Sample, Rob | 75 | 71 | 146 | $225.00 |
| | | | | | |
| 19 | Krivanek, Jimmy | 74 | 73 | 147 | $137.50 |
| | Anderson, Josh | 75 | 72 | 147 | $137.50 |
| | | | | | |
| 21 | Bell, Ron | 74 | 74 | 148 | $100.00 |
| | Ciccarello, Mark | 73 | 75 | 148 | $100.00 |
| | Charette, Issac | 75 | 73 | 148 | $100.00 |
| | Freeman, Al | 71 | 77 | 148 | $100.00 |
| | Parker, Quinn | 75 | 73 | 148 | $100.00 |
| | Lorenzo, Vince | 70 | 78 | 148 | $100.00 |
| | | | | | |
| 27 | Cea, Jim | 74 | 75 | 149 | $50.00 |
| | Pulk, David | 73 | 76 | 149 | $50.00 |
| | Baugh, Tom | 73 | 76 | 149 | $50.00 |
| | Heestand, Matt | 72 | 77 | 149 | $50.00 |
| | Skorman, Randy | 71 | 78 | 149 | $50.00 |
| | Bryson, Rick | 75 | 74 | 149 | $50.00 |
| | Fricker, Steve | 70 | 79 | 149 | $50.00 |
| | Lambos, Nick | 75 | 74 | 149 | $50.00 |
| | | | | | |
| 35 | Vincelette, Brian | 73 | 77 | 150 | |
| | Leventhal, Corey | 73 | 77 | 150 | |
| | Underwood, Doug | 76 | 74 | 150 | |
| | Spalding, AJ | 72 | 78 | 150 | |
| | Yacovazzi, Anthony | 72 | 78 | 150 | |
| | Kabasky, John | 71 | 79 | 150 | |
| | Marr, Dan | 70 | 80 | 150 | |
| | Penrose, Jason | 70 | 80 | 150 | |
| | | | | | |
| 43 | Koch, Josh | 79 | 72 | 151 | |
| | Clendenin, Howard | 72 | 79 | 151 | |
| | Wanders, Jon | 76 | 75 | 151 | |
| | Beebe, Brian | 75 | 76 | 151 | |
| | | | | | |
| 47 | Wahl, Adam | 80 | 72 | 152 | |
| | Bednar, Steve | 79 | 73 | 152 | |
| | Thomas, Mark | 79 | 73 | 152 | |
| | Niskanen, Jim | 73 | 79 | 152 | |
| | Nickson, Cody | 73 | 79 | 152 | |
| | Tarter, Nathan | 72 | 80 | 152 | |
| | | | | | |
| 53 | Carano, Marcus | 79 | 74 | 153 | |
| | Loomis, Rob | 79 | 74 | 153 | |
| | Ungvary, Joe Jr. | 74 | 79 | 153 | |
| | Brown, Josh | 73 | 80 | 153 | |
| | Simpson, Mike | 73 | 80 | 153 | |
| | Coe, Scott | 76 | 77 | 153 | |
| | | | | | |
| 59 | Fleming, Doug | 77 | 77 | 154 | |
| | Kayafas, Chris | 79 | 75 | 154 | |
| | Trice, Bradley | 78 | 76 | 154 | |
| | Yaugo, David | 77 | 77 | 154 | |
| | Crewse, Aaron | 76 | 78 | 154 | |
| | Kies, Rick | 75 | 79 | 154 | |
| | | | | | |
| 65 | Minear, Chris | 79 | 76 | 155 | |
| | Marshall, David | 79 | 76 | 155 | |
| | Mastran, Michael | 74 | 81 | 155 | |
| | Bognar, Michael | 78 | 77 | 155 | |
| | Schustrich, Robert Jr. | 76 | 79 | 155 | |
| | Zebris, Jim | 76 | 79 | 155 | |
| | Lowry, Rich | 75 | 80 | 155 | |
| | Gaudagni, Mark | 75 | 80 | 155 | |
| | | | | | |
| 73 | Chadima, Jason | 77 | 79 | 156 | |
| | Hedrick, Joe | 78 | 78 | 156 | |
| | Sargent, Nathan | 78 | 78 | 156 | |
| | | | | | |
| 76 | Wien, David | 81 | 76 | 157 | |
| | Danals, Nate | 79 | 78 | 157 | |
| | Winpisinger, Dave | 75 | 82 | 157 | |
| | Baldwin, Drew | 78 | 79 | 157 | |
| | Dota, Michael | 78 | 79 | 157 | |
| | Scala, Sam | 77 | 80 | 157 | |
| | Cockerham, Jeff | 76 | 81 | 157 | |
| | Burke, John | 76 | 81 | 157 | |
| | | | | | |
| 84 | Zachardy, Jason | 78 | 80 | 158 | |
| | Winpisinger, John | 82 | 76 | 158 | |
| | Wellman, Matt | 80 | 78 | 158 | |
| | Spalding, Stephen | 81 | 77 | 158 | |
| | Stack, Tom | 80 | 78 | 158 | |
| | Pikus, Kevin | 79 | 79 | 158 | |
| | Brown, Sean | 79 | 79 | 158 | |
| | King, Mike | 79 | 79 | 158 | |
| | Walker, Charles | 82 | 76 | 158 | |
| | McCaulley, Conner | 79 | 79 | 158 | |
| | | | | | |
| 94 | Feeney, Pat | 78 | 81 | 159 | |
| | Davis, Tim | 77 | 82 | 159 | |
| | Sutter, Kyle | 80 | 79 | 159 | |
| | Alcorn, Dustin | 78 | 81 | 159 | |
| | Reimer, Jonathan | 78 | 81 | 159 | |
| | Beach, Ray | 78 | 81 | 159 | |
| | Chuparkoff, Kenny | 78 | 81 | 159 | |
| | Warren, Matt | 77 | 82 | 159 | |
| | Swiathowski, Joe | 76 | 83 | 159 | |
| | Clay, Josh | 76 | 83 | 159 | |
| | Strang, Lance | 76 | 83 | 159 | |
| | | | | | |
| 105 | Angie, Mike | 80 | 80 | 160 | |
| | Hochschwender, Mike | 81 | 79 | 160 | |
| | Abercrombie, Scott | 80 | 80 | 160 | |
| | Agarenzo, Mychal | 79 | 81 | 160 | |
| | Deal, Jeff | 78 | 82 | 160 | |
| | Uecker, Jack | 78 | 82 | 160 | |
| | Gillingham, Matt | 77 | 83 | 160 | |
| | | | | | |
| 112 | Li, Tommy | 82 | 79 | 161 | |
| | Wenger, Jeff | 80 | 81 | 161 | |
| | Walker, Daniel | 82 | 79 | 161 | |
| | Buschko, Tom | 79 | 82 | 161 | |
| | Lewis, Alan | 78 | 83 | 161 | |
| | Plute, Chris | 77 | 84 | 161 | |
| | | | | | |
| 118 | Milinkovich, Marc | 82 | 80 | 162 | |
| | Maxwell, Ryan | 81 | 81 | 162 | |
| | Prokop, Ray | 81 | 81 | 162 | |
| | Sweat, Phil | 79 | 83 | 162 | |
| | Thompson, Drew | 73 | 89 | 162 | |
| | | | | | |
| 123 | Danals, Kyle | 87 | 76 | 163 | |
| | Basinger, Jeff Jr. | 83 | 80 | 163 | |
| | Moore, Jerry | 79 | 84 | 163 | |
| | | | | | |
| 126 | Burge, Geoffrey | 83 | 81 | 164 | |
| | Hamlin, Scott | 86 | 78 | 164 | |
| | Carpenter, Jay | 80 | 84 | 164 | |
| | McHugh, Tyler | 79 | 85 | 164 | |
| | Grosso, Jim | 76 | 88 | 164 | |
| | | | | | |
| 131 | Howard, Neil | 83 | 82 | 165 | |
| | Vujas, Mike | 83 | 82 | 165 | |
| | Miano, Tommy | 82 | 83 | 165 | |
| | Oldfield, Ryan | 81 | 84 | 165 | |
| | Okeson, Chris | 79 | 86 | 165 | |
| | | | | | |
| 136 | Bania, Dan | 85 | 81 | 166 | |
| | Stoll, Nick | 82 | 84 | 166 | |
| | Hamilton, Mike | 83 | 83 | 166 | |
| | Chapple, David | 84 | 82 | 166 | |
| | Jackson, Elijah | 84 | 82 | 166 | |
| | Armour, Mike | 83 | 83 | 166 | |
| | Ellison, Will | 82 | 84 | 166 | |
| | | | | | |
| 143 | Kweel, Denny | 81 | 86 | 167 | |
| | Barbas, Jeffrey | 87 | 80 | 167 | |
| | Hatch, Lee | 85 | 82 | 167 | |
| | Pennington, Tyler | 79 | 88 | 167 | |
| | | | | | |
| 147 | McCoy, Ron | 84 | 84 | 168 | |
| | Gilleland, Nick | 80 | 88 | 168 | |
| | | | | | |
| 149 | Hobarth, Noah | 91 | 78 | 169 | |
| | | | | | |
| 150 | Chadima, Brian | 85 | 85 | 170 | |
| | | | | | |
| 151 | Culver, Kevin | 86 | 85 | 171 | |
| | Schultz, Patrick | 85 | 86 | 171 | |
| | Fanelly, Dan | 81 | 90 | 171 | |
| | | | | | |
| 154 | Camillo, Pat | 85 | 87 | 172 | |
| | White, Mark | 87 | 85 | 172 | |
| | | | | | |
| 156 | Brozeit, Greg | 88 | 85 | 173 | |
| | Morton, Justin | 83 | 90 | 173 | |
| | Skimin, James R. | 81 | 92 | 173 | |
| | | | | | |
| 159 | Tharp, Curtiss | 88 | 87 | 175 | |
| | | | | | |
| 160 | Erickson, Ryan | 88 | 88 | 176 | |
| | | | | | |
| 161 | Shortridge, Mike | 89 | 89 | 178 | |
| | Dearth, Kevin | 83 | 95 | 178 | |
| | | | | | |
| 163 | Laubscher, Rocky | 86 | 93 | 179 | |
| | | | | | |
| 164 | Crew, Dave | 90 | 92 | 182 | |
| | | | | | |
| 165 | Durden, Tyler | 93 | 93 | 186 | |
| | | | | | |
| | Chris Slates | 75 | WD | | |
| | | | | | |
| | Josh Kaluzne | 79 | WD | | |
| | | | | | |
| | Bobby Koch | 82 | WD | | |
| | Blake DeSimio | | | | |
| | | | | | |
| | John Walker | 83 | WD | | |
| | Jim Tarter | 83 | WD | | |
| | Scott Coates | 83 | WD | | |
| | | | | | |
| | Spencer Koch | 85 | WD | | |