In Friday's second round of the 2010 Senior Cleveland Amateur Championship at Big Met, many expected newly-crowned Senior Northeast Ohio Am champ Norton Brick to run out to another win.
But it was Randy Crider who did the early running, and Brick had to play catch up.
Playing three groups ahead of the leaders, Crider raced out to a 3-under par 33 front nine and caught Brick and his first round co-leader John Iosue at the turn, as both players struggled to 39 on the front side.
Crider then took the lead in the championship with a huge birdie-2 on the 201-yard par-three 12th hole, unbeknownst to Brick and Iousu.
Brick pulled into a tie on the 14th when both Crider and Iosue made bogey, but he gave the lead right right back with a bogey of his own on the 15th. Crider held on to that one-shot lead after he and Brick both birdied the 16th hole, while Iosue fell further back with a par on the par-5.
But the strong run by Crider ended when he made bogey the short par-4 17th hole against Brick's birdie, and that two shot swing made the final difference in the tournament.
A bogey on 18 by Crider put him into a tie with Iosue for second place, two shots behind winner Norton Brick.
In the Super Senior Division (ages 60-69), Tom Flanigan won by three shots with a score of 3-over par 147, while Jimmy Rockow took the Super Senior Gold Division (ages 70+) by five shots.
Because Brick is already exempt into the 2010 Cleveland Amateur at Manakiki in three weeks, the next five finishers in the Senior Am earned an exemption into that field: Iosue, Crider, Scott Heran, Ray Prokop and Steve Blackburn Sr.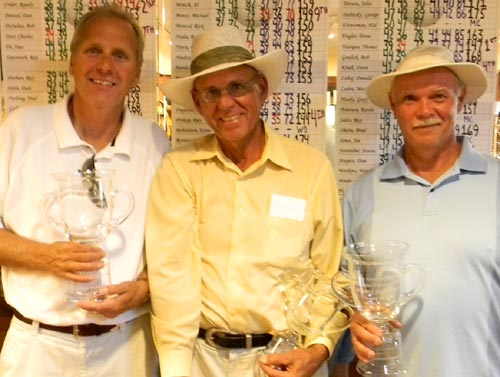 FINAL RESULTS: 2010 SENIOR CLEVELAND AMATEUR
Big Met Golf Course, Fairview Park, Ohio – Par 72 – July 15-16th
Name
R1
R2
Total
Norton Brick
67
73
140
Randy Crider
73
69
142
John Iosue
67
75
142
Scott Heran
73
71
144
Ray Prokop
72
72
144
Steve Blackburn Sr.
74
71
145
Tom Flanigan
73
74
147
Andrew Jendre
74
74
148
Charles Derr
73
75
148
Michael Mintz
79
70
149
Matt Timmons
75
74
149
Fred Colli
77
73
150
Greg Tayler
75
75
150
Rick Moncol
72
78
150
Rod Hill
72
78
150
Dave Kriak
77
74
151
Marc Pogachar
77
74
151
Jerry Miller
75
76
151
Ward Watkins
75
76
151
Bob DeJulius
80
72
152
James Sidun
78
74
152
Joe Battaglia
75
77
152
Dave Donofrio
71
81
152
John Niedzialek
80
73
153
Mike Patterson
80
73
153
Rick Jaskolski
78
75
153
Dan Bania
75
78
153
Dan Deitzel
75
78
153
Joseph Smith
78
76
154
Jim Herchek
77
77
154
Brian Kerns
75
79
154
Greg Navis
71
83
154
Jaime Serrat
79
76
155
Jimmy Rockow
75
80
155
Pluto, Keith
83
73
156
Jack Cox
79
77
156
Paul Woznicki
77
79
156
Ray Najda
77
79
156
Kevin Peterson
81
76
157
Dale Partlo
80
77
157
Daniel Margulies
75
82
157
.
.
Super Senior Division: Age 60-69 (top finishers)
Name
R1
R2
Total
Tom Flanigan
73
74
147
Fred Colli
77
73
150
Rod Hill
72
78
150
Dave Kriak
77
74
151
Ward Watkins
75
76
151
Joe Battaglia
75
77
152
Dave Donofrio
71
81
152
Dan Bania
75
78
153
Doug Brady
87
71
158
Joe Weidner
81
77
158
.
.
Super Senior Gold Division, 70 years+
Name
R1
R2
Total
Jimmy Rockow
75
80
155
Raymond Beach
79
81
160
Don Rader
82
79
161
Bill Bowers
84
83
167
Eugene Hicks
85
84
169