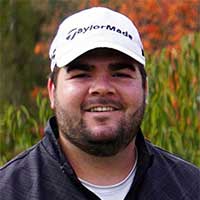 Sagamore Hills' Jimmy Wild is the 2022 Cleveland Metroparks Golf Player of the Year, the second consecutive year he has won the title.
Wild, who totaled 131 points, earned points in five events, including a win at the Seneca Stableford event. Wild edged Justin Trzebuckowski, who also placed in five events, finishing in second place with 116 points. AJ Borisa and Jonathan Reimer finished tied for third with 90 each.
Andrew Jendre, winner of the Shawnee Hills Stroke Play in May, won the senior division with 56 total points, besting Allen Freeman, who finished in second place with 50 points. Scott Saari, winner of the Greater Cleveland Senior Amateur, finished in third place with 40 points.
The top ten players in the Championship Division and top three in the Senior Division each earned a part of the bonus pool payout from this year's CMG Player of the Year Series. Payouts are in general Cleveland Metroparks gift cards that can be used for most anything in the Park.
Thanks to all of the players who participated in the Cleveland Metroparks Golf Tournament Series in 2022!
2022 FINAL CMG PLAYER OF THE YEAR STANDINGS (TOP 20)
Jimmy Wild 131 $300.00
Justin Trzebuckowski 116 $200.00
AJ Borisa 90 $130.00
Jonathan Reimer 90 $130.00
Antonio Bodziony 87 $110.00
Andrew Malkus 81 $80.00
Mike Witmer 77 $70.00
Ryan Stefanski 77 $70.00
Steve Blackburn Jr. 76 $60.00
Ryan Wirtz 75 $50.00
David Sotka 69
Doug Barber 60
Brian Smith 57
Andrew Jendre 56
Colin Burns 55
Anthony Briggs 53
Allen Freeman 50
Brett Kaufman 46
Austin Powell 45
Yadhu Urs 45
2022 FINAL CMG SENIOR PLAYER OF THE YEAR STANDINGS (TOP 10)
Andrew Jendre 56 $200.00
Allen Freeman 50 $120.00
Scott Saari 40 $80.00
Dean Cutlip 38
Monty Guest 34
Larry Lahnan 29
Mark Borlin 28
Scott Abercrombie 24
Steve Blackburn Sr. 20
Brandt Harbert 19