Sand Ridge Club
12150 Mayfield Road, Chardon   COURSE DETAILS >
Mon Jul 10, 2023 - 12:00 PM Start
EVENT TYPE / ASSOCIATION: North Coast Junior Tour, Junior Tournaments
EVENT FORMAT: Individual Stroke Play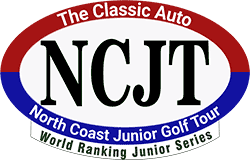 A special event of the North Coast Junior Tour.
Eligibility: Boys and Girls ages 6-19
Divisions: Boys 16-19, Boys 15 & Under, Girls 19 & Under
Format: Stroke Play Competition over 36 Holes (2 Days)
At-Large Invitations: Joe Haase Cup qualifiers from any tour, from any year are eligible. Additional invitations go to elite juniors in the region. If you feel like you should be in the field, please contact Tony Milam at tmilam@ncjt.org with some recent playing accomplishments.
Eligibility: Boys 8-19 Girls 8-19
Cost: $180.00
Late Fee: $10.00 Late Fee Applies after 7/3/2023
Notes: A JGS Ranked Event! Eligibility for NCJT players are listed in event details (most NCJT players qualify). Open Invitations to elite junior players at-large are available by emailing tmilam@ncjt.org.
Tee Time Information:
Day 1: 12:00 PM Start
Day 2: 8:00 AM Start
2020 NCJT Membership Details > | Join NCJT >
Director: Tony Milam, PGA
Phone: (440) 357-6258
Email: tmilam@ncjt.org
Registration Deadline: Monday, July 10 at Midnight
LOCATION MAP: