Little Mountain Country Club
7667 Hermitage Rd, Concord   COURSE DETAILS >
Sun Jun 25, 2023 - 01:30 PM Start
EVENT TYPE / ASSOCIATION: North Coast Junior Tour, Amateur, Junior Tournaments
EVENT FORMAT: 5-Player Team Event, Individual Stroke Play, Scramble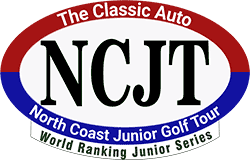 A special event of the North Coast Junior Tour.
Eligibility: Boys and Girls ages 6-19
Divisions: Boys 16-19, Boys 15 & Under, Girls 19 & Under
Event Cost: $60.00/player
Each pairing will consistent of one NCJT player and a team of 4 amateur players. The juniors will be playing an individual Stroke Play competition and the amateurs will be playing a team scramble. The team score for each hole will be the better ball of the amateur team's scramble score or the junior golfer's score. The amateur team can purchase junior golfer shots at registration (max two per amateur). This is a special event for amateurs and juniors alike, so please join us to support junior golf and scholarships for college. Two college scholarships will be awarded at the event's BBQ after golf.
Also:
– Juniors will play in one COED division using different tees based on age and gender.
– Juniors must bring a caddie. Caddie bibs with name panels will be provided. Bibs and name panels must be returned to the caddie bib rack after play
– Juniors must be present for the DRAW at Breakfast. Juniors selected for the DRAW will be introduced to their Amateur playing partners at breakfast.
– Not all Juniors will be selected for the DRAW. Some will play in junior only groups. All juniors will be a contestant in the one Junior Stroke Play division.
– This is a showcase event for the junior tour and juniors should present themselves accordingly. Attire should be appropriate and shoes should be clean and shined. Please have clean clubs and towels on your bag.
SCHEDULE:
12:00 PM – Registration Opens, Junior Draw & Introductions (Juniors Must be present for the DRAW)
1:30 AM – Shotgun
6:30 PM – BBQ, JR-4AM Awards & Denny Spaulding Scholarship
2020 NCJT Membership Details > | Join NCJT >
Director: Tony Milam, PGA
Phone: (440) 357-6258
Email: tmilam@ncjt.org
LOCATION MAP: