Turkeyfoot Lake Golf Links
294 W Turkeyfoot Lake Road, Akron   COURSE DETAILS >
Sat Apr 17, 2021 - 11:00 AM Start
EVENT TYPE / ASSOCIATION: NOHIO.GOLF Series, Amateur, Senior, Women
EVENT FORMAT: Skins Game, Stableford
---
An event of the Northern Ohio Golf Tournament Series. An individual amateur MODIFIED STABLEFORD points event + $40 BIG SKINS GAME contested at scratch at Turkeyfoot Lake Golf Links in Akron with tee times starting at 11:00 a.m.
COMPETITION FORMAT:
MODIFIED STABLEFORD FORMAT + BIG SKINS GAME: Highest point total for 18 holes wins, with each hole worth 1 pt for par, 3 pts for birdie, 5 pts for eagle, 8 pts for albatross. NO NEGATIVE POINTS, so fire at the flags!
All players compete in ONE DIVISION from VARIABLE TEES BY AGE. Tees are set so that the line of play is the same for all competitors and spaced so that no age group has an advantage against the rest of the field:
– men ages 18-54 play from the back tees;
– men ages 55-64 play from the middle tees;
– men ages 65+ and and women under age 35 play from the senior/forward tees;
– women ages 35+ play from the far-forward tees.
PRIZES: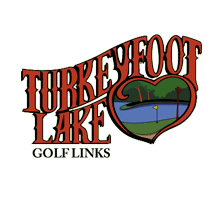 Prizes are distributed to the top 25% of finishers per the prize chart, always based on the number of paid tournament entries received. THE MORE ENTRIES RECEIVED THE LARGER THE FINAL PAYOUT. Payouts in gift certificates or cash, player's choice.
All skins game money collected is paid out in full based on the number of skins won. If no outright skins are won, a split of the skins pot will be divided among the least-tied holes.
A sample prize payout based on 40 players @ $20ea ($800 pot):
1st $250; 2nd $150; 3rd $100; 4th $75; 5th $65; 6th $50; 7th $45; 8th $30; 9th $20; 10th $15.
Skins Pot @ $40/player: $1,600
All ties split; no playoffs. Prizes will be paid by the same method as received the day following the event; any gift certs will be sent by email.
ENTRY FEES:
– The Stableford + Skins Game Entry Fee of $100 per player covers 18 holes of golf with cart, optional $20 to the tournament Stableford pot, optional $40 to the Big Skins Game pot, and an event operations fee of $5.
– The Skins Game Only Entry Fee of $80 per player covers 18 holes of golf with cart, optional $40 to the Big Skins Game, and an event operations fee of $5.
TO ENTER:
Entry fees must be paid online in advance of the event; an entry without payment is not considered made or accepted. An entry fee payment of $100 may be sent using:
– VENMO (PREFERRED!): send payment to @Allen-Freeman-NOHIOGOLF
– you may also use ZELLE, PAYPAL, GOOGLE PAY or APPLE PAY using a cash account or debit card (no credit cards!). Payments can be sent to the email address agf@allenfreeman.com.
– to PAY BY CREDIT CARD, a $4 charge is added to the $100 entry fee to cover processing costs.
No matter which payment option is used, a reply confirmation will be sent upon receipt (not automated, so please be patient).
ENTRY DEADLINE WITH PRE-PAYMENT IS THURSDAY, APRIL 15th at 5p OR THE FIRST 80 PLAYERS TO REGISTER.
HELP US SET UP YOUR ONLINE SCORING ACCOUNT!
In 2021, we will begin using GOLF GENIUS for online scoring for our tournaments and others in the region. For that, we need to create a Master Roster in the system with information for each player. This is a one-time ask, as once we have you in the GG system it's done.
After submitting your entry fee payment, PLEASE EMAIL US the following information for each player:
PLAYER NAME
HOMETOWN
EMAIL ADDRESS (for event info like starting times, results)
PHONE NUMBER (for texts about weather warnings and cancellations)
DATE OF BIRTH (for variable tees by age)
GHIN # (if you have one)
Operations Details
Starting times will be posted the Friday prior before noon. Groupings will be randomly assigned, but requests for early or late starting times will be accepted.
Scores and payouts will posted to northernohio.golf soon after the event. Prize payments will be sent out within 24 hours after the completion of the event, distributed using the same method in which payment was received.
If the event is canceled due to weather, full refunds will be returned in the same manner of payment as provided, within 24 hours after cancellation. If the event is played but a player does not show regardless of reason, a refund equal to 80% of the entry amount will be returned in the same manner of payment within 24 hours.
Questions? Email us!
LOCATION MAP: