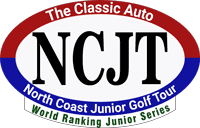 Drew Torzok of Kirtland was selected as the winner of the Denny Spaulding Golf Scholarship at the North Coast Junior Tour's JR-4AM Scholarship Golf Classic at Sand Ridge on July 8th, 2021.
Drew earned a $1,500 scholarship for being an outstanding student, a good tournament player and an all around great person. We are very proud of Drew and wish him well on his promising future.
The weather won the JR-4AM competition.
The event started on time at 10 AM, but after 6 holes Sand Ridge was under thunderstorms and rain delays. At 1pm the chef had a great BBQ cookout ready for the field. After the delicious meal the field resumed play, but it was short lived: 2 holes later the sky's were dark again and heavy rain washed out the remainder of the day.
At the time the team leader was Team Stickler: Mike Stickler, Greg Eterovich, Thomas Wong, Ella Wong and Matt Blumenthal (JR), they were 7 under thru 8 holes. Three teams were at 6 under par when it ended.
The junior leader was Antonio Bodziony, who stood 1 under thru 8 holes. Dominik Cosic and Charlie Pollock were even par thru 8 holes too, so the competition in all divisions was lining up to be a good one.