After a two year hiatus, the Cleveland Golf and Travel Show is back live at the IX Center, and it's chock-full of golf equipment deals that will make you eye-pop double-take when you look at the low-low price tags.
This year's show has a different makeup than the last few before the COVID break was forced upon the Golf Show. In prior years, the hall was filled with many golf course owners and resort exhibitors trying to woo golfers to their facilities. But the pandemic filled the tee sheets of those public courses and golf resorts, so those exhibitors are not nearly as prevalent in the IX Center in the 2023 edition.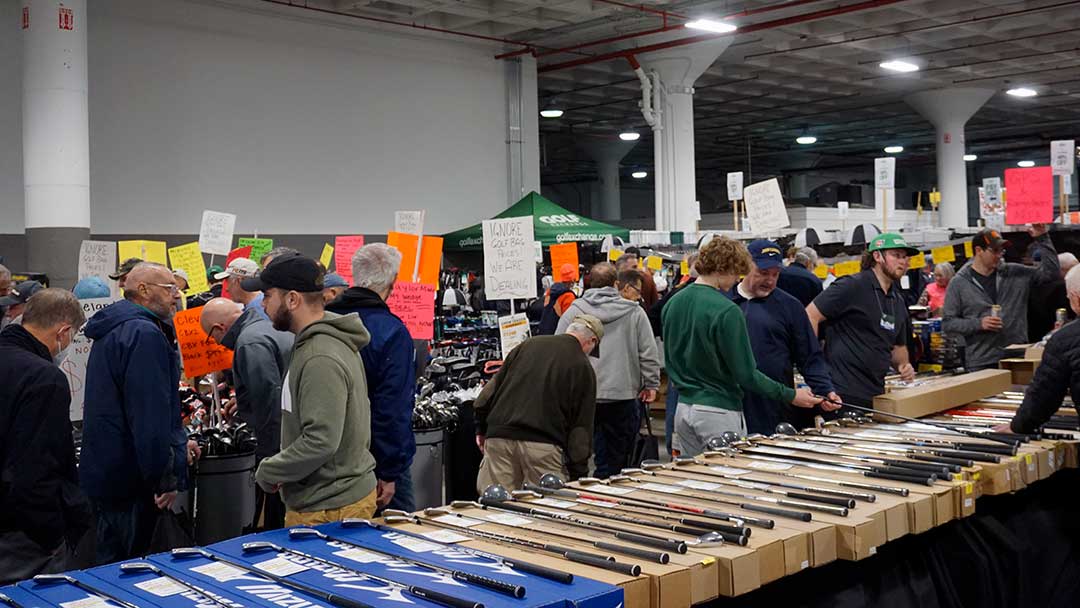 In their place are a handful of new golf retailers who have brought row upon row of clubs, bags, shoes, balls and accessories of all types. A mix of new and used clubs, new and recovered golf balls, then all-new bags, shoes, carts, apparel and many types of accessories fill most of the hall, waiting for bargain-hunting golfers to shop them.
Of course, the Long Putt, Long Drive and Golf Darts challenges are all back. Players can win prizes and money in each of these games, and the fun and competition are fierce.
Golfers who want to try out the latest equipment from all of the major manufacturers can do so on the Manufacturer's Demo Range, with bags full of clubs from the biggest names in golf awaiting your selection, and a bucket of balls available for just $6. Try as many new clubs as you'd like!
And once again, the Northern Ohio PGA is back offering free 10 minute golf lessons to anyone who wants to sign up. Many of the area's top PGA Professionals will be on-hand all weekend long to give players pointers to improve. Additionally, NOPGA Golf Professionals will conduct special 40-minute presentations on the I-X Center Stage over the course of the weekend.
The Cleveland Golf and Travel Show will run on Saturday from 10 a.m. to 6 p.m., then on Sunday from 10 a.m. to 4 p.m. Tickets are just $12 cash at the gate each, and every visitor gets a free one-year subscription to Golf Magazine. So get out to the IX Center!