SOPGA HAS SLIM LEAD IN 25TH OHIO CUP; 2ND ROUND INCOMPLETE DUE TO DARKNESS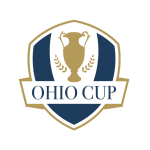 It was more than nine hours of golf with some great shots and some not so great.
Day One of the 25th Ohio Cup got a late start because a dense fog hovered over the Pinnacle Club like father hovers over a daughter's first Homecoming date.
And Day One never did reach its entirety as the two-hour delay on Tuesday eventually morphed into a gorgeous day for golf but a late finish. Tournament officials called a halt to the proceedings with two Foursomes (alternate shot) matches still on the course and the host Southern Ohio Section holding a 7.5 to 6.5 over their Northern Ohio Section counterparts in the Ryder Cup-like format.

The NOPGA is seeking a fifth straight victory in the event – winning with a resounding second-day rally on Firestone South – and has a 15-8 overall lead.
A rally of such resounding proportions, in which the Northerners won nine and tied four of the 16 singles matches to break away from an 8.5 to 8.5 tie, likely will not be needed on Wednesday. The NOPGA needs 16 points to retain. There will be 10 Regular Team matches and six Senior Team matches.
The champion golfers of the day for the North was the team of Nick Paez, owner of GolfTec, Cleveland West, and Portage Country Club PGA Assistant Golf Professional Adam Lewicki.
They were the only team on either side to win both matches, edging Hickory Woods PGA Head Professional Mike Auterson and last-minute sub Richard Denny, an PGA Teaching Professional at Jamaica Run Golf Course, 1-up in Four-Ball and then rolling to a 6-and-5 victory in Foursomes.
The morning match was tied until Paez, nursing a balky back, rolled in a 12-foot birdie putt on the 340-yard 17th, one of the shortest par-4s on the course.
Lewicki and Paez birdied the first two holes in the afternoon Foursomes and never looked back.
"We played very well together, especially in the second match," said Lewicki. "We had a good thing going. We made those two birdies and went off."
The incomplete matches are set to begin at 8:30 with the 16 singles matches scheduled for 9 a.m.
The North's Nick Gustin (Erie Shores Golf Course) and Joe Meglen (GolfTec-Stonebrook) are 1-up through 16 holes on Kyler Booher (Miami Shores) and Danny Sorgini (Blacklick Woods) while the North's Jaysen Hansen (Beechmont) and Mark Evans (Mayfield-Sand Ridge) are tied with Jeff Olson (Golf Club of Dublin) and Chase Wilson (Columbus Country Club) heading to the 17th tee.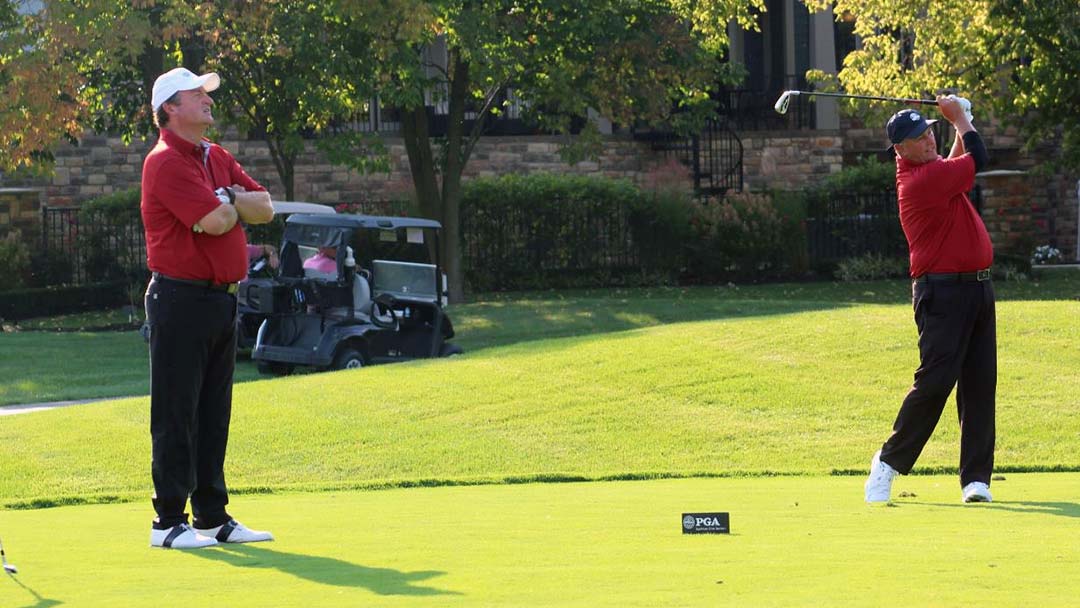 Earning one point each for the NOPGA were Mitch Camp (Club Walden) and Tom Atchison (Salem Golf Club), Steve Parker (Portage Country Club) and Tony Adcock (Seven Hills), playing captain Gary Trivisonno (PGA Life Member) and Gary Rusnak (1899 Golf, CLE East) and Cory Kumpf (Canton Brookside) and Randy Dietz (Windmill Golf Center).
The NOPGA Team of Rob Moss (Pepper Pike Club) and Jim Troy (Honma Golf USA) earned ½-point against Bob Sowards and Andy Montgomery (both of Kinsale Golf and Fitness Club) in the marquee match of the day,
Sowards and Montgomery won the morning Four-Ball, 3-and-2 but Moss and Troy were able to earn a halve in the Foursomes.
Sowards, a three-time Ohio Open champion and two-time Ohio Senior Open champ, was the star of the morning Four-Ball.
He chipped in from just off the green for eagle on the 518-yard second hole and chipped in on the 427-yard fourth for birdie, then rolled in a 50-foot birdie putt on the par-3 fifth. Montgomery got into the act when he hit his second shot to three feet on the sixth, resulting in the tandem's third straight birdie.
Capping off a front nine, in which he shot 6-under 30, Sowards made a 25-footer for another bird.
"When he gets it going that boy is awfully tough to beat," said SOPGA Captain Cory George.
Sowards and Montgomery led the South with 1.5 points. David Bahr (Maketewah Country Club) and Dennis Wells (Little Miami), Chris Black (Valley View) and Tim Krapfel (Bel-Wood Country Club), Bob Stephens (Sycamore Creek) and Anthony Andrews (Blue Ash) Danny Sorgini (Blacklick) and Kyler Booher (Miami Shores) and Sam Arnold (The Vineyard) and Joe Moore (Beavercreek Golf Course) earned one point each.
Parker and Adcock never led against Black and Krapfel until they birdied 14, 15, 16 and 17. Adcock knocked his second shot to two feet on the 14th and Parker followed by converting his tee shot from four feet on the 183-yard 15th. He followed that by hitting his third shot from about 150 yards to three feet for birdie to Black and Krapfel's par. He closed out the match on the short 17th when his second from 90 yards skipped to a stop five feet from the hole and he made the putt.
The pairings for today's 16 singles matches:
Rob Moss vs. Sam Arnold; Steve Parker vs. Dennis Wells; Tony Adcock vs. Anthony Andrews; Tom Atchison vs. Chris Black; Gary Trivisonno vs. Tim Krapfel; Jaysen Hansen vs. Chase Wilson; Mitch Camp vs. Bob Stephens; Gary Rusnak vs. Dave Bahr; Adam Lewicki vs. Mike Austerson; Joe Meglen vs. Andy Montgomery; Mark Evans vs. Kyler Booher; Nick Gustin vs. Joe Moore; Cory Kumpf vs. Danny Sorgini; Randy Dietz vs. Jeff Olson; Nick Paez vs. Richard Denny; Jim Troy vs. Bob Sowards.