Visit Northeast Ohio Golf at the Cleveland Golf & Travel Show at the IX Center, February 15 – 17th!
SHOW DATES & HOURS:
Friday Feb 15: 11a – 5p
Saturday Feb 16: 10a – 6p
Sunday Feb 17: 10a – 4p
TICKETS: $12 cash only at the door; kids under 12 are FREE. But there is no need to wait in line at the IX Center for tickets! Instead, get advance tickets online — or better yet, get an ACTIVITIES WRISTBAND for unlimited one-day access into the Manufacturer's Demo Range plus all of the Golf Show Competitions! The cost of each competition (outlined below) varies from $5 – $7, so the wristband offers a big discount for multiple access. Wristbands are ONLY available for purchase online, so get yours now!
2019 Cleveland Golf Show Competitions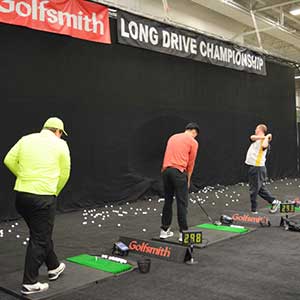 LONG DRIVE CHAMPIONSHIP: Attendees flex their golf muscles and compete for valuable prizes and bragging rights! Prizes are awarded to the contestant with the longest drive of each division: Men's Open Division, Men's Senior Division (age 50+), and Ladies Division. Distances are measured using golf radar technology. The weekend-long prize for the winner in each division: – 96 ball bucket (8 dozen) of Titleist Pro V1 Golf Balls!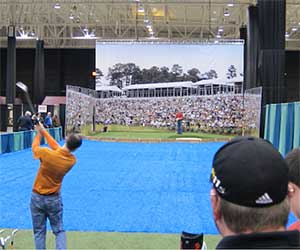 MYRTLE BEACH WORLD AM HOLE-IN-ONE: A well-designed and constructed an indoor golf hole that will challenge even the most-accomplished golfers! Based on one of the most iconic golf holes in the world, the 17th hole at TPC Sawgrass, this feature headlines our interactive displays and is one of the most elaborate indoor golf holes ever created. The winner receives two entries into the Myrtle Beach World Amateur Handicap Championship. Hotel accommodations and a rental car are also included, so it's a $1,500 Prize Package!
PITCH TO GET RICH: New for 2019, this short-game competition features a "false front" inclining ramp that leads to a flat area with flagsticks and regulation sized cups. The object is to pitch the ball into the incline and let the ball release into the hole. Hit it short and the ball will roll back. This is a very challenging feature and requires accuracy and precision. Prizes will be awarded based on the number of shots made: make any 1 of 4 & win $10; make 2 in a row & win $100; make 3 in a row & win $1,000; make 4 in a row & win $10,000!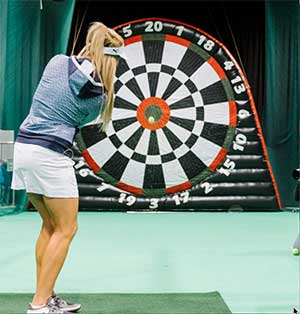 GOLF DARTS: Also new for 2019, this challenging competition features a colorful 16-foot tall inflatable velcro dartboard with numbers and scoring that are similar to a traditional dartboard. The object is to chip 3 velcro golf balls onto the dart board trying to accumulate the most points possible. A prize will be awarded to each contestant that surpasses a determined point total, with the overall weekend point leader winning a grand prize. Two ways to win: high score over the weekend wins a 2019 TaylorMade M6 Driver; any score over 60 wins a sleeve of TaylorMade golf balls.
SYNLAWN LONG PUTT CHALLENGE: This 70 foot long sidewinder green (pictured at top) requires the perfect line, speed and luck to tame. It's got plenty of undulation and break, and is one of our most exciting competitions. A golf tournament-like crowd roar can be heard throughout the show when a putt is holed. Contestants win cash prizes based on the number of putts holed. The more you make, the more you win!
Plenty More Golf Show Fun
Additional benefits and features at the 2019 Cleveland Golf & Travel Show include FREE individual golf lessons from NOPGA professionals, a new Golden Tee Video Lounge with free play for all video golf gamers (and an adult beverage station nearby!), a FREE one-year subscription to Golf Magazine, continuous presentations from the Celebrity Stage throughout each day designed to educate and entertain attendees, plus over one hundred Show Exhibitors (list) covering all aspects of golf.
Come Chat with NEOHgolf.com!
Stop by and see Northeast Ohio Golf in Booth #411 during the Show weekend. Plus watch our Twitter and Facebook feeds for a bunch of give-aways from the Show…