Brad Steven of Concord is now the only player to win the Greater Cleveland Amateur Championship four different times.
Prior to today's victory, he was tied at three wins with Norton Brick of Elyria.
Perhaps most impressively, Steven had to go through defending champion, University of Rochester player, and 2013 Monroe Invitational winner Nick Palladino to notch that fourth championship.
Steven and Palladino separated themselves from the field heading into the back nine at Sleepy Hollow Golf Course in Brecksville in Sunday's final round.
It wasn't smooth sailing from there, however; in fact, see-saw may be a better description.
Palladino three putted the ninth hole to fall two shots back, but Steven returned the favor immediately, doing the same on 10.
Then Palladino stuffed his second shot on the tough par-4 11th and made birdie, so after 47 holes the leaders were knotted heading into the scoring holes at Sleepy.
Pars were tied on the par-3 12th (while the third player in the final group, Dave Sotka of Chardon, nearly aced his tee shot!).
Then Palladino blinked first with a three putt on the 13th from about 20 feet (after watching Sotka run his birdie putt 12 feet past along the same line).
But the tournament took an unexpected turn on the par-5 14th hole, when Steven's birdie look from the front fringe from just 15 feet away turned into a three-putt after he missed a 2 1/2 footer for par. In between, Palladino nailed his birdie putt from 6 feet, and the two-shot swing put Palladino back in the lead.
But Steven recovered immediately, making birdie at the devilish par-4 15th hole because he kept his pitch dead below the hole, while Palladino went just a bit past and left. Palladino was forced to lag his 6-foot birdie putt because it also had 6-feet of right-hand break:
The two leaders traded pars at 16 and 17, and they headed to the 18th tee all tied after 53 holes.
Steven blistered his driver off the 18th to just 80 yards from the green dead in the fairway, while Palladino made a strategic play by hitting iron off the tee to 150 yards. Because of the front hole location, both players erred on the side of caution and both left their second shots just a few feet apart, short on the front fringe.
From there, we'll let the video tell the tale of the finish:
It was a disappointing way for Palladino to lose, but it also was an impressive title defense.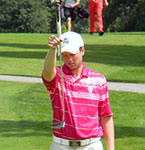 Jonathan Riemer (left) finished alone in third place after a final round 70.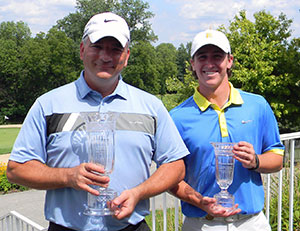 Dave Sotka grabbed solo fourth place another stroke back.
The top ten finishers are exempt for the 2014 Greater Cleveland Amateur at Manakiki Golf Course.
Phil Latsko shot the low round of the tournament on Sunday, posting a solid 3-under par 68. "The Show finally showed," Latsko said.
FINAL RESULTS:
2013 Greater Cleveland Amateur Golf Championship
Sleepy Hollow Golf Course
Brecksville, Ohio | Par 71
August 9 – 11, 2013
| | | | | | |
| --- | --- | --- | --- | --- | --- |
| POS | PLAYER | RD1 | RD2 | RD3 | TOTAL |
| 1 | Brad Steven | 72 | 71 | 71 | 214 |
| 2 | Nick Palladino | 69 | 74 | 72 | 215 |
| 3 | Jonathan Riemer | 76 | 72 | 70 | 218 |
| 4 | David Sotka | 70 | 75 | 74 | 219 |
| T5 | Dan Metzendorf | 73 | 74 | 75 | 222 |
| T5 | Phil Latsko | 77 | 77 | 68 | 222 |
| 7 | Doug Barber | 74 | 74 | 75 | 223 |
| 8 | Bill Schaefer | 72 | 76 | 76 | 224 |
| T9 | Matt Frey | 73 | 74 | 78 | 225 |
| T9 | Andrew Jendre | 78 | 72 | 75 | 225 |
| T11 | Kory Oslie | 75 | 72 | 79 | 226 |
| T11 | Chris Okeson | 76 | 74 | 76 | 226 |
| T11 | Matt Heestand | 78 | 72 | 76 | 226 |
| T11 | Mike Witmer | 75 | 77 | 74 | 226 |
| T15 | Robert Schustrich Jr. | 74 | 75 | 78 | 227 |
| T15 | Ian Marek | 76 | 73 | 78 | 227 |
| T15 | Monty Guest | 77 | 74 | 76 | 227 |
| T15 | Steve Blackburn Jr. | 77 | 75 | 75 | 227 |
| T15 | Brendan Byrne | 78 | 74 | 75 | 227 |
| 20 | Marc Fried | 78 | 76 | 74 | 228 |
| 21 | Mark Borlin | 74 | 83 | 73 | 230 |
| 22 | Jason Dickey | 74 | 80 | 77 | 231 |
| 23 | Scott Saari | 76 | 78 | 78 | 232 |
| T24 | Joe Zabukovec | 74 | 77 | 82 | 233 |
| T24 | Kevin Pruitt | 75 | 78 | 80 | 233 |
| T24 | Clint Paxson | 83 | 72 | 78 | 233 |
| T24 | A.J. Borisa | 73 | 82 | 78 | 233 |
| T24 | Steve Schniegenberg | 80 | 76 | 77 | 233 |
| T29 | Bryan Yeo | 80 | 72 | 82 | 234 |
| T29 | Cary Slabaugh | 76 | 81 | 77 | 234 |
| 31 | Jerry Miller | 81 | 77 | 77 | 235 |
| T32 | Kevin Hamori | 76 | 79 | 83 | 238 |
| T32 | Paul Minko | 78 | 80 | 80 | 238 |
| 34 | Anthony Yacovazzi | 76 | 79 | 84 | 239 |
| T35 | Phil Bojc | 79 | 75 | 87 | 241 |
| T35 | John Iosue | 75 | 83 | 83 | 241 |
| T35 | Tyler McHugh | 84 | 74 | 83 | 241 |
| 38 | Chris Horne | 78 | 80 | 85 | 243 |
| | Mark Thomas | 80 | 78 | WD | 158 |
| | | | | | CUT |
| | Paul Woznicki | 80 | 79 | | 159 |
| | David Stover | 78 | 81 | | 159 |
| | Mark Foss | 79 | 80 | | 159 |
| | Erik Gudenas | 82 | 77 | | 159 |
| | Ben Rudy | 79 | 80 | | 159 |
| | Jon Bartuccio | 79 | 80 | | 159 |
| | Brian Miller | 82 | 78 | | 160 |
| | Jimmy Wild | 78 | 82 | | 160 |
| | Tim Moore | 78 | 82 | | 160 |
| | Mark Ciccarello | 79 | 82 | | 161 |
| | Adam Stiffler | 79 | 83 | | 162 |
| | Jim Barber | 81 | 82 | | 163 |
| | Nick Moody | 79 | 84 | | 163 |
| | Scott Heran | 80 | 83 | | 163 |
| | Tony Briggs | 87 | 76 | | 163 |
| | Nicholas Anagnost | 84 | 80 | | 164 |
| | Steve Blackburn Sr. | 81 | 83 | | 164 |
| | John Furlong | 75 | 89 | | 164 |
| | David Young | 80 | 84 | | 164 |
| | Mike Angie | 83 | 82 | | 165 |
| | John Neidzialek | 86 | 80 | | 166 |
| | Sam Corabi | 86 | 80 | | 166 |
| | Matt Kanegkasikorn | 85 | 81 | | 166 |
| | Doug Brooks | 83 | 84 | | 167 |
| | Tim Hahn | 88 | 81 | | 169 |
| | Casey Wolf | 90 | 79 | | 169 |
| | William Reitan | 84 | 86 | | 170 |
| | Chad Scott | 71 | WD | | |
| | Brian Smith | 75 | WD | | |
| | Erik Shoger | 79 | WD | | |
| | Tim Cebula | 80 | WD | | |
| | Ray Prokop | 80 | WD | | |
| | Keith Pluto | 83 | WD | | |
| | Ryan Workman | 87 | WD | | |
| | Kevin Richardson | WD | | | |
| | Shorne Mitchell | WD | | | |
| | Mike Guarino | WD | | | |