For the third consecutive year, AZ Golf Supplies has joined Northeast Ohio Golf as one of its Corporate Sponsors.
Owner Bruce Richards sells a number of unique "a-to-z" golf products and training ads via his ebay golf store and etsy. You can see his entire inventory at A1golfdeals.com
Last year, Bruce featured his Custom Golf Club Labels on the website, to help players from losing any golf clubs left around the course.
This year, Bruce starts the season touting his easy-to-use Ready Caddy golf cart organizer, as shown below.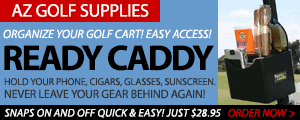 Bruce also offers items like the Golf Swing Sync Ball, the Cool Cigar Holder, the Stick-59 Putting Aid, and the SwingBox indoor golf practice net and catch system!
Have a question? Looking for a specific golf aid or product? Email Bruce or give him a call at 614-406-9793! Or see his entire inventory at A1golfdeals.com!