So which Ohio high school boys golf teams scored a Canterbury tournament invitation for 2022? Tournament Director Craig Fraser today announced this year's Kiely Cup field.
The 2022 Kiely Cup will be played on an earlier date than usual at Canterbury Golf Club in Beachwood, as some renovations are planned for the course to begin right at the end of summer. The 2022 tournaments dates will be Sunday, August 21st and Monday, August 22nd.
The 36-hole stroke play competition counts four scores of five for the team over two days, and an individual medalist is crowned as well. The Archbishop Hoban Knights are defending champions, while Hoban team member Nolan Haynes posted 140 to earn 2021 medalist honors.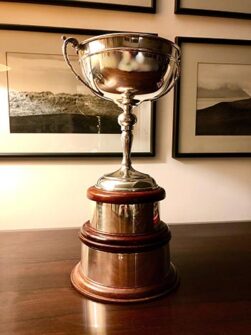 Once again, this year's invitation list sees outstanding teams from all around Ohio competing.
The Kiely Cup was first played in 2005, so 2022 marks the 18th year of the event (but the 17th tournament as COVID canceled 2020). Given the longevity of the tournament, the Kiely Cup trophy had to be enlarged over the winter; an extra base and plinth were added as there was no more room to engrave another winner's name.
The Kiely Cup honors Canterbury's long-time assistant golf professional and caddy master, ​Michael J. Kiely. Last year marked Mike's 55th and final year as an employee at Canterbury.
2022 Kiely Cup Invitees
Divisions: D1 (11); D2 (3); D3 (1).
Locations: NE-NorthEast (6); NW-NorthWest (2); SW-SouthWest (5); E-East (1); C-Central (2)
Alphabetical List of Invited Teams:
+First Time Invitee
Archbishop Alter Knights D1 (SW)
2021 Division II State Runner Up
Coach: Alex Schuster
Archbishop Hoban Knights D1 (NE)
Defending 2021 Kiely Cup Champions
2021 Division I State Runner up
Coach: Quinn Parker
+Cincinnati Elder Panthers D1 (SW)
2021 Division I 7th at State
Coach: Matthew Robben
Columbus Academy Vikings D2 (E)
2021 Division II State Champions
Coach: Craig Yakscoe
Hudson Explorers D1 (NE)
Coach: Matt Villeneauve
+Madeira Mustangs D2 (SW)
2021 Division II, 4th at State
Coach: Brad Connor
Mason Comets D1 (SW)
3rd 2021 Kiely Cup; 2021 Division I 6th at State
Coach: Tim Lambert
Massillon Jackson Polar Bears D1 (NE)
Coach: Jim Kish
Newark Catholic Green Wave D3 (C)
2021 Division III 3rd at State
Coach: Phil West
+St. Charles Prep Cardinals D1 (C)
Coach: Brian Unk
St. Ignatius Wildcats D1 (NE)
2021 Division I State Champions; 2021 Kiely Cup Runner up.
Coach: PJ Myers
St. Xavier Bombers D1 (SW)
Coach: Alex Kepley
University School Preppers D1 (NE)
Coach: Bill O'Neil
Walsh Jesuit Warriors D1 (NE)
2021 Division I 10th at State
Coach: Bill Reilly
+Whitehouse Anthony Wayne Generals D1 (SW)
2021 Division I T8th at State
Coach: Pat Phillips