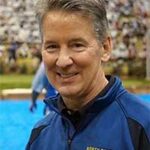 Joe and Tracey Stegh, the owners/operators of the North Coast Golf & Travel Shows, have canceled the February 2022 Cleveland Golf Show that had been scheduled for downtown Cleveland's Huntington Convention Center.
The event, long held in Brookpark's I-X Center but booked in the new venue for February 25-27, was canceled along with the six other regional golf shows the company manages due to concerns about COVID regulations and supply chain issues with equipment retailers.
The Steghs sent an email today to all exhibitors outlining the reasons for the cancellation. That email read in part:

Dear Exhibitors,
We hope that you are all doing well during these crazy and changing times! We have some unfortunate news to pass along to you. We have just made the decision to once again postpone our golf show season for another year until 2023.
Due to the ongoing Covid fears and supply chain issues for retailers, we feel that our shows would not meet our usual high standards. We are proud of the long running integrity of our events and feel that if we held our 2022 events, our 38-year reputation of excellence would be impacted for years to come. We strive to produce the best golf show experience for attendees and exhibitors and due to this pandemic, we don't think that this is possible at this time.
We are optimistic that 2023 will be back to normal and our shows will return stronger than ever.
Joe & Tracey Stegh
North Coast Golf & Travel Shows