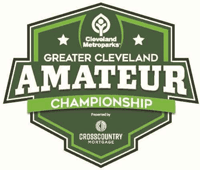 The Cleveland Metroparks' Course Championships are now complete, so the list of all eligible players for the 2022 Greater Cleveland Amateur Championship has been finalized.
All that remains to determine the field for the three days at Sleepy Hollow on August 12th – 14th is for those eligible players to confirm their entries and pay their fees.
Championship Entry Requirements
If a player did not compete in any of the 2022 CMG Course Championships but wishes to enter the Cleveland Amateur as an eligible player named in the list below, use this Cleveland Am PDF entry blank to submit your entry and fee to any of the Cleveland Metroparks golf course pro shops by August 8th.
If a player did compete in any of the Course Championships and was previously exempt into the Cleveland Am or earned one of the qualifying spots, you must now confirm your entry into the championship proper by paying a $15 entry confirmation fee. To confirm your entry and pay the fee, visit the Sleepy Hollow pro shop or call Sleepy Hollow at 440-526-4285 to pay by credit card over the phone.
We look forward to hosting a great championship field at Sleepy Hollow in August!
ROSTER: 2022 Cleveland Amateur Championship Exemptions & Qualifiers
GCAC Past Champions
1993 Scott Piesen
1994 John Neidzialek
1995 Joe Brnich
1996 Brad Steven
1997 Richard Hubbard
1998 Doug Hauenstein
1999 Matt Creech
2000 Norton Brick
2001 Norton Brick
2002 Norton Brick
2003 Matt Marino
2004 Brian Krusoe
2005 Steve Weir
2006 Jacob Scott
2007 Brad Steven
2008 Kyle Cobb
2009 Nick Latimer
2010 Brad Steven
2011 Pete Skirpstas
2012 Nick Palladino
2013 Brad Steven
2014 Howard Clendenin
2015 Taylor Zoller
2016 Ryan Stefanski
2017 Matthew Mcadoo
2018 Grant Godrey
2019 Michael Klaric III
2020 Vaughn Snyder
2021 Vaughn Snyder
Manakiki 2022 Course Championship Qualifier
1st Qualifier Austin Powell
2nd Qualifier Andrew Grayson
3rd Qualifier Ross Tetter
4th Qualifier CJ Milo
5th Qualifier Daniel Milo
6th Qualifier Tim Moore
7th Qualifier Tyler Ankrom
Big Met 2022 Course Championship
1st Qualifier Anthony Davis
2nd Qualifier Max DeCheco
3rd Qualifier Zach Drukenbrod
4th Qualifier Evan Ferrara
5th Qualifier Matt Frey
6th Qualifier Robert Kimmel
7th Qualifier Jonathan Riemer
8th Qualifier Jarrod Teeter
9th Qualifier Justin Trzebuckowski
10th Qualifier Ryan Writz
Sleepy Hollow 2022 Course Championship
1st Qualifier Yadhu Urs
2nd Qualifier Mark Belasic
3rd Qualifier Louis Durban
4th Qualifier Brian Tischler
5th Qualifier Jeff Sawitke
6th Qualifier Bryan Yeo
7th Qualifier Phillip Bojc
8th Qualifier Nick Adams
9th Qualifier Eric Wonkovich
Seneca 2022 Course Championship
1st Qualifier Matthew Mullen
2nd Qualifier Adam Arman
3rd Qualifier Thomas DeCaro
4th Qualifier Scott Tarcy
5th Qualifier Brandon Mihalo
6th Qualifier Ryan Chipps
7th Qualifier Jason Jendre
8th Qualifier Mike Fierst
9th Qualifier Ben Johannsen
Shawnee Hills 2022 Course Championship
1st Qualifier Brandon Bodis
2nd Qualifier Rick Diechert
3rd Qualifier Brad Coleman
4th Qualifier Colin Mccree
5th Qualifier Tom Hallaran
6th Qualifier Matt Drockton
7th Qualifier Jim Hechek
8th Qualifier Rob Loomis
9th Qualifier Andrew Teribery
Top 10 2021 GCAC
1st Place Vaughn Snyder
2nd Place Jimmy Wild
T 3rd Place Anthony Briggs
T 3rd Place Daniel Metzendorf
T 3rd Place Nick Anagnost
T 3rd Place Howard Clendenin
T 7th Place Brett Kaufman
T 7th Place Anthony Bodziony
9th Place Chris Okeson
T 10th Place Mike Simpson
T 10th Place Steve Blackburn Jr
T 10th Place Mike Witmer
T 10th Place Colin Burns
T 10th Place Brian Polick
Past 5 Senior Champions
2022 Scott Saari
2021 Monty Guest
2020 Allen Freeman
2019 Cary Slabaugh
2018 Mike Beres
2022 Senior Championship
1st Place Scott Saari
2nd Place Dean Cutlip
3rd Place Monty Guest
4th Place Mark Borlin
5th Place Scott Abercrombie
2021 CMP Course Champions
Seneca Jimmy Wild
Shawnee Hills Jack Garswood
Sleepy Hollow Chris Okeson
Manakiki Adam Frey
Top 1500 WAGR (as of July 1 2022)
TBA
CMG Individual Event Winners Since 2021 GCAC
8.21.21 – Seneca Stableford Ryan Stefanski
5.7.22 – Shawnee Hills Stroke Play Andrew Jendre
2022 NOGA & Akron District Stoke Play Champions
NOGA 7.14.22 Brian Schubert
NOGA 6.16.22 Zach Glassman
2022 NOGA Club/Course Champions
TBA
2022 Northeast Ohio Amateur Winner & Runner Up
2022 Champion Blake Solomon
2022 Runner Up Aaron Crewse
2021 Northeast Ohio Amateur Winner & Runner Up
2021 Champion Tyler Goecke
2021 Runner Up Michael Klaric III
2022 Ohio Amateur Champion & Runner Up
2022 Champion Ty Gingerich
2022 Runner Up Tro Taylor II
2021 Ohio Amateur Champion & Runner Up
2021 Champion Max Watson
2021 Runner Up Dhaivat Pandya
2022 Summit County Amateur Champion & Runner Up
TBA – Event held August 6-7
2021 Summit County Amateur Champion & Runner Up
2021 Champion Vaughn Snyder
2021 Co-Runner Up Josh Clay
2021 Co-Runner Up Brian Krusoe
Top 3 2021 CMP POY
1st Place Jimmy Wild
2nd Place Niko Anagnost
T3rd Place Jack Garswood
T3rd Place Adam Frey
Top 5 2022 CMP POY (as of 7.1.22)
1st Place Andrew Jendre
2nd Place Doug Barber
3rd Place Mike Witmer
4th Place Andrew Malkus
5th Place Allen Freeman
Top 3 2022 Senior POY (7.1.22)
1st Place Andrew Jendre
2nd Place Scott Saari
3rd Place Dean Cutlip
Top 3 NOGA POY (as of 7.1.22)
1st Place Blake Solomon
2nd Place Zach Glassman
3rd Place Jeff Blechschmidt
Top 10 All Time CMP POY Points
1st Place Steve Blackburn Jr.
2nd Place David Sotka
3rd Place Ryan Stefanski
4th Place Nick Anagost
5th Place Jack Garswood
6th Place A.J. Borisa
7th Place Allen Freeman
8th Place Brian Smith
9th Place Rob Schustrich
10th Place Brian Polick
2021 ADGA POY
Qualifer Shaun Kloetzer
2021 NOGA POY
Qualifer Jeff Blechschnidt