Northern Ohio Golf announces our inaugural Top-25 Best Public Course Rankings!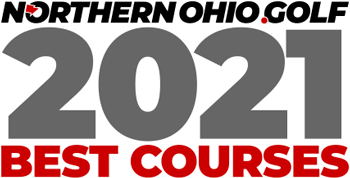 Just as with our Top-25 Best Private Clubs list from Monday, we've compiled rankings from an invited list of Golf Industry Insiders and from votes submitted by the golfing public to create our public course rankings.
Our top course edged out the second place finisher by just a handful of points. The courses listed in sixth and seventh positions finished in a near dead heat, with just over one point separating them. The rest of the list is more definitively spaced.
Want to compare our poll results to the rankings from Golf Magazine, Golf Digest, Golfweek? Check the overview of their lists from the story we posted in preparation for voting. Their "Best Courses in Ohio You Can Play" feature many of the same layouts in our list below. Enjoy!
Northern Ohio Golf Top-25 Ranking of Public Courses 2021
1. Sleepy Hollow Golf Course, Brecksville
2. Boulder Creek Golf Club, Streetsboro
3. Fowlers Mill Golf Club, Chesterland
4. Manakiki Golf Course, Willoughby
5. Little Mountain Golf Club, Concord
6. The Quarry, Canton
7. Pine Hills Golf Club, Hinckley
8. Chippewa Golf Club, Doylestown
9. Avalon Lakes Golf Club, Warren
10. Windmill Lakes Golf Club, Ravenna
11. Stonewater Golf Club, Highland Heights
12. Shale Creek Golf Club, Medina
13. Ellsworth Meadows Golf Course, Hudson
14. Grey Hawk Golf Club, LaGrange
15. Valley of the Eagles, Elyria
16. Seven Hills Golf Club, Hartville
17. Good Park Golf Course, Akron
18. Hawks Nest Golf Club, Creston
19. Eagle Creek Golf Club, Norwalk
20. Turkeyfoot Lake Golf Links, Akron
21. Maumee Bay Golf Resort, Oregon
22. Brookledge Golf Course, Cuyahoga Falls
23. Madison Country Club, Madison
24. Chardon Lakes Golf Club, Chardon
25. Black Diamond Golf Club, Millersburg

Other public courses that received votes in this year's polling (in alphabetical order):
Ashland Golf Club
Beaver Creek Meadows
Big Met
Bunker Hill
Deer Ridge
Fox Den
Gleneagles
Kensington
Legend Lake
Legends of Massillon
Links at Firestone Farms
Mill Creek
Mohican Hills
Pleasant Valley
Punderson
Raintree
Rawiga
Reserve Run
Sable Creek
Salem Hills
Sanctuary
Sawmill Creek
Seneca
Skyland Pines
St. Denis
Sugar Bush
Tanglewood
Tannenhauf
The Fairways at Twin Lakes
Yankee Run
Zoar Golf Club

Thoughts? Comments? Feel free to add them using the Comments section below…