Northern Ohio Golf welcomes you to the inaugural unveiling of our Top-25 Best Course Rankings!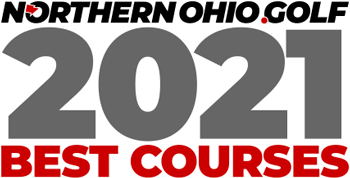 Back in January we decided that the big national golf magazines shouldn't decide for us what clubs and courses are the best in our region. So over the last two months, we've compiled rankings from an invited list of Golf Industry Insiders and from votes submitted by the golfing public. We combined those two sets of nominations, equally weighting them to create our first set of lists.
While there were no blow-out wins, the results broke with just enough points between each club that their ranking order was clearly defined. Except for the final 25th spot; those two clubs finished in a dead-heat tie, a statistical oddity.
Want to compare our poll results to the rankings from Golf Magazine, Golf Digest, Golfweek? Check the overview of their lists from the story we posted in preparation for voting. Many of the same club names, but in a slightly different order (especially Inverness). Will our rankings change over time as our website garners more readers/voters from the western portion of Ohio? That's certainly possible, and only time will tell.
In a next few days, we'll announce the results from our Top-25 Public Course Rankings, and the winners of our five Hot List categories, too. So stay tuned. But now, without further ado, we announce our first ever rankings list…
Northern Ohio Golf Top-25 Ranking of Private Courses 2021
1. Canterbury Golf Club, Beachwood
2. Brookside Country Club, Canton
3. Inverness Club, Toledo
4. The Country Club, Pepper Pike
5. Kirtland Country Club, Kirtland
6. Sand Ridge Club, Chardon
7. Firestone Country Club South Course, Akron
8. Pepper Pike Club, Pepper Pike
9. Firestone Country Club North Course, Akron
10. Sharon Golf Club, Sharon
11. Congress Lake Club, Hartville
12. Shaker Heights Country Club, Shaker Heights
13. Barrington Golf Club, Aurora
14. Beechmont Country Club, Beachwood
15. Lakewood Country Club, Westlake
16. Elyria Country Club, Elyria
17. Portage Country Club, Akron
18. Westwood Country Club, Rocky River
19. Westfield Country Club North Course, Westfield Center
20. Chagrin Valley Country Club, Chagrin Falls
21. Club Walden, Aurora
22. Mayfield Country Club, Cleveland
23. Westfield Country Club South Course, Westfield Center
24. Firestone Country Club Fazio (West) Course, Akron
T25. Glenmoor Country Club, Canton
T25. Oberlin Country Club, Oberlin

Other private clubs that received votes in this year's polling (in alphabetical order):
Avon Oaks Country Club, Avon
Catawba Island Golf Club, Port Clinton
Country Club of Hudson, Hudson
Fairlawn Country Club, Akron
Fox Meadow Country Club, Medina
Heather Downs Country Club, Toledo
Highland Meadows Country Club, Sylvania
Lake Forest Country Club, Hudson
Ohio Prestwick Country Club, Uniontown
Plum Brook Country Club, Sandusky
Quail Hollow Country Club, Concord
Red Tail Golf Club, Avon
Shady Hollow Country Club, Massillon
Shawnee Country Club, Lima
Signature of Solon, Solon
Stone Oak Country Club, Holland
Sylvania Country Club, Sylvania
Tippecanoe Country Club, Canfield
Toledo Country Club, Toledo
Weymouth Country Club, Medina
Wooster Country Club, Wooster
Youngstown Country Club, Youngstown

Thoughts? Comments? Feel free to add them using the Comments section below…