Jeff Blechschmidt is the 2021 NOGA Great Lakes Auto Player of the Year, and Monty Guest has won his second consecutive NOGA Senior Player of the Year title, his fourth overall.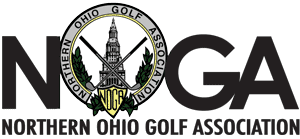 Blechschmidt, a Clevelander who plays out of Mayfield / Sand Ridge Club, won the opening Stroke Play event at Westwood Country Club. Then in mid-August, he earned the last of three spots in a playoff for the U.S. Mid-Amateur Championship Qualifier at Avon Oaks.
Coupled with a T10 at the Northeast Ohio Am at Windmill Lakes, reaching the Quarter-Finals in the NOGA Individual Scratch Match Play, and a T4 at the Stroke Play #4 at Oberlin, Blechschmidt was able to secure his Player of the Year title with a modest finish at the Tour Championship, which he accomplished with a T6.
Past NOGA POY Chris Okeson of Lynhurst did his best to press Blechschmidt right up until the end, winning the season-ending Tour Championship with an impressive 4-under par total. But Okeson came up 88.5 points shy.
"It was a great season all year," Blechschmidt said. "NOGA does a great job all year putting on these tournaments. It started out at the Northeast Ohio Amateur and I had a pretty good performance there with a couple of 68's. Played well in the match play, and qualifying for the US Mid-Amateur was a highlight."
While the open division Player of the Year title was still up for grabs at the end, the senior division was not.
63-year old Monty Guest, who plays out of Signature of Solon, won the Senior Northeast Ohio Am in early June, and with it the 350 POY points. That haul set the tone, as did Guest's continued good play. He finished T1 at the Stroke Play #2 at Tippecanoe, won the Four-Ball Match Play title with partner Brian Sparrow, reached the Quarter-Finals of the Individual Match Play, and finished third at the Stroke Play #4 at Oberlin.
Winning the season-ending Tour Championship at Firestone with a 72 on the West Course and a 71 on the South only solidified the fact that Guest played better than any NOGA senior in 2021.
Guest finished a whopping 436.45 points ahead of POY runner-up Allen Freeman of Brecksville.
"NOGA means a lot to me," Guest said. "I have been involved for a long time and whether I win the player of the year or not is irrelevant to me, as long as I play hard. There are so many great players here so to win it is a great accomplishment. You really have to have a solid year."
Guest added "It has been a good two year run; it has been fantastic."
2021 NOGA GREAT LAKES AUTO PLAYER OF THE YEAR TOP-10
CHAMPIONSHIP DIVISION
RANK | PLAYER | CLUB | EVENTS | WINS | POINTS
1 Jeff Blechschmidt, Mayfield Sand Ridge Club 4 1 739.5
2 Chris Okeson, Stonewater Golf Club 5 1 651
3 Joshua Clay, Shady Hollow Country Club 3 1 587.5
4 Tim Skufca, Avon Oaks Country Club 4 0 527.88
5 Brian Polick, Weymouth & Fox Meadow CC 3 0 438.38
6 Shaun Kloetzer, NOHIO.GOLF Club 3 1 407.67
7 Aaron Crewse, NOHIO.GOLF Club 4 1 399.12
8 Zach Glassman, Stonewater Golf Club 4 0 380.5
9 Jack Garswood, NOHIO.GOLF Club 3 0 365
10 Doug Barber, NOHIO.GOLF Club 3 0 347.17
SENIOR DIVISION
RANK | PLAYER | CLUB | EVENTS | WINS | POINTS
1 Monty Guest, Signature of Solon 6 2 1285.83
2 Allen Freeman, NOHIO.GOLF Club 6 0 849.38
3 Mark Guadagni, Silver Lake Country Club 6 1 806.08
4 Nick Lambos, Brookside Country Club 4 0 799.38
5 Tom Laubacher, Club Walden 4 2 795.88
6 Tom Baugh, Portage Country Club 6 0 631
7 Mark Borlin, Silver Lake Country Club 5 0 556.88
8 Jim Durr, Silver Lake Country Club 5 1 550.83
9 Brian Sparrow, Canterbury Golf Club 3 1 475
10 Scott Saari, Bob-O-Link Golf Course 4 0 363.38