Starting this Thursday May 28th, the Greater Cleveland Skins Game is back in action for the 2020 season!
The operations for this season will be different in one big way: instead of traveling to a different course each week, in 2020 we will play exclusively at the beautiful and challenging Chardon Lakes Golf Course every Thursday evening.
We will conduct two separate nine-hole games each Thursday: a 3 o'clock game and a 5 o'clock game. Play in one or play in both on any given week. Entry fee is $25 for skins and pins for each game: $20 to skins, $5 to pin shots. Golf + cart is paid separately to the pro shop, and there is no yearly membership fee to play.
But note: only the results from the 5 o'clock game will count toward the GCSG season-long leaderboard in the race for the Thompson Cup.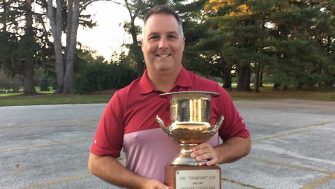 Steve Blackburn Jr. won his eighth consecutive Thompson Cup in 2019. Can someone wrestle it away from him in 2020?
Play begins this coming Thursday, May 28th. Due to COVID-19 concerns as the league gets going this year, please send an "I'm in" text message to 216-403-7424 by 9pm on Wednesday nights before each event. In other words, please don't just show up and play — send me a text in advance. Please include your name with the text message so I know who you are.
The rules of play are exactly the same as last year, except we'll be at Chardon Lakes each week.
Let's play some golf…