The Northern Ohio PGA Junior Tour has confirmed that its opening event of the 2020 Junior Tournament Season will be at Portage Country Club on Tuesday, May 26, per Governor DeWine's announcement that non-contact sports can reopen on that date.
The Northern Ohio PGA Junior Tour will be strictly adhering to all COVID-19 Responsibly Restart Ohio Guidelines for non-contact sports while managing all events. See our Junior Tour Tournament Playbook for details.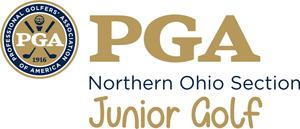 At registration, you will be prompted to select an age division during registration. Your junior's age division is determined by his or her age as of August 3, 2020. You will also be prompted to select a membership fee based on what program your Junior will play in. It is $45 for 9 hole membership and $98 for 18 hole membership.
Tournaments are priced based on the number of holes played in the event (includes golf and range balls):
– 9 hole tournament fee: $30
– 18 hole tournament fee: $63
– 36 hole tournament fee (also includes lunch): $110
View the benefits of being a Junior Tour Member.
2020 tournament schedules by program
– 18-Hole NOPGA Junior Series Information Page
– 9-Hole Futures Tour Information Page
– 18-Hole NOPGA Junior Series Full Schedule (Bluegolf)
– 9-Hole Futures Tour Full Schedule (Bluegolf)
Let's review some of the biggest events of the upcoming 2020 NOPGA Junior Tour tournament season…
THE JUNIOR PGA SECTION CHAMPIONSHIP
June 8-9, Portage Country Club
In 2020, the Section Championship will be an open registration 36-hole event for players ages 11-18 that are Ohio Residents. 36-hole events have become a standard for College Recruiting and the Section Championship is definitely an event you don't want to miss out on!
The event offers Junior Golf Scoreboard rankings as well as PBE Stars for Top Finishers in the Overall Boys and Girls Divisions.
The PBE Stars awarded are as follows:
– Overall Boys 11-18 Champion – 4 Stars
– Top 10% of Overall Boys 11-18 – 1 Star
– Overall Girls 11-18 Champion – 4 Stars
– Top 10% of Overall Girls 11-18 – 1 Star
THE 37th NOPGA JUNIOR TOUR CHAMPIONSHIP
July 29-30, Club Walden
The NOPGA Junior Tour offers a premier local Championship for all 18-Hole Junior Tour Members. The long running championship has celebrated many Champions since its inaugural season in 1984 and is honored to continually be welcomed with open arms by the Members and Staff at Club Walden.
The NOPGA Junior Tour continues the event to not only provide a premier event for junior golfers, but to commemorate the sudden passing of a prominent local junior golfer, Kenny Novak, following a tragic accident. .
The Tour Championship includes lunch, tee gifts, proximity prizes, and awards for the top places in each age division. The 16-19 age divisions play 36-holes over the span of two days and the 11-15 divisions play 18 holes on the second day. Following the first round for the 16-19 division,s there is a 4-hole shootout sponsored by Merrill-Lynch.
The Merrill Lynch Shootout takes the top 8 boys and top 8 girls to compete. Two Players are eliminated from each hole until only one boy and one girl remain. Winners will receive a Merrill Lynch Shootout Trophy.
For more information about anything regarding Junior Golf, please contact Junior Golf Director Bradley Sims by email at Bsims@pgahq.com.