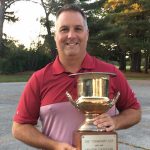 An unbelievable streak has ended at eight.
For the first time in eight years, Steve Blackburn Jr. will have to pass the Greater Cleveland Skins Game's Thompson Cup on to another player.
Joe Tasca recorded a pair of birdie skins in the Week 20 Double Down session to solidify his claim to the Thompson Cup in 2020. Going into the finale, Tasca already led Blackburn by more than $260, and his big finish only extended that lead.
With his skin and pin shot in Week 20, Steve Blackburn Sr. passed Junior to finish in second place on the 2020 Leaderboard.
Congratulations to Joe Tasca, 2020 Greater Cleveland Skins Game Champion and winner of the Thompson Cup!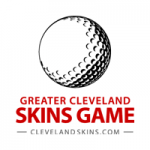 WEEK 20 RESULTS: DOUBLE DOWN
GREATER CLEVELAND SKINS GAME
Fowlers Mill GC, Chesterland, Ohio
Thursday, October 8th, 2020
SKINS: $53.33 each
Joe Tasca #14 birdie 4
Joe Tasca #16 birdie 3
Steve Blackburn Sr. #17 birdie 2
PIN SHOTS: $20.00 each
Mark Foss #13
Steve Blackburn Sr. #17
2020 GREATER CLEVELAND SKINS GAME LEADERBOARD – FINAL
| | | | | | |
| --- | --- | --- | --- | --- | --- |
| PLAYER | TOTAL | Skins | Skins $ | Pins | Pins $ |
| Joe Tasca | $893.98 | 12 | $733.98 | 9 | $160.00 |
| Steve Blackburn Sr | $535.31 | 10 | $410.31 | 9 | $125.00 |
| Steve Blackburn Jr | $525.82 | 9 | $483.32 | 3 | $42.50 |
| Bill Speirs | $334.00 | 4 | $299.00 | 2 | $35.00 |
| Mike Angie | $321.66 | 8 | $241.66 | 3 | $80.00 |
| Joey DiDonato | $206.66 | 3 | $116.66 | 3 | $90.00 |
| Eddie Neer | $251.48 | 3 | $183.98 | 2 | $67.50 |
| Mike Dota | $192.50 | 2 | $90.00 | 3 | $102.50 |
| Mark Foss | $156.16 | 5 | $88.66 | 4 | $67.50 |
| Danny Argo | $52.50 | 1 | $35.00 | 1 | $17.50 |
| Mike Myers | $45.00 | 1 | $45.00 | 0 | $0.00 |
| Phil Bojc | $45.00 | 0 | $0.00 | 1 | $45.00 |
| Joe Blackburn | $44.00 | 1 | $44.00 | 0 | $0.00 |
| Daniel Argo | $35.00 | 1 | $35.00 | 0 | $0.00 |
| Dave Sotka | $27.50 | 0 | $0.00 | 1 | $27.50 |
| Dan Predovic | $10.00 | 0 | $0.00 | 1 | $10.00 |