After a rain-out on Friday that shortened the event to 36 holes, the first round of the 2017 Greater Cleveland Amateur Championship ended with a three-way tie at the top.
Andrew Bailey, Jimmy Wild and A.J. Borisa all posted a 3-under par 69, and will play together in Sunday's final round.
Another shot back is Matt McAdoo at 2-under par, with Brian Jugulion at 1-under 71. Aaron Crooks and Ryan Stefanski sit at even par.
38 players made the cut for Sunday's finish; starting times posted below the Round 1 results…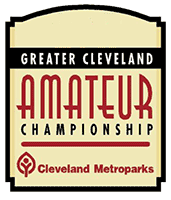 ROUND 1 RESULTS:
2017 Greater Cleveland Amateur Championship
Manakiki Golf Course, Willoughby Hills Ohio
Saturday, Aug 12, 2017
Andrew Bailey 69
Jimmy Wild 69
A.J. Borisa 69
Matthew McAdoo 70
Brian Jugulion 71
Aaron Crooks 72
Ryan Stefanski 72
Andrew Jendre 73
Justin Roth 73
Joe Puch 73
Charles Milo 74
Bryan Yeo 74
Howard Clendenin 74
Doug Barber 75
Eric Wonkovich 75
John Young 75
Steve Blackburn Jr. 75
David Sotka 75
Tim Moore 76
Darren Phipps 76
Thomas Wittaker 76
Jason Jendre 76
Steve Blackburn Sr. 77
Phillip Bojc 77
Ronald Ritner 77
Chandler Walnch 77
Jamison Wood 77
Andrew Grayson 77
Nikko Anagnost 77
Joe Blackburn 78
Tony Briggs 78
George Smiltins 78
Josh Blaustein 79
Phil Latsko 79
Jeff Sawitke 79
Sam Swenton 79
Paul Woznicki 79
Chris Eggleton 79
MISSED CUT:
Chris Davis 80
Jack Garswood 80
Brandon Nixon 80
John Shnur 80
Drake Tobias 80
Bill Speirs 80
Scott Chinnawatt 81
Kyle Jacob 81
Chris Okeson 81
Brian Poe 81
Dave Stover 81
Mark Foss 82
Andrew Johnson 83
Mike Witmer 83
Tom O'Boyle 83
Ian Anderson 84
Jeff Deal 84
Matt Frey 84
Larry Kerns 84
John Niedzialek 84
Ward Crane 86
Benjamin Meola 86
Joe Didonato 87
Michael Klaric 87
Joe Ribelli 87
Taylor Feith 88
Jeffrey Barbas 89
Seth Pech 91
Gordie German WD
Brett Kaufman WD
Paul LaGrotteria WD
Patrick Schultz WD
Brenden McGlyn WD
Robert Schustrich WD

SKINS: $113 ea
Scott Chinnawatt eagle Hole #3
Tim Moore birdie Hole #7
Jeff Barbas birdie Hole #14
Jack Garswood birdie Hole #16
Chris Davis birdie Hole #17
Bill Spiers birdie Hole #18

ROUND 2 STARTING TIMES:
2017 Greater Cleveland Amateur Championship
Manakiki Golf Course, Willoughby Hills Ohio
Sunday, Aug 13, 2017
Paul Woznicki 08:00am
Chris Eggleton 08:00am
Phil Latsko 08:10am
Jeff Sawitke 08:10am
Sam Swenton 08:10am
Tony Briggs 08:20am
George Smiltins 08:20am
Josh Blaustein 08:20am
Andrew Grayson 08:30am
Nikko Anagnost 08:30am
Joe Blackburn 08:30am
Ronald Ritner 08:40am
Chandler Walnch 08:40am
Jamison Wood 08:40am
Jason Jendre 08:50am
Steve Blackburn Sr. 08:50am
Phillip Bojc 08:50am
Tim Moore 09:00am
Darren Phipps 09:00am
Thomas Wittaker 09:00am
John Young 09:10am
Steve Blackburn Jr. 09:10am
David Sotka 09:10am
Howard Clendenin 09:20am
Doug Barber 09:20am
Eric Wonkovich 09:20am
Joe Puch 09:30am
Charles Milo 09:30am
Bryan Yeo 09:30am
Ryan Stefanski 09:40am
Andrew Jendre 09:40am
Justin Roth 09:40am
Matthew McAdoo 09:50am
Brian Jugulion 09:50am
Aaron Crooks 09:50am
Andrew Bailey 10:00am
Jimmy Wild 10:00am
A.J. Borisa 10:00am