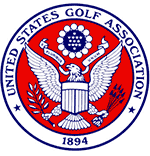 Matt Savage and Tim Skufca (shown above) earned medalist honors at the 2016 U.S. Amateur Four-Ball Cleveland Qualifying Tournament, played at The Mayfield Sand Ridge Club in Chardon.
The pair blistered the course shooting a 9-under par score of 63 to win by three shots.
Due to wet weather, the round was halted late Thursday evening then resumed Friday morning.
The team of Don Padgett III and Dan Belden and the family duo of Daniel and Matthew Wetterich also qualified for the Championship, each with a score of 6-under par 66.
The qualifying teams compete at the 2017 U.S. Amateur Four-Ball Championship on May 27 – 31, 2017 at the Pinehurst Resort & Country Club, Village of Pinehurst, NC.
See the NOGA game story on the USGA Four Ball Qualifier here >
FINAL RESULTS:
2016 USGA Four-Ball Cleveland Qualifying Tournament
Sand Ridge Golf Club, Chardon
Thursday, September 29, 2016:
Qualifying Teams:
1 Savage, M. / Skufca, T. 63 -9
T2 Belden, D. / Padgett III, D. 66 -6
T2 Wetterich, D. / Wetterich, M. 66 -6
Did Not Qualify:
Hogenkamp, B. / Snoddy, B. 67 -5
Cress, M. / Murphy, T. 67 -5
Bergman, B. / Stadler, D. 67 -5
Jackson, B. / Masterson, Z. 68 -4
Bertrand, E. / Crewse, A. 68 -4
Garcia II, G. / Grassi III, T. 68 -4
Guest, M. / Mandry, Z. 68 -4
Hudson, B. / Strickland, S. 68 -4
Collins, M. / Russell, B. 68 -4
Herriott, T. / White, P. 68 -4
Cohn, B. / Stover, D. 69 -3
Dewees, J. / Murray, L. 69 -3
Kmiecik, K. / Lazzara, A. 69 -3
Bojc, P. / Putinski, S. 69 -3
Krivanek, J. / Smith, B. 69 -3
Lamping, M. / Leech, T. 69 -3
Elliott, M. / Hire, A. 70 -2
Major, J. / Turley, R. 70 -2
Rush, D. / Wright, B. 70 -2
Kelly, M. / Popely, N. 70 -2
Heinen, J. / Myron, J. 70 -2
Anderson, S. / Hurley, R. 70 -2
Jones, T. / Yeo, B. 70 -2
Karzmer, J. / Zarlenga, J. 71 -1
Belden, B. / Thiel, M. 71 -1
Bolt, C. / Furrow, J. 71 -1
Lewis, T. / Taylor, J. 71 -1
Crabtree, M. / Morgan, C. 72 Even
Bove, K. / Deal, J. 72 Even
Belden, D. / Belden, T. 72 Even
Enrietti, E. / Koerbel, K. 72 Even
Okeson, C. / Schustrich, R. 72 Even
Armeni, J. / Mullen, N. 72 Even
Meyer, M. / Montooth, A. 72 Even
Hurtuk, J. / Rochford, K. 73 1
Beebe, B. / Trier, D. 73 1
Disanto, F. / Joseph, L. 73 1
Sands, M. / Schneider, D. 74 2
Clemente, J. / Hapanowicz, B. 74 2
Irvine, B. / Myers, P. 74 2
Augustitus, R. / Barber, J. 74 2
Kennedy, A. / Shingledecker, S. 74 2
Bates, Z. / Ledom, M. 74 2
Culbertson, R. / Thomarios, A. 74 2
Johnson, E. / Scibetta, A. 74 2
Dorff, R. / Green, B. 75 3
Blackburn, J. / Blackburn, S. 75 3
Heath, G. / McGuire, S. 76 4
Levinson, L. / Renner, T. 77 5
Briggs, T. / Goetz, C. 81 9
Basch, D. / Strigle, A. 82 10
Cawley, M. / Grincewicz, D. NC
Coll, A. / Mancinotti, J. NC
Obyrne, E. / Peterson, K. NC
Green, C. / Wilson, J. NC
Elliott, J. / Horrell, J. NC
Salina-Amorini, V. / Thomas, D. NC
Bernatovicz, A. / Bernatovicz, J. NC
Doucher, P. / Miles, T. NC
Scovil, A. / Steven, B. NC
Alspaugh, B. / Fitch, L. NC
Oconnor, B. / Sullivan, T. NC