Rocky River resident and Cleveland State player Andrew Bailey posted two strong scores in rounds 3 and 4 at The Country Club in Pepper Pike to win the 2014 Northeast Ohio Amateur Invitational by a tidy four shots with a four-round total of 7-under par.
But it's the way it happened that shocked everyone watching.
Michael Balcar, another Cleveland State player who hails from Toledo, led most of the way for the 2014 NEO Am. Both he and Bailey separated themselves from the rest of the field with second round scores of 66 at Madison Country Club, turning the final 36 holes into a two player race.
In Round 3 in the morning at Country, Balcar posted a 71 to Bailey's 74 to go up five shots . Balcar had a 9-under par total after 54 holes.
Bailey birdied the first two holes of the afternoon round to close the gap. Balcar bogeyed holes 3 and 5 before making birdie at 6 to right the ship. Both players bogeyed 7, and Balcar bogeyed 10 to lead by just one shot with 8 holes to play.
But then Balcar birdied the 11th and 12th holes to go 3 shots up, and looked to have the championship well in hand. Until it wasn't.
On 17, Balcar drove it in the middle of the fairway, and from there hit into the greenside bunker. He left his first bunker shot in the bunker, then bladed the next one over the green into high grass. He hacked out of the high grass then chipped on the green and two-putted for a quad 8. Then he bogeyed 18 as well.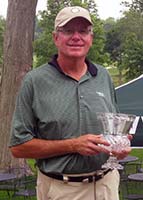 Meanwhile, Bailey birdied 16 and 17 and made par at the last to win the tournament in a stunning turn-around. His strong finish gave him a total score of 7-under par 280.

In the Senior Division, Jim Durr of Silver Lake (shown at right) won by a single shot with a score of 5-over par 220, outlasting Mike Cassell and Marc Fried.
Complete results from both divisions are listed below.

FINAL RESULTS: Northern Ohio Golf Association's
2014 Northeast Ohio Amateur Invitational
Round 1 at Silver Lake Country Club on Monday, June 16
Round 2 at Madison Golf Club on Wednesday, June 18
Rounds 3 and 4 at The Country Club on Monday, June 23
CHAMPIONSHIP DIVISION
| | | | | | | | |
| --- | --- | --- | --- | --- | --- | --- | --- |
| Pos | Player | R1 | R2 | R3 | R4 | Total | To Par |
| 1 | Andrew Bailey | 71 | 66 | 74 | 69 | 280 | -7 |
| 2 | Michael Balcar | 69 | 66 | 71 | 78 | 284 | -3 |
| 3 | Dennis Holub Jr | 73 | 79 | 73 | 71 | 296 | 9 |
| T4 | Charlly Pak | 78 | 69 | 75 | 75 | 297 | 10 |
| T4 | Doug Barber | 73 | 71 | 78 | 75 | 297 | 10 |
| T4 | Brian Smith | 72 | 72 | 77 | 76 | 297 | 10 |
| 7 | Tristan Lewis | 70 | 74 | 73 | 81 | 298 | 11 |
| T8 | Dan Grincewicz | 76 | 74 | 75 | 76 | 301 | 14 |
| T8 | Joe Tornabene | 80 | 68 | 76 | 77 | 301 | 14 |
| T10 | Bud Radis | 78 | 70 | 78 | 76 | 302 | 15 |
| T10 | Anthony Yacovazzi | 75 | 73 | 78 | 76 | 302 | 15 |
| 12 | Dan Winar | 74 | 78 | 78 | 75 | 305 | 18 |
| T13 | Austin Schreiber | 77 | 75 | 79 | 75 | 306 | 19 |
| T13 | Kory Oslie | 79 | 77 | 74 | 76 | 306 | 19 |
| T13 | Mark Olbrych | 76 | 81 | 70 | 79 | 306 | 19 |
| T13 | Steve Hiltebrant | 75 | 71 | 80 | 80 | 306 | 19 |
| 17 | Paul Minko | 74 | 76 | 77 | 80 | 307 | 20 |
| 18 | Saumil Jhaveri | 73 | 75 | 80 | 80 | 308 | 21 |
| T19 | Mark Borlin | 77 | 76 | 78 | 78 | 309 | 22 |
| T19 | Ian Hardesty | 75 | 75 | 80 | 79 | 309 | 22 |
| T19 | Thomas Lydic | 73 | 77 | 76 | 83 | 309 | 22 |
| 22 | Blake Sword | 81 | 75 | 82 | 73 | 311 | 24 |
| T23 | Robert Schustrich | 74 | 83 | 79 | 76 | 312 | 25 |
| T23 | Mike Bishop | 76 | 79 | 80 | 77 | 312 | 25 |
| T23 | Nicholas Paxos | 77 | 78 | 78 | 79 | 312 | 25 |
| 26 | Jimmy Wild | 76 | 78 | 77 | 82 | 313 | 26 |
| 27 | Scott McRill | 80 | 77 | 80 | 80 | 317 | 30 |
| T28 | Greg Kencson | 81 | 80 | 76 | 81 | 318 | 31 |
| T28 | Evan Lerner | 77 | 79 | 81 | 81 | 318 | 31 |
| T30 | Bryn Irvine | 76 | 80 | 86 | 80 | 322 | 35 |
| T30 | Mark Hach | 78 | 83 | 81 | 80 | 322 | 35 |
| 32 | Peter Joyce | 79 | 77 | 82 | 86 | 324 | 37 |
| 33 | Alex Talbott | 85 | 72 | 89 | 82 | 328 | 41 |
| 34 | Alex Loftin | 79 | 86 | 81 | 83 | 329 | 42 |
| 35 | Joe Ribelli | 79 | 77 | 85 | 90 | 331 | 44 |
| 36 | Seth Pech | 80 | 81 | 87 | 84 | 332 | 45 |
| 37 | Kyle Matus | 87 | 80 | 81 | 87 | 335 | 48 |
| 38 | Brennan Brooker | 83 | 80 | 88 | 85 | 336 | 49 |
| 39 | Jim Grosso | 79 | 80 | 91 | 87 | 337 | 50 |
| 40 | Joe Bojc | 78 | 81 | 85 | 95 | 339 | 52 |
| 41 | Mark Telerico | 84 | 80 | 77 | | | NC |
SENIOR DIVISION
| | | | | | | |
| --- | --- | --- | --- | --- | --- | --- |
| Pos | Player | R1 | R2 | R3 | Total | To Par |
| 1 | Jim Durr | 70 | 71 | 79 | 220 | 5 |
| T2 | Mike Cassell | 74 | 73 | 74 | 221 | 6 |
| T2 | Marc Fried | 72 | 76 | 73 | 221 | 6 |
| 4 | Rick Areddy | 74 | 79 | 73 | 226 | 11 |
| T5 | Monty Guest | 74 | 79 | 74 | 227 | 12 |
| T5 | Jeffrey Knox | 74 | 74 | 79 | 227 | 12 |
| 7 | Norton Brick | 73 | 78 | 78 | 229 | 14 |
| 8 | Rick Merrow | 74 | 82 | 74 | 230 | 15 |
| T9 | Bryan Warnica | 73 | 76 | 83 | 232 | 17 |
| T9 | Jim Harless | 72 | 83 | 77 | 232 | 17 |
| T11 | Tom Cawley | 74 | 77 | 82 | 233 | 18 |
| T11 | Keith Pluto | 77 | 74 | 82 | 233 | 18 |
| T13 | Joe Roller | 75 | 78 | 81 | 234 | 19 |
| T13 | Larry Lahnan | 77 | 79 | 78 | 234 | 19 |
| 15 | Scott Heran | 78 | 77 | 81 | 236 | 21 |
| 16 | Tim Baker | 80 | 79 | 78 | 237 | 22 |
| T17 | Steve Bedell | 79 | 77 | 83 | 239 | 24 |
| T17 | David Devault | 79 | 75 | 85 | 239 | 24 |
| 19 | Jim Corcoran | 79 | 79 | 85 | 243 | 28 |
| T20 | John Dmytriw | 79 | 81 | 85 | 245 | 30 |
| T20 | George Papas | 77 | 84 | 84 | 245 | 30 |
| 22 | Ron Miller | 81 | 81 | 86 | 248 | 33 |
| 23 | Hugh Morgan | 84 | 81 | 84 | 249 | 34 |
| 24 | Dennis Cendrowski | 83 | 82 | 89 | 254 | 39 |
| 25 | Phil Howren | 79 | 89 | 88 | 256 | 41 |
| 26 | Pete Manuguerra | 88 | 90 | 92 | 270 | 55 |