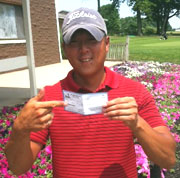 Steve Lee of Columbus, OH won the Lake Erie Golf Tour tournament at Chippewa Golf Club on Friday, June 29th.
Lee took advantage of the great course conditions by making 6 birdies en route to a 4-under par 67 to beat Blake Sattler of New Philadelphia by a single shot.
Updated 2012 LEGT Money List here.
The next event on the LEGT schedule is Friday, July 27th at Massillon Elms Country Club (home of the TigerTown Open).

FINAL RESULTS: 2012 Lake Erie Golf Tour
Chippewa Golf Club, Doylestown, Ohio
Friday, June 29th, 2012 | Par 71
1. Steve Lee -4 (67) $650.00
2. Blake Sattler -3 (68) $400.00
3. Jeff Rush -1 (70) $300.00
4. Justin Miller E (71) $200.00
T5. Zach Glassman +1 (72) $75.00
T5. Ryan Gutowski +1 (72) $75.00
T7. Vaughn Snyder +2 (73)
T7. J.A Hetrick +2 (73)
9. Brian Van Den Motter +5 (76)
T10. Steve Weir +6 (77)
T10. TJ Tabor +6 (77)
T10. Paul Kaspar +6 (77)
T13. Dave Scarpetta +7 (78)
T13. Mitch Levengood +7 (78)
15. Chris Halaney +8 (79)
16. Tim Merkel +9 (80)
17. Troy Mikesell NC
18. Darrin Vaughan NC
19. Eric Frishette WD

SKINS
Hole #2- Steve Lee $25.00
Hole #4- Blake Sattler $25.00
Hole #5- Justin Miller $25.00
Hole #6- Vaughn Snyder $25.00
Hole #8- Steve Weir $25.00
Hole #11- Mitch Levengood $25.00
Hole #12- Jeff Rush $25.00
Hole #13- Vaughn Snyder $25.00
Hole #15- Steve Lee $25.00
Hole #16- Blake Sattler $25.00
Hole #17- Jeff Rush $25.00